The Place to Be
My wife and I have always loved movies, so I decided to make a small Home Theater in our unfinished basement. We had lots of space so made half the area a theater and the other half a bar area. The design and floor plan were totally inspired by Home Theater magazine, of course.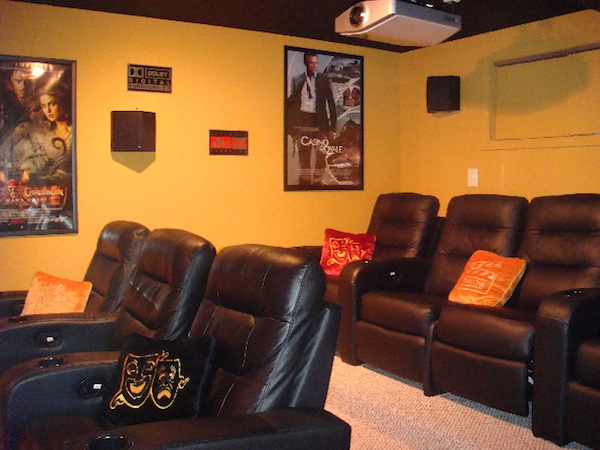 I'm a union pipe fitter and I'm pretty handy, but I still had a carpenter buddy of mine do the walls in the basement. I did all of the wiring myself, including speaker wires, HDMI cables, GFI'S, dimmer switches, etc.
One of the biggest obstacles we encountered was a low air duct that was visible as soon as you entered the theater. To solve this, I moved the screen slightly to the right and painted the ceiling black. It's still there but now, no one ever notices it.
My wife and i use the theater at least three times a week, even more for me because i like to play my Playstation 3 games here, too! My two year old daughter is even starting to realize that bigger is better when it comes to watching movies like Toy Story 3.
It has definitely become "the place to be" whenever we entertain friends and family. We love our little theater and hope to inspire other people to do the same.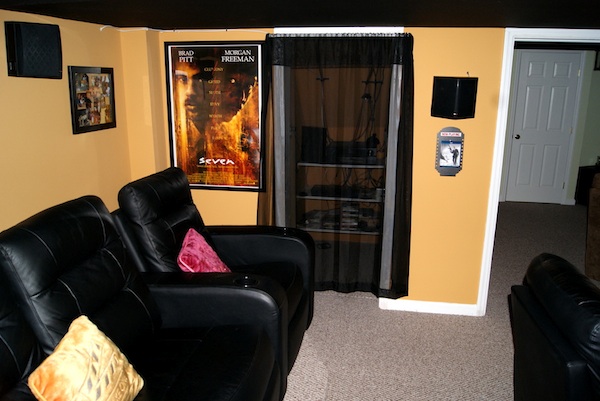 EQUIPMENT
Sony VPL-VW100 Projector 1080p
Carada 106" fixed screen
Dennon 3808ci Receiver
Klipsch RB-61 Home Theater 7.1 System
Sony S550 Blu-ray player
Sony PS3 60GB
Harmony 1000 Touch Screen Remote