PG or Not PG?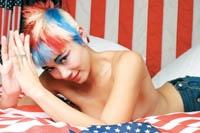 It's been nearly two years since the Janet Jackson Offense at the Super Bowl, so the music industry must be chaste by now. Not exactly! Check out THE LOVEMAKERS, who make rock/electronic dance music with "sexually charged fury," says the bio for their CD, Times of Romance. Their stage act includes "spontaneous make-out sessions." Meanwhile, suicidegirls.com has been called "the new millennium's answer to Playboy," where punk/goth Girls Next Door shed clothes for freedom and the American Way (that's Pearl in the flag). It's a phenomenon, and it has led to a CD, Black Heart Retrospective, and a DVD, The First Tour, both with music by bands from Ministry to Probot.
Too hot to handle?
THE PUSSYCAT DOLLS
, who began as a burlesque act, have toned things down to cross over to the masses with their worldwide hit, "Don't Cha," and their debut album,
PCD
. But some things will not stand! We refer to
BIF NAKED
's
Superbeautifulmonster
. A poster of the cover art has been banned from American high schools. Must be her name. Y'know ... Bif.
WHERE TECHNOLOGY BECOMES ENTERTAINMENT