Panasonic TC-65CX400U LCD Ultra HDTV Review Test Bench
Test Bench
Full-On/Full-Off Contrast Ratio: 2,406:1
Measurements were taken with a DVDO AVLab TPG 4K generator, an AV Foundry VideoForge HDTV generator, X-Rite i1Pro2 Enhanced spectroradiometer, Klein K10-A colorimeter, and SpectraCal CalMAN 5 calibration software.
Pre-calibration measurements were of the Cinema preset with default settings, which resulted in a hot peak white reading of 53.2 ft-L and buried shadow detail thanks to a too-low Brightness setting. Post- calibration, in the Cinema preset with Warm color temperature, the peak white set to a more comfortable 38.5 ft-L for dark-room viewing, the Brightness control set to reveal black gradation starting at video level 17, and Dynamic Luminance in its default Off setting, the black level measured 0.016 ft-L for a full-on/full-off contrast ratio of 2,406:1. There were no local-dimming capabilities or backlight adjustments.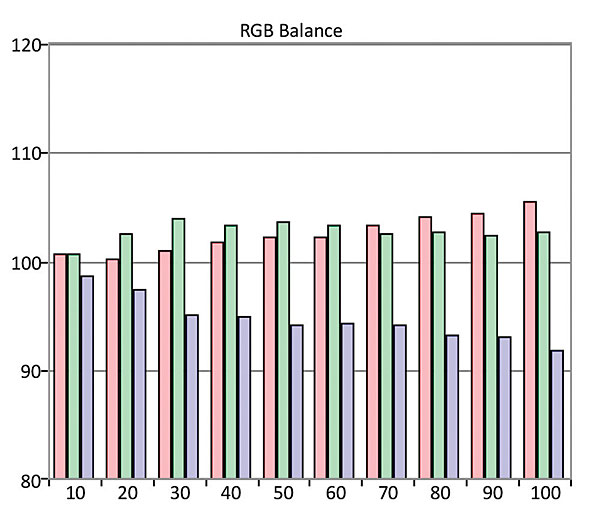 Delta E for pre-cal grayscale from 20% to 100% brightness ranged from 4.1 at 90% to a high of 7.2 at 30%. Color point Delta E ranged from a low of 0.9 for green up to 7.0 for blue. Adjusting for the lower peak-white output and appropriate black level, without calibrating grayscale or color points, brought grayscale errors down to an average 4 across the board and a maximum of 4.1 among the color points (for the color blue).
Post-calibration Delta E, following adjustment of grayscale and color points, resulted in grayscale from 20% to 100% ranging from a max of 3.1 at 30% to a low of 0.9 at 100%. Color point Delta E was below 2.35 for all colors but magenta, which measured an error of 4.0 that could not be reigned in due to limitations of the CMS controls.
(Delta E is a figure of merit that indicates how closely a display adheres to the Rec. 709 HD color standard. Levels below 3 are considered visibly indistinguishable from perfect; levels around 4 are very good and acceptable for an inexpensive commercial display.) Viewing angle for the VA-type panel was acceptably wide, showing only subtle loss of contrast on a demanding full-field red pattern at 30 degrees off axis from a distance of 8 feet. Backlight uniformity was outstanding, with no streaking or odd tracking behavior of moving objects, and little detectable haloing seen around bright objects.

The TC-65CX400U failed to pass signals below video level 16 (0% black) or above video level 235 or so (100% white). Video levels can range from 0 to 255, but broadcast standards call for programs to be contained inside the 16-235 window. Displays that clip video below 16 can be more difficult to set black level for using traditional below-black PLUGE patterns, and those that clip above-white may crush detail in bright objects that wander above the 235 ceiling. Though clipping usually has little impact on day-to-day viewing, better displays allow the full signal to pass. Beyond clipping, the set borderline failed the chroma resolution test, a not-uncommon failure. 1080i/1080p scaling was excellent, and evident in the clean Blu-ray disc and broadcast images I observed.—RS