Panasonic TC-65AX900U LCD Ultra HDTV Review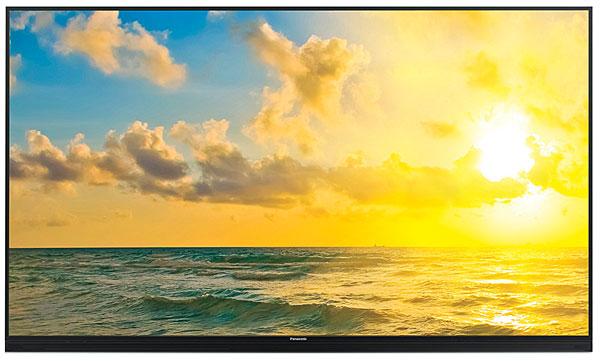 PRICE
$7,199
AT A GLANCE
Plus
Stunning color
Gorgeously detailed 4K playback
A boatload of picture tweaks
Minus
Not quite plasma-like blacks and shadow detail
3D ghosting
The price
THE VERDICT
Panasonic's statement Ultra HDTV sucks you in with its alluring image and doesn't let go, but its high price is a deterrent.
When Panasonic left the plasma market in late 2013 to the whimpers of videophiles worldwide, the company committed to delivering an LED-backlit LCD that would rival the image of their best-ever TV—the ZT60 that was their plasma swan song. The first Panny Ultra HD LCD to follow, the edge-lit TC-65AX800U, was a fine TV, though hardly a breakout set. But in late 2014, Panasonic rolled out their flagship AX900U series at 55 and 65 inches, the latter of which we now review here.
And, on paper at least, what a set it is: a full-array, local-dimming backlight (with an unspecified number of zones); Panasonic's Studio Master Drive, which uses a "high color-space LED backlight" to deliver rich color and "a wide color gamut that approaches the level of a plasma screen"; a high-performance IPS (in-plane switching) panel that pretty much annihilates the restrictive viewing angle afflicting most other LCD HDTVs; today's de rigueur 3840 x 2160 Ultra HD resolution with full HD 3D playback; and more picture tweaks than any heavily instrumented gearhead could ever want.
All of this comes at a price, and a steep one at that: $7,199, with the set available only through special order at Magnolia Home Theater. This for a TV, I might add, that is already a bit less than state-of-the-art, despite Panasonic's best effort to future-proof it last year with cutting-edge technology.
To begin, the TC-65AX900U boasts none of the latest HDR (high dynamic range) brightness-boosting tricks that Samsung's 2015 SUHD models or Sony's new top-line entries will have this year. And it's worth noting that the Panasonic's breathtaking ticket starts to approach the $8,999 cost of LG's new 65-inch 4K OLED, which, by nature of its technology, should surpass it at least in black-level performance.
However, none of that changes what this really is: a statement piece from a manufacturer with tremendously deep engineering talent, brought to bear on a premium LCD UHDTV. Let's take a closer look.
Future by Design
The industrial design of the TC-65AX900U captures attention by its very nondescriptness. The tabletop base is a large 33-pound slab of metal that attaches to the panel and hides completely behind it while propping it up; imagine your iPad leaning against a brick, and you'll get the idea. The bottom edge of the panel rests fully on the surface of your furniture, and the panel cants back ever so slightly. Seen from the front, it's pretty much all screen, with only a fine, narrow bezel on three sides and a larger band on the bottom that has the Panasonic logo and a stylish blue power indicator (defeatable). If you don't like the aesthetic, or you find it impractical (the set weighs 115 pounds with the stand, and my 36-inch-wide cart barely supported it with a few inches hanging off each side), you can always mount it on the wall.
Connections around back include four HDMI inputs—one with ARC, all version 2.0 compliant and rated at 18.2 gigabits per second for 4K content up to 60 hertz, and all with HDCP 2.2 copyright management. There's a menu setting that can make the set compliant with 4K sources offering 4:4:4 color up to 10 bit. In addition, the TV has a wide color gamut option that is said to deliver 98 percent of the DCI specification, which is now a target for future Ultra HD content with enhanced color and should be deliverable by the coming UHD Blu-ray format. That gamut is available to the Vivid, Standard, Home Theater, and Custom picture presets. However, it's not clear whether the set will recognize content that has been specifically created for the DCI gamut and play it back faithfully with the creator's intent, or instead see the more narrow Rec. 709 gamut and then apply an algorithm to artificially pump up the colors to take advantage of the wider gamut. This is what's done with all of the wide color-space options on today's displays while playing today's Rec. 709 content. We always recommend watching in the native color gamut for which the content was created to avoid unnatural and inaccurate color effects; the value of a wide color space is questionable in the absence of content designed to take advantage of it.
As with Panasonic's earlier UHD models, there's a DisplayPort connection that might be tapped by PC gamers or for industrial applications. Three USB ports (one version 3.0, the others 2.0) all successfully played a 4K-resolution test clip stored on a thumb drive with H.264 compression, but none could play the same clip encoded in H.265, better known as HEVC. However, that technology is on board for playing Ultra HD off the streaming platform via Netflix or other services. (Presumably, external 4K source devices, such as a UHD Blu-ray player or streaming box, will provide their own HVEC decoding before delivering a signal to the TV.)
The TC-65AX900U features Panasonic's Life+Screen smart TV GUI, which defaults to a widget-laden Home Screen when you turn on the TV. You can choose different templates for each user, some with access to weather or a scheduler or your favorite streaming services (Netflix, Amazon, Vudu, Hulu, etc.), but these require you to hit the OK button on the remote to enter full-screen viewing each time the set powers up. There's a Full Screen alternative, but what's lacking is a hybrid setting that grants full-screen viewing at turn-on but gains manual access to one of the more elaborate Home Screens with a push of the Home button. Other smart features include voice commands, a pop-up camera, and a proximity sensor; when someone walks by the powered-down set, it can bring up an Info Bar with weather and messages and provide access to your Home Screen through voice command and facial recognition. Every morning—and every time I left the room and re-entered—the TV greeted me with my Info Bar as I sat down at my studio desk some 15 feet away. Don't worry, the sensitivity is adjustable, and the whole feature is defeatable, as is the intrusive "Smart Viera Banner" that periodically tacks an advertisement to the onscreen ticker when you adjust the volume.
Two remotes come with the TC-65AX900U: a full-size backlit wand (with an integrated Netflix button) and a squat touchpad Bluetooth remote that I found useful for turning the set on and off, controlling volume, and delivering voice commands from the built-in microphone. Panasonic's TV Remote2 app for iOS and Android is superb and offers a SmartCalibration feature that provides access to a full range of calibrator adjustments without ever having to call up an onscreen menu.
Audio quality through the three built-in speakers was average for a flat-panel TV. The Toslink optical audio output downconverts all multichannel Dolby Digital and DTS soundtracks presented to its HDMI inputs to two-channel PCM stereo. Any soundbar you attach to it should ideally have direct digital inputs for all your devices if you want the best sound quality.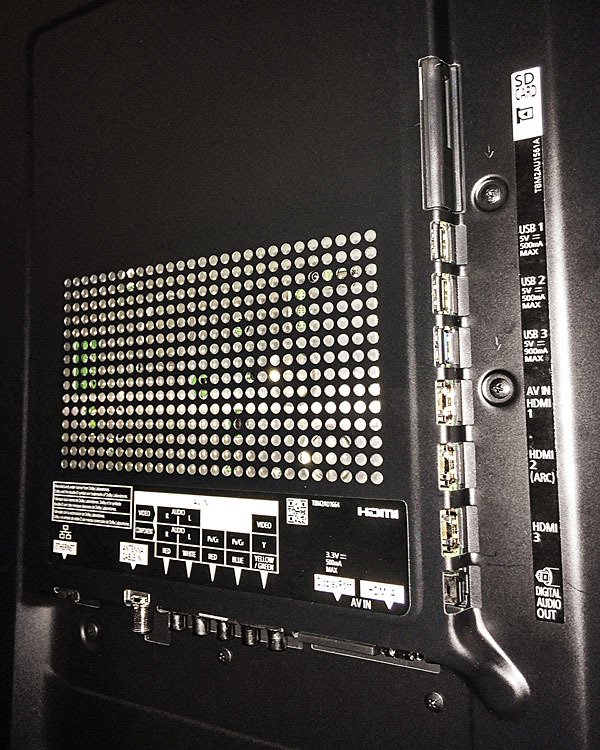 Setup
The TC-65AX900U is THX certified and comes with both standard THX and THX Bright Room modes. Each offered a reasonably accurate image out of the box, with the color balance leaning just a bit too much toward red in the mid-brightness range and color point errors essentially undetectable. I used these modes quite happily for a few days of casual off-air broadcast viewing and was impressed by the engaging images they produced. But they lock out key calibrator adjustments, including controls for 2- and 10-point white balance, a wide range of gamma presets (1.8.x to 2.6) plus 10-point gamma fine-tuning, and a color management system (CMS) to adjust color points of all the primary and secondary colors. After I took baseline measurements on the usable presets, I settled on Pro2 as closest to dead-on accurate for dark room viewing. Panasonic's backlight local-dimming feature is called Adaptive Backlight Control, which I eventually moved from its Min default setting to its Max setting to achieve the deepest blacks (though setting it to Mid or Min proved helpful for extracting more shadow detail in dark scenes). The Motion Picture Setting control engages backlight scanning to improve motion rendition; I left it off for most of my evaluation, but in its Weak setting, it reduced blur on test clips to an acceptable degree without introducing noticeable soap-opera effect. The Pro2 preset turned off most of the TV's multitude of automatic contrast and color adjustments by default.
Out of the box, color for the Pro2 setting was exceptional, showing white balance and color points with Delta E errors well under levels detectable by eye; blue was a touch underrepresented in the middle tones, but that's about all. (See Test Bench.) Still, a full calibration improved both. After calibration, the 2.3 gamma setting delivered the closest average to my 2.2 target across the full brightness range from 10 to 100 percent.
The set passed most of our Video Test Bench battery, but it struggled with a 1080i interlaced signal delivering the chroma and luma resolution test patterns from my Oppo Blu-ray player. These issues went away with a 1080p input signal, and to be fair, I never detected any real-world concerns with 1080i broadcasts, which looked stunning. Meanwhile, the viewing angle from the IPS panel was outstanding; I had to step about 50 to 60 degrees off axis in either direction from 7 feet away to see any drop in contrast, and even then, the change was subtle. This is the best I've seen among LCDs.
The Look of Love
Wes Anderson's The Grand Budapest Hotel took home Oscars this year for both costume and production design, and the pristine 1080p Blu-ray transfer communicates the director's personal love affair with color in both the dress and architecture of the imaginary Republic of Zubrowka. In this movie, the worn woodgrain fixtures, orange-and-lime-painted lobby desk, and badly dated asparagus-green rug of the Grand Budapest's run-down 1970s décor contrast dramatically against the saturated red and burgundy carpets and polished walnut of the hotel's pre–World War II heyday. The TC-65AX900U delivered all of it with mesmerizing purity. Close-ups of the deep-purple uniforms of the hotel staff, each edged with a bead of red chord, showed a striking richness.