Panasonic TC-65AX800U 3D LCD/LED Ultra HDTV Review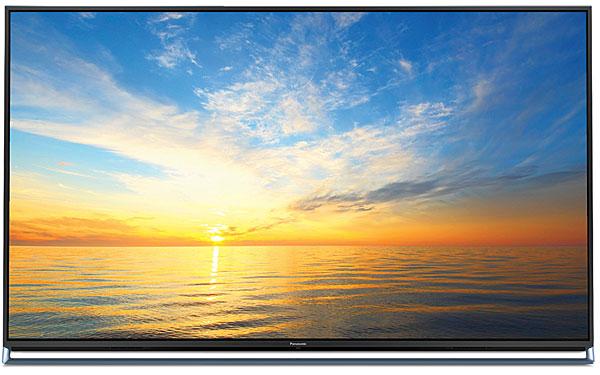 PRICE
$3,000
AT A GLANCE
Plus
Accurate color
Good contrast and shadow detail
Customizable Home Screen GUI
Decent price for a 65-inch UHDTV
Minus
Some picture noise
THE VERDICT
Panasonic's 65-inch Ultra HDTV provides impressive performance and a huge array of Smart features.
Steep price declines have become the norm in the consumer electronics world, especially when it comes to TVs. Case in point: The last Ultra HDTV I reviewed, a Samsung 65-incher that arrived at the tail end of 2013, had an MSRP that was twice the $3,000 sticker price of Panasonic's 65-inch TC-65AX800U Ultra HDTV. Now I hear that Vizio is selling sets with the same screen size and pixel count for $2,200. They might as well be giving them away.
Some may wonder about the ability of TV makers to sustain their business model with Ultra HDTV prices dropping so precipitously, but it's also true that Ultra HD itself isn't a great selling point. First, there's the issue of the human eye not being able to appreciate the full detail packed into an Ultra HD image on a reasonably sized screen from a typical viewing distance (about 10 feet, on average). Then there's the problem of 4K/UHD content. We're still waiting on a 4K Blu-ray format, which apparently is now going to be a late-2015 thing. A bit of 4K/UHD is currently available for streaming from Netflix (and more is reportedly coming from other sources, including Amazon Instant Video), but higher-res video content on the whole remains a scarce commodity.
Which brings us back to this here Panasonic TV. Panasonic's first Ultra HDTV line doesn't come with a proprietary 4K video player with movie content, like Samsung's UHDTV sets have been known to do. It can play 4K content from Sony's recently liberated 4K media player and download service, however, which was proprietary to Sony sets for a while but will now play back on any UHDTV with HDMI 2.0 and the latest HDCP 2.2 digital rights management technology. When I began my review, the Panasonic wasn't capable of streaming 4K Netflix—I didn't even have an opportunity to screen 4K content on it (beyond patterns from my test generator) during the course of my evaluation! But just as we went to press, Panasonic issued a firmware update that provides this functionality—something that Sony, Samsung, LG, and Vizio Ultra HD sets also readily do.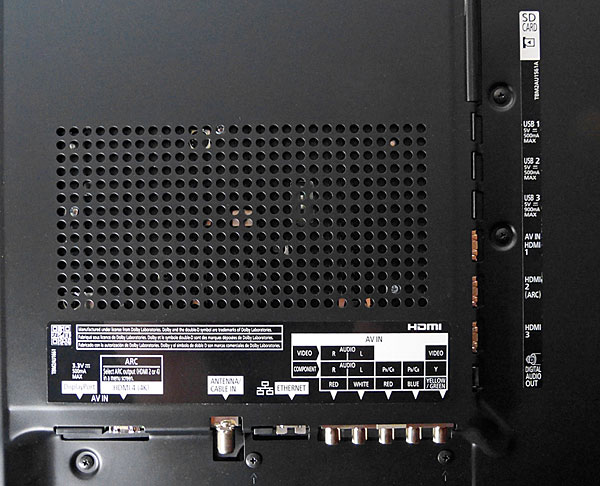 So what else does the Panasonic TC-65AX800U have to recommend it? Panasonic's 4K TVs are the only sets out there with a DisplayPort input for PC gaming at resolutions up to 2160/60p—games being another potential source of 4K content. The TC-65AX800U has an edge-lit LED backlight with local dimming to enhance contrast, and it's THX 4K Certified to make sure it meets minimum requirements for brightness, sharpness, gamma, and color reproduction. It also does 3D; Panasonic gives you two pair of active-shutter glasses.
Panasonic has endowed the TC-65AX800U with extensive Smart features, most of them centered on its Life+Screen platform. This aims to give multiple viewers the ability to customize the set's Home Screen Smart GUI based on personal preferences for apps and utilities such as clock, calendar, and weather forecast. There are several different Home Screen formats you can select from, and you also get the ability to switch it off entirely if you'd prefer to opt out of the Life+Screen universe. The Panasonic's other Smart features are too numerous to mention (and would require their own full-length review), but they include voice-controlled navigation, Web browsing, a content recommendation engine, and Swipe & Share for beaming content to the TV from a tablet or smartphone.
AX800U series TVs come with two remotes: a standard handset and a Touch Pad controller. The standard remote is a traditional wand in every sense, with a backlit keypad plus a dedicated button to launch Netflix—the only "Smart TV" feature that most viewers are likely to use. The Touch Pad is a compact thing that rests comfortably between your thumb and forefinger. You use it to navigate Home Screens, Web pages, and app interfaces by sliding your thumb along a circular pad and pulling a trigger on the back to make selections. Panasonic's TV Remote 2 iOS/Android app does everything both remotes do and more, including advanced picture tuning and video calibration (more info on that in Setup).