Outlaw Audio Model 970 Preamplifier/Processor and Model 7075 Power Amplifier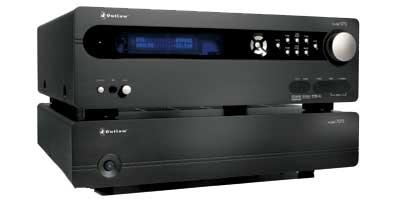 Outlaw Audio helped pioneer the direct web-to-consumer channel for audio/video electronics and is among the most successful in that small but growing arena. Its latest introductions include an aggressively priced preamp/processor and compact 7-channel power amp that ask the question: Is an A/V receiver your only sensible choice with less than a couple grand in hand?
At $1,400 for the Outlaw pairing, maybe not. The Outlaw Audio Model 970 7.1-channel pre/pro offers basic functionality, omitting the latest HDMI inputs and switching in favor of twin DVI inputs and a single output. DVI can connect to HDMI sources or monitors, but you need an adapter (or DVI-HDMI cable) for each connection; with two DVI sources - say, an HDTV set-top box and an upscaling or hi-def DVD player-this could require three such connections, potentially adding $100 or more to your shopping list unless you shop the Web for generic adapters and cables. Of course, if you already have DVI-equipped components you're way ahead, but keep in mind that DVI is a digital video-only interface that doesn't provide HDMI's integrated digital-audio connectivity.
The 970 and Model 7075 power amp (7 x 75 watts) are simply but solidly made and finished in no-nonsense basic black. I found the 970 very attractive and intelligently laid out, although its blue-on-black LED display is effectively low-contrast and thus impossible to read from any distance. Fortunately, there are clear, simple, text-based onscreen menus conveying the same info; unfortunately, these aren't carried by the preamp's DVI output and can't be viewed on its component-video output when it's feeding a video source signal above 480i - which in my system (and probably yours) is all the time.
SETUP I dropped the Outlaw pairing into my system, using DVI-HDMI cabling to connect my upscaling DVD player to the Outlaw preamp and the pre/pro to the HDMI input on my 50-inch Samsung DLP. The amp features multi-way binding posts and an RCA input jack for each of its seven channels. The only other item is a mini-jack for a trigger input. I routed this to its twin on the Model 970, and voilà! - the two components powered and standby'd in tandem.