Optoma HD142X 3D DLP Projector Review Page 2
Other settings I tended to during my calibration of the projector included its lamp brightness modes and BrilliantColor adjustment. While the Eco brightness mode provided better contrast than the Bright mode, the increase in fan noise that Bright imposed wasn't so great that I'd avoid using it in rooms where there's relatively high ambient light. (Unlike the similarly priced InFocus projector, the Optoma isn't quite the same light cannon as the InFocus; its light output topped out at just 66.83 foot-lamberts when the Bright picture preset was selected—still plenty bright for a projector on my 90-inch screen in dark-room conditions.)
Of the three lamp brightness options provided on the HD142X—Eco, Bright, and Dynamic—the Dynamic mode provided the highest contrast ratio, and it didn't detract at all from the projector's picture quality. BrilliantColor, on the other hand, gave the picture an overly enhanced look when set to a medium-to-high level, though it did have the effect of slightly boosting the Optoma's otherwise average contrast.
2D Performance
With the Optoma's picture optimized, I watched a Blu-ray of The Big Short. In this drama about the 2008 Wall Street crash, many scenes take place in the offices of financial firms, and the HD142X nailed the pinkish-orange hue of skintones seen under fluorescent light. When the action shifts to an odd interlude with actress Margot Robbie, who plays herself and explains the concept of credit default swaps while she's sipping champagne in a bubble bath, her daylit skin looked warm and natural against an ocean backdrop. Overall, the Optoma's picture was bright and appealing, though the black letterbox bars in the image barely rose above a dark gray tone.
I checked out another period drama on Blu-ray, Everybody Wants Some!! The picture looked crisp, and the Optoma did a good job conveying the pale palette of a circa-1980 Texas college town. Any question of the projector's color accuracy was answered by a montage of frat dudes prepping to go out. The red and blue stripes on a can of Barbasol, the sickly green of Irish Spring soap, the not-found-in-nature bright yellow of a Conair hair dryer—all of these colors came through perfectly. And in another scene where shots are imbibed in a dark corner of the Sound Machine nightclub, shadows looked deep, and contrast was reasonably punchy. Compared with the other budget projectors I've recently tested, the Optoma offers a slight edge when it comes to contrast, though its performance here is well beneath what you'll see with higher-end, more expensive LCOS and LCD models from Sony, JVC, and Epson.
3D Performance
The HD142X might be a budget projector, but it's clear that Optoma designed it with 3D in mind rather than including the feature as an afterthought. The 3D preset provides a full set of adjustments to calibrate the picture in that mode. Using these, I was able to tweak the projector to display bright 3D images with even better contrast than what I saw in 2D mode.
When I watched a reference Blu-ray 3D Disc, Hugo, on the Optoma, highlights were bright and shadows deep. And I saw none of the ghosting artifacts I typically see when testing 3D displays with this disc. None at all! Checking out another reference title, The Walk, I did see slight ghosting on the wires running between the Twin Towers in some shots. Otherwise, the 3D depth effects were dramatic, and the picture was satisfyingly bright.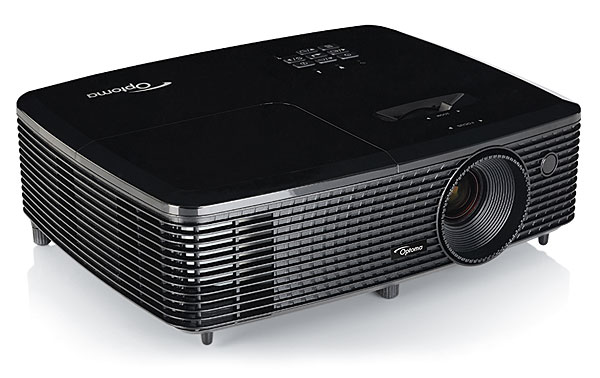 Conclusion
How did Optoma's HD142X fare in the war of the budget DLP projectors? I can't say it killed its competition, but performance was impressive enough that I find it easy to recommend, especially given the low price of $579. A main strength of the HD142X is its extensive suite of picture adjustments, which allow it to be calibrated for accurate Rec. 709 color and best overall picture quality in 2D and 3D. Speaking of 3D: When it comes to performance on that front, the Optoma exceeds not just other budget projectors, but models that cost several times as much. It also comes with a fully backlit remote control, a home theater necessity that projector manufacturers tend to overlook at this price point, along with an HDMI/MHL input to plug in a Roku Streaming Stick.
Areas where the HD142X shows its budget status include limited features to help in initial setup and installation and, more important, limited contrast—typical issues for projectors under $1,000. Compared with other budget models I've tested recently, this one also comes up short in maximum light output, which may make it less suitable than some of the competition for applications with high ambient light. That said, when you weigh the pros and cons, Optoma's affordable HD142X works out to be a great 1080p projector for watching Blu-rays, streaming Netflix or Amazon, and playing video games.