NHT SuperZero 2.0 Speaker System Page 2
Natural Voices
The Fighter, on Blu-ray with DTSHD Master Audio, was the best and most revealing movie demo. You probably don't need reminding that I'm talking about Mark Wahlberg and Christian Bale as a pair of South Boston brothers/boxers with a fraught relationship. "How Do You Like Me Now," by the Heavy rampaged out of the speakers with warmth and tangible force. The mixer seemed to have taken pleasure in giving the soundtrack's songs special prominence—they really erupted—and I took pleasure in that decision. Boxing-match scenes with raucous crowds were well drawn by the identical speakers across the front and in the corners of the soundfield. Plentiful fist thuds were well reproduced but weren't especially localizable in the sealed-enclosure subwoofer, which is desirable. I was aware of only the aggressive effects, but not the sub itself, for long periods. Dialogue through the center-channel speaker sounded natural, not excessively etched or strident the way some speakers sound. Although I didn't have to play the up-and-down game to reconcile the volume levels of talk and effects, I did have to listen attentively to conversation partly masked by noise in a crowded pub. A more etched speaker might have better emphasized the voice in this particular scene, but overall, I strongly preferred the SuperZero 2.0's more balanced way of doing business.
During the review process, I got hold of the first season of In Treatment, the HBO series with Gabriel Byrne as a tormented psychotherapist. Thank you, New York Public Library, for this free DVD/Dolby Digital treat. If you haven't seen the series, you need to know that it's all talk. Here I came to appreciate the SuperZero 2.0's vocal naturalness even more keenly. When conversation rose from whispers to shouts, the speakers held their own. But what was ultimately more nourishing was the way they exploited tinier shifts in dynamics and timbre to convey fluid, mercurial emotional revelations in a perfect union of first-class acting and loudspeaker.
Mirrors 2 is a supernatural tale about the dead bursting through mirrors to confront the living about their shortcomings. This was crude demo material, with cheap coloration in the recording of the strings and a less nuanced approach to the human voice. Much as I like the SuperZero 2.0's personality, I was also pleased that it didn't sugarcoat everything.
Dulcified Reeds
Straight Ahead, on CD, exploits the contrast between Oliver Nelson and Eric Dolphy's alto saxes and other instruments. In the 1961 mix, they were at the extreme ends of the stereo spectrum, with Dolphy and the drummer at left, and Nelson and the pianist at right—only the bass was audible in the center. I can easily love a great pianist in a terrible recording, but where reed instruments are concerned, my desire waxes and wanes depending on the recording and its reproduction. With Rudy Van Gelder at the controls and just a pair of SuperZero 2.0s plus sub operating, this demo was the best-case scenario. As with the In Treatment voices, the instruments were fully fleshed out and sweet sounding (in a good way).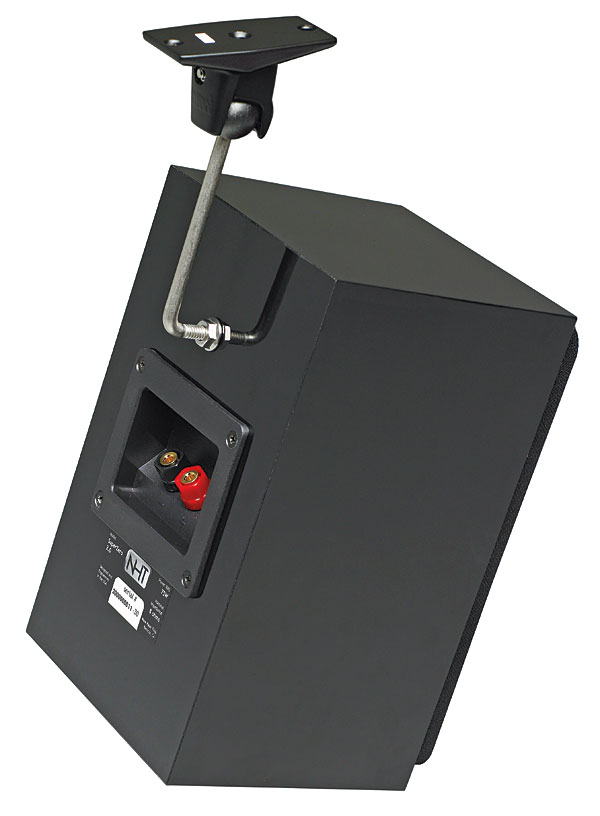 Early String Symphonies by Johann Stamitz and Franz Xaver Richter was recorded in high-resolution surround by the New Dutch Academy and released on PentaTone SACD. Conductor Simon Murphy explains in the notes: "The Mannheim symphonic language typically combines energetic and exciting Italianate string figurations with driving bass lines and soothing, cantabile Italian opera-style melody writing. For our younger audience, these are an 18thcentury equivalent of block-rockin' beats and chill-out/ambient." With authentic instruments and church acoustics in play, the string sound could easily have thinned out ungratifyingly. Indeed, the instruments produced a more delicate sound than modern instruments would support. But this recording was sinuous and communicative, and the decay off the stone walls was smooth and graceful, with a gentle momentum of its own.
My rocking-out selection for this review was the Who's Live at the Isle of Wight Festival 1970 on Blu-ray with DTS-HD Master Audio. Here the subwoofer, which had hitherto done its job so well I was rarely aware of it, grappled with John Entwistle's overwhelming bass guitar virtuosity. No, this little box didn't slam me against the wall and take my lunch money, but it refrained from bleating or bloating. NHT has sidestepped one of the worst snares for a sat/sub set (excuse me, mini-monitor/sub set)—the Super 8 sub is nearly as competent as the speakers. And I say nearly because the speakers are, for their price, extraordinary.
Oops, I tipped my hand. What more do you need for a conclusion? The NHT SuperZero 2.0 is a dab hand at movies and music. For these small speakers, big words are not inappropriate—excellent, superb, brilliant—although words like comforting, nourishing, and nonfatiguing might be nearer the mark. Perhaps it would be more helpful to finish up with statements drawn from fact and listening: These speakers are cute. They cost next to nothing. They come from people with good ears who are drawing on decades of experience and know exactly what's easy to live with. Compared with other NHT products, they're fairly relaxed and mellow. Mate them with a low- to moderate-priced A/V receiver, and you'll have a deeply satisfying starter surround system.