NHT SuperZero 2.0 Speaker System

Price
: $879 (for updated SuperZero 2.1 system)
At A Glance
: SuperZero 2.0 updates popular mini-monitor • Voiced to be more relaxed and forgiving • Sub packs 8-inch driver into 11-inch enclosure
Feel-Good Sensation
Consider the mini-monitor. It's smaller than a monitor and bigger than a satellite.
If the mini-monitor in question is the NHT SuperZero 2.0, it doesn't have much bass and therefore needs to be mated with a subwoofer. But in the surround arena, where subs are standard equipment, bass-shyness is not so much a weakness as a characteristic.
Thanks to its sealed enclosure, as well as its bass restraint, you can place the SuperZero 2.0 against a wall, or even wall-mount it. There's no huge honking port to be blocked, bloat, or bleat. In short, the SuperZero 2.0 doesn't have unresolved boundary issues (in contrast to people who drink a martini over dinner and then make inappropriate remarks, for which I apologize). You can push it against a wall, and it'll be neither flustered nor tipsy.
I first ran into the NHT SuperZero 2.0 at a low-key demo staged by NHT's Chris Byrne. It wasn't running off one of those little hipster tube amps that make me envy my colleagues in two-channel heaven, just a cheap stereo receiver not far removed from the speaker's own $99/each price point. And it sounded good—just the kind of congenial companion you might need to get through a few tough years when money is tight and you need to live close to the bone.
Buy It Your Way
Based in Benicia, California, NHT has survived numerous changes of ownership, ending up as it began—as an independent speaker company. You can buy its products direct, from several other online retailers, or in brickand-mortar stores owned by people who know a good thing when they hear it.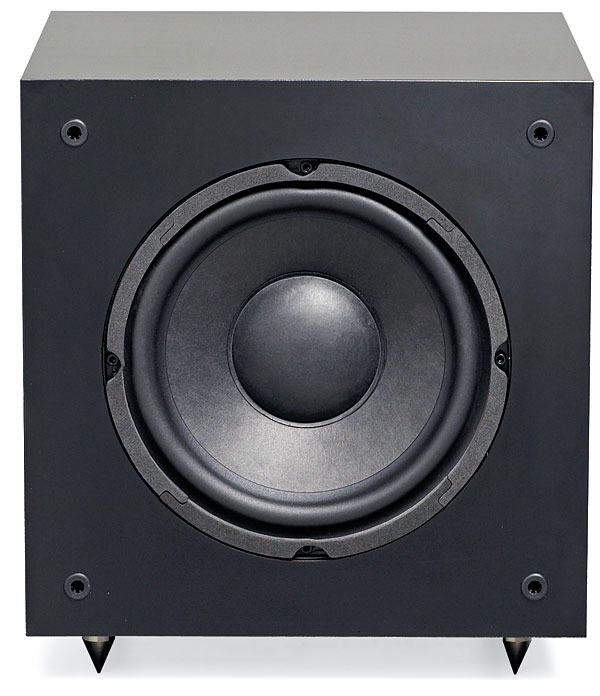 The system reviewed here includes five of the SuperZero 2.0, at $99 each, plus the Super 8 sub, at $349, for a total system price of $844. Incidentally, five identical stand-mounts plus a sub happens to be the speaker configuration I recommend to most readers. A set of fully matched speakers all around, when properly set up, gives you a good shot at achieving seamless panning across the three front channels and firmly anchors the soundfield at all four corners.
The SuperZero 2.0 is the latest version of a mini-monitor that NHT first introduced in 1994. Its glossy laminated black enclosure is likely to make friends and influence people. NHT has always been known for extraordinary build quality for the price, and even these budget minis are no exception. Although the SuperZero 2.0 is voiced differently than the first-generation model, its 1-inch silk-dome tweeter and 4.5-inch pulp-cone woofer are about the same, at least on paper, as in the original model. What interests me more is that its driver complement is notably different from that of NHT's step-up product, the Absolute Zero monitor (NHT calls it a bookshelf speaker). Where the SuperZero 2.0's tweeter dome uses silk, the Absolute Zero's uses aluminum. Where the Super uses woodpulp cones, the Absolute uses polypropylene. So it would be wrong to assume that the SuperZero 2.0 is just some scaled-down version of the Absolute Zero. They are totally different animals.
Befitting a company that sells direct to the consumer, NHT does a good job of describing the product on its Website. The well-braced cabinet "doesn't have to deal with the box vibrations that interfere with the critical midrange performance of its big-boy counterparts." As a smallspeaker advocate, I was glad to see this. I especially enjoyed the derisory "big-boy" part.
So what makes the 2.0 different from previous SuperZero speakers? Again, let NHT tell the story: "We found that if we added an itsy-bitsy coil of wire to the crossover in just the right place, we could make the tweeter roll off a bit faster (12 decibels per octave)." The extra coil blocks a little more bass from reaching the tweeter, lowering distortion and improving power handling.
NHT claims the SuperZero 2.0's rated frequency response to be –3 dB at 85 hertz. To give it a fair shake, I set my AVR's subwoofer crossover at 100 Hz. For a mini-monitor, this is par.
Associated equipment included a Rotel RSX-1550 A/V receiver and OPPO BDP-83SE universal disc player.