News & Gear: Mid-Fall 2022
MicroLED Market Could Top $1 Billion in 5 Years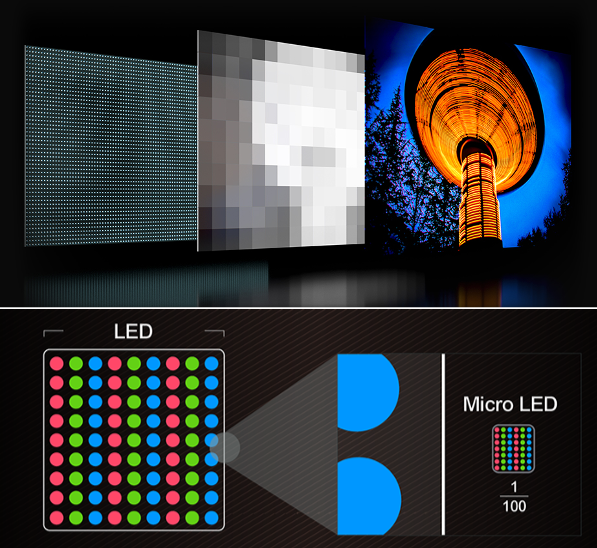 The market for self-emitting MicroLED TVs like the
$150k model Samsung showed at CEDIA 2022
is still in its infancy but as is the case with all new technology, prices will eventually come down as economies of scale kick in and sales will increase.
Digital Supply Chain Consultants
(DSCC) released a report on Monday that says the market for MicroLED TVs will start to slowly ramp up over the next few years and could reach $1.3 billion by 2027.
MicroLED (not to be confused with Mini-LED) has garnered a lot of interest because of its outstanding picture quality and potential advantages over other flat-panel display technologies: high efficiency, high brightness, high color saturation, fast response rate, and long display life. The displays are based on inorganic light emitting diodes (LED) that are smaller than 100 microns (one micron, or μm, is equivalent to one one-thousandth of a millimeter). Because the LEDs are so small, they can be densely packed to produce self-emissive pixels.
This unique combination of features would make MicroLED a superior display for applications ranging from super big-screen TVs like the Samsung TV to microdisplays for use in AR/VR headsets, according to DSCC. The technology is also attractive to the automotive industry for its ability to withstand harsh environmental conditions.
The report covers different manufacturing approaches, including the highly specialized "mass transfer" method used by Samsung, which consists of moving a large number of individual MicroLEDs on the display substrate. This method can, in theory, produce displays of any size, including screens larger than 100 inches (diagonal), but it is still being perfected.
DSCC points out that several mass transfer technologies are currently under development and, ultimately, the technology will have to migrate to using LED chips that are smaller (but not too small) than the ones used by Samsung in its MicroLED-based video walls to be effective and efficient. (Shrinking the chips too much can have an adverse impact on efficiency and performance).
The lineup of MicroLED TVs Samsung announced at CES 2022 has been delayed, most likely because of the low production yield, according to the DSCC. So while MicroLED technology is here, it still has a ways to go before TVs based on the technology become widely available and affordable. Meanwhile, Samsung recently introduced its first "QD OLED" TV, which is a real stunner. Click here for our review.
KEF Kicks Off Holiday Discounts
Christmas trees started appearing in stores at the end of August so are you really surprised that KEF and others are rolling out discounts in advance of Black Friday?
The British speaker maker is now offering discounts as high as 50% on a number of speakers:
Q150 two-way bookshelf speakers – $300/pair (half off the regular price of $600/pair)

Q350 two-way bookshelf speakers – $500/pair (a third off the regular price of $750/pair)

T205 five-piece, slim-profile speaker package – $1,000 (half off the regular price of $2,000)

LS50 Meta two-way bookshelf speakers – $1,300/pair (19% off regular price of $1,600)

R5 three-way tower speaker – $1,300 each (21% off regular price of $1,650)

R3 three-way bookshelf speaker – $1,700 each (23% off regular price of $2,200)

R7 three-way tower speaker – $1,800 each (20% off regular price of $2,250)

R11 three-way tower speaker – $2,400 each (20% off regular price of $3,000)
There is one exception: To get a sweet deal on the LS50 Wireless II bookshelf speaker system, a
2021 Sound & Vision Top Pick
, you will have to wait until Black Friday when the system price drops from $2,800 to $2,300.
The discounts are good through December 31 (or as long as supplies last). For more information on KEF's holiday deals, visit us.kef.com.
Periodic Shrugs Off Inflation with Price Drops
At a time when the price of everything is going up, up, up, Periodic Audio has announced a series of price reductions in the V3 series of in-ear monitors (IEMs) it launched earlier this year.
Made in the U.S.A., all V3 models are covered by a 5-year warranty and feature custom 0.4-inch (10mm) dynamic transducers in a lightweight housing made of medical-grade Tritan plastic, reinforced detachable cables with "nearly indestructible" connectors, and proprietary silicone eartips. The transducers used in each model are made of different materials.
The new, lower prices are as follows:
Mgv3 with magnesium transducers – $99 (half off regular price of $199)

Tiv3 with titanium transducers – $129 (57% off regular price of $299)

Bev3 with beryllium transducers – $249 (38% off regular price of $399)

Cv3 with lab-grown diamond over polymer transducers – $299 (40% off regular price of $499)
How can the company offer price reductions as the price of everything spirals out of control? Easy: They're moving to a model of selling direct to the consumer instead of going through a distributor, other otherwise known as cutting out the middle man.
"After working hard to refine our manufacturing and material processes, the next logical step was to reach a wider audience by eliminating additional operational overhead costs, resulting in a direct-sale model for North America," explained Periodic co-founder Dan Wiggins.
For more information, visit periodicaudio.com.
Now, let's check out some new gear. . .