The New HT Shopping Experience
Try out your home theater before you buy it.
Shopping for a home theater is not like shopping for a pair of shoes. You can't simply go to the store and pick one out. However, the process of getting the theater of your dreams in your own home has gotten easier than ever because more and more homeowners—from the newbie to the more technically sophisticated—are installing home theaters. According to Parks Associates, a leading high-tech research firm, penetration of home theater systems stands at an estimated 28 percent of all U.S. households. That percentage accounts for basic setups to intricate home theaters that can range in price upward of $250,000. As demand for these high-tech havens rises, the onus is on the specialty A/V retailer to make the shopping experience easier and more turnkey than ever before. That's why many of them are turning more and more to lifestyle-inspired design centers to let consumers experience something akin to what the final product will be like in their own homes. This article is designed to teach you what to expect and what to know before you shop.
Product Expertise and Personal Attention
One of the benefits of shopping at specialty A/V retailers is that they offer a higher level of product knowledge and individual attention. They aren't simply stores where you go to buy equipment (although that's possible, as well). What you are paying for is a variety of services, including general consultation, system design, acoustic consultation and design, and project installation and management. In other words, you're not just getting gear—you're getting assistance with the room as a whole. In fact, these retailers' services often go above and beyond home theater, to smart-home integration, multiroom systems, lighting control, and even security and communication systems.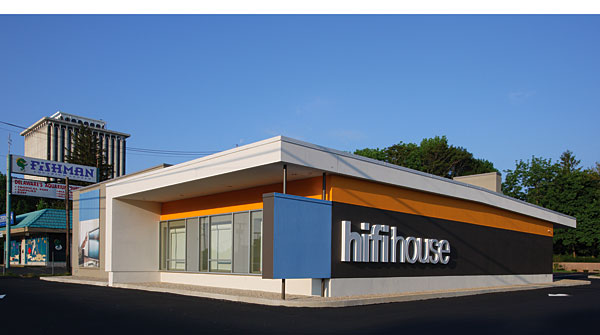 Gramophone's new Design Center in Timonium, Maryland, for example, provides customers with consultation on design and technology. Clients can receive tangible diagrams of the rooms they are planning, virtual walk-throughs, and photo renderings of the theaters, including elements such as textures and lighting. And the process is complimentary until the design proposal is approved. You can virtually build your home theater to ensure your investment of time and money before you spend a dime.
To satisfy increasingly discerning customers, salespeople and technicians at outlets like Gramophone's have to know their stuff. In addition to being CEDIA or PARA certified, they are usually required to take manufacturer-specific training courses on the products they are selling. According to E.J. Feulner, chief custom designer at Hifi House, their technical staff "is constantly upgrading their certifications as new products are released." This is a good thing, because Hifi House's new design center in Wilmington, Delaware, includes a whole-store Crestron smart home system, two advanced high-end custom theaters, an audio listening room, Krell's top-of-the-line Evolution Series sound system, the world's largest LCD television, and a $50,000 cork floor for acoustic enhancement. A major red flag is if your salesperson can't operate the equipment in the showroom. At design centers such as these, salespeople should know how a particular product works, how it performs in various rooms, and how it interacts with other equipment. Because most specialty retailers deal with a limited number of product lines, they have the luxury of expanding their knowledge of just those lines, rather than having multiple lines they know little about.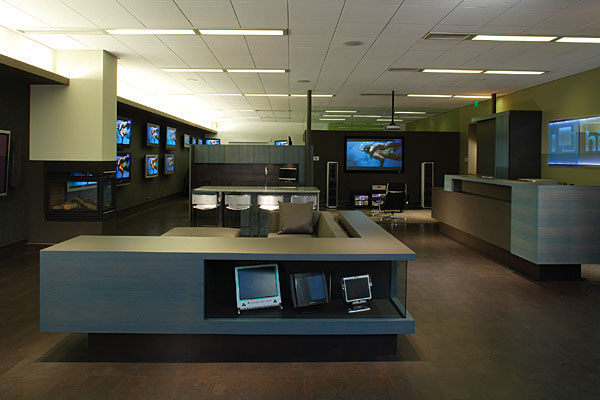 In addition to specialty-store employees' in-depth knowledge, the personal attention you'll receive is an added bonus. Because of the nature of designing an entire room, it's really important that the salesperson knows about your lifestyle in order to design the room accordingly. Will you use the room as a multipurpose room? Do you have kids who will need to use the system? Do you listen to music or movies more? If a salesperson doesn't ask questions about you, then you won't get a system that works for you.
See It, Touch It, Own It, Love It
The biggest advantage that some of the newer specialty-retailer design centers offer is that you can experience the gear firsthand. Becoming familiar with a particular piece of equipment, such as a media server, is hard to do without a hands-on demo. That's why specialty A/V retailers are realizing the importance of selling gear in an application or vignette similar to the way customers would use the gear in their own homes. You get the opportunity to have fun with, interact with, touch, feel, and hear the components. "Over the years, we've found that many clients have difficulty in defining what they're looking for and, in many cases, are not even aware of what the possibilities are," says Brian Hudkins, president of Gramophone. "Our new design center is an effort to go one step further and move from the fixed displays that a showroom presents to a world of unlimited possibilities."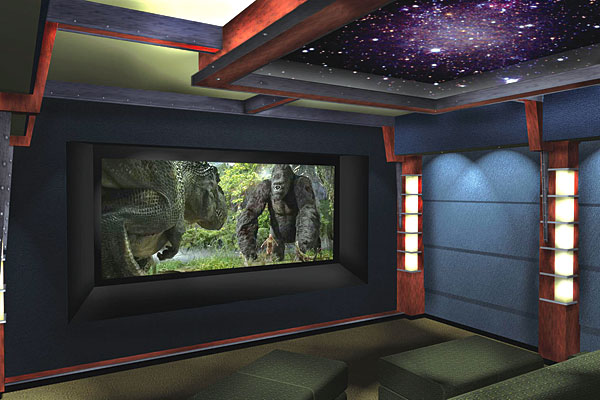 Shopping at a design center can also be great fun. Creative Home Theatre in Las Vegas, for example, has a gourmet kitchen, several different styles of home theaters, a "lifestyle room," a family room, and more. The goal is to let you see what can be done in your own home at various levels, fostering an "I want that" enthusiasm in new clients and the aspiration to continue upgrading your A/V system as time goes on.
Really, your main purpose at a design center is to act as a critic. You'll have the opportunity to hear and see the equipment you will be buying, so don't simply sit back and enjoy the show. When you're listening to audio equipment, ask to hear different source material, or, better yet, bring your own. When you're looking at video, ask to see both high def and standard def, DVD and satellite, dark scenes and vibrant ones. This will help you get a better sense of how the video performs with the source material you will be using. By being selective during the demo process, you ensure that the gear you end up with is exactly what you want.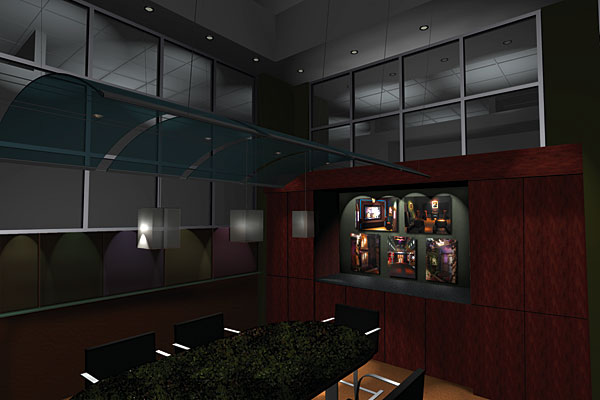 What Products Are Offered?
Product lines vary from retailer to retailer. Most carry a wide variety of lines to cover different budgets and levels of performance. When you're shopping, it's important to familiarize yourself with the brands that a retailer offers. Ask questions about the manufacturer and why the dealer chooses to sell their products. It's also important that the dealer is factory authorized for a manufacturer's products—otherwise, repairs may not be covered under the warranty. Are the products current? Do they have the latest and greatest technology? Some products are tried and true, but a good dealer will have current, state-of-the-art products, as well.
You should assess not only what types of products the retailer offers, but what happens after they are installed. A good specialty retailer will offer training on how to use the gear in your system, as well as on product maintenance should a problem occur. You're building an ongoing relationship with your A/V retailer, not making a one-time transaction. Ideally, you will eventually upgrade as new technologies (high-def DVDs, for example) become common. If you want to buy and install new products, it's easier to call the person who installed your home theater to begin with than someone who is unfamiliar with your system.
Debunking the Myths
Many people have misconceptions about shopping at a specialty A/V store. They expect to pay more, and along with the expectation of higher prices comes the intimidation factor. While specialty A/V stores do have higher-end components that chain stores don't carry (which naturally have higher prices), they aren't going to charge you more for the same gear and usually carry less expensive lines. What you are paying extra for are the valuable services. You aren't just buying gear—you are contracting a specialist to design and build your theater and room.
Another prevailing stereotype is that shopping for A/V gear is solely a guy's job. Contrary to popular belief, more and more women are embracing the A/V shopping experience as it becomes more entangled with interior design and more popular as a necessity in the home.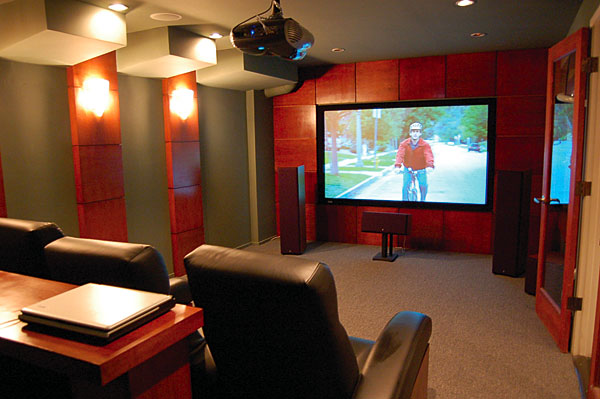 TVAuthority, in Santa Monica, California, is taking the lifestyle model at many design centers a step further by offering a unique space that is inviting for both sexes. The 8,500-square-foot modern loftlike space, with high ceilings and exposed brick, has a showroom-style lobby with plasmas, LCDs, and other TVs. As you move down the halls, you start to notice the gorgeous works of art hanging next to the video displays—the space is in fact also an art gallery. Then you come upon a kitchen and two elegant dedicated theaters at different price points. "We are trying to build a business that speaks to everyone, and we realize how key women are in making household decisions," says Jason Palmer, the owner and president of TVAuthority. "We find that women feel at home here, not intimidated or afraid to be a part of the process." Pushing the envelope by combining lifestyle, technology, and art, TVAuthority's design center inspires creativity and performance.
Be Prepared, and Find the Right People
Of course, it's also very important that you make sure the retailer you are thinking of using to design and implement your A/V system is a good match for you. You want someone with whom you feel comfortable and who you can trust. If you feel uneasy about asking questions or the salesperson's attitude intimidates you, look elsewhere. Also, make sure that the retailer offers the services you're seeking. Take, for example, interior design: If they don't offer it, they may have an independent contractor that they work with on an ongoing basis. If you can find the right A/V retailer, you will build a relationship that will last as long as your system does, and you'll have a happy home theater for years to come.
Contacts
Creative Home Theatre
(702) 257-1007
www.creativehometheatre.com
Gramophone
(800) 683-9525
www.gramophone.com
TVAuthority
(888) 286-5353
www.tvauthority.com
Hifi House Group
(800) 990-4434
www.hifihousegroup.com