NAD T758 V3 A/V Receiver Review
PRICE
$1,300
AT A GLANCE
Plus
Modularity allows upgrades
Dirac room correction
BluOS audio streaming
Atmos 7.1.4 capable with external amplification
Minus
Only three HDMI inputs
No DTS:X (yet)
Dirac execution more complex than most auto room EQ
THE VERDICT
NAD's modular-upgrade strategy endows V3 of the T758 with bleeding-edge room correction and audio streaming without impairing its excellent sound.
Why on earth would a magazine devoted to the latest and greatest in surround sound review a receiver that made its debut in 2011? Seven years in receiver years is—well, a lot of years. But the NAD T758 V3 is not some old wheezer on its way out. The company's Modular Design Construction allows the addition or swapping of slide-in modules offering new connections or features. "Instead of planned obsolescence," the company says, "we have planned evolution."
The combination VM130 video and AM230 audio module that pushes this model from V2 to V3 adds Ultra HD video, Dolby Atmos, USB, and—via USB dongle—plug-ins for Wi-Fi and Bluetooth, thus accommodating a control app and NAD's BluOS, a grab bag of wireless audio streaming and multi-room features. The V3 also swaps out the previously used Audyssey room correction (which was pretty spiffy and convenient to begin with) with bleeding-edge-but-nerdy Dirac Live LE, making this one of the few receivers to have it. To accommodate the new board, the V3 loses one HDMI input, leaving only three in total for the receiver (plus one output), as well as two digital audio inputs (choose optical or coaxial for either). Having just three HDMI inputs is a notable limitation to be aware of, but probably not a deal breaker for most systems. Three is enough for a set-top TV box, a Blu-ray player, and either a streaming video player (Roku, Apple TV, etc.) or a game console—but not both. However, your streaming hub might be integrated today within your game console, or in your TV or Blu-ray player. In keeping with the times, legacy composite video inputs are absent altogether, having been eliminated in the V2.
With TuneIn internet radio added via the BluOS functionality, NAD has also decided to avoid duplication and cut costs by eliminating the FM tuner. While that eliminates your local radio stations, you get them back again in streaming form along with stations from all over the world. Unless you have an analog-FM fetish, you'll probably agree it's more than a fair trade. [Editor's Note: OK, so the purging of FM tuners I've long predicted begins. Should we still call this a receiver? I suppose it's still receiving radio signals, just via the internet, right?—RS]
Affordable High End
For the few readers unacquainted with NAD, this British-turned- Canadian audio brand first became famous for the legendary 3020 stereo integrated amp. Now part of the Lenbrook Group, which also markets PSB speakers and Bluesound streaming audio products, it has a healthy line of two-channel and surround products. Among the surround products, the only other model to get a V3 upgrade so far is the brawnier T777 receiver; both the T758 and T777 have seven amp channels. NAD's expertise in bringing high-end values to affordable price points makes it a friend to thrifty audiophiles.
The T758 V3 is classic NAD, with a plain faceplate and minimal front-panel controls. Other than the volume knob and navigation rocker, with its menu button, the only other buttons provided are source up/down and listening mode. They are almost puritanically small, but the NAD ethos is to put the good stuff under the hood, where you can manipulate it via remote control or the new control app. The remote is sensible looking, with controls well differentiated by size, shape, color, and layout. A second, smaller remote is supplied for Zone 2 operation.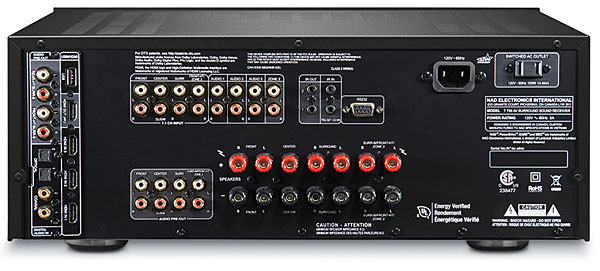 Rated power is 110 watts times two and 60 watts times seven, NAD being among the few manufacturers to provide an all-channels-driven spec. (As always, you can check that against our Test Bench specs.) Those seven amp channels are enough to run a 5.1.2-speaker configuration with two front height channels for Dolby Atmos or, not as much fun in my opinion, a 7.1-channel configuration with back-surrounds. You can add rear height channels to achieve 5.1.4 with connection of two channels of external amplification to the appropriate line outputs on the back, or also add back-surrounds for this unit's maximum 7.1.4 configuration with an additional two channels of external power (though in that case you might be an 11-channel receiver or even separates guy). DTS:X was absent at press time but planned in a future software update.
The VM130/AM230 upgrade module contains all the aforementioned video and audio connections plus a USB jack. Out of the latter hangs an included USB hub with four ports. I filled three of them with the Wi-Fi and Bluetooth thumb antennas/dongles, plus an included microphone preamplifier for the Dirac room correction.
Ultra HD passthrough runs at a maximum of 60 frames per second with 4:4:4 color sampling (in other words, no color compression) and with HDR10 picture-optimizing metadata (but not Dolby Vision—so far). The company says that "Because the ARM processor we use for Bluesound and its BluOS High Res Network Streaming operating system also has extensive video processing capabilities, we were able to use this processor to manage the video and also allow BluOS network streaming, a major new feature upgrade." NAD provides no video scaling, saying that job is better left to the video display—a tack also taken lately by other AVR makers in all but their most premium models. HDCP 2.2 DRM ensures an orderly copyright hand- shake with UHD sources.
Doing Dirac
But the biggest story here is the addition of Dirac, from the 15- year-old Swedish company that offers room correction for high-end home theater systems as well as audio processing for mobile and automotive use. NAD has not just adopted Dirac Live LE but also gotten PSB's speaker-designing eminence grise Paul Barton to tweak it. Barton created microphone calibration curves and a "Room-Feel" target "that is informed by his extensive research into acoustics and human perception of sound."
He also made the potentially valuable suggestion to keep the full impulse response correction of Dirac Live (which deals with time and phase anomalies) but also limit its frequency response corrections (i.e., equalization) to frequencies below 500 hertz. This bass range is where most rooms have the largest impact on performance. Many audiophiles prefer to avoid electronic tampering with their system's midrange character and instead tweak the listening experience with acoustic treatments to the room. There is a camp that advocates for doing both. If you want full frequency response correction, you can download the standard Dirac software for $99 extra.
Most receivers have a combined auto setup and room correction program. Dirac works differently, leaving speaker settings to be manually input by the user and performing only room correction. Note that this receiver requires you to specify your speaker characteristics in the Speaker Configuration menu and then assign amp channels to either height or back-surround duties in a separate Amplifier menu. That's somewhat unusual and not well flagged in the manual. Failing to set both menus properly could result in the Dirac software not "hearing" your height or back-surround speakers and result in error messages, as occurred for me initially until I got things straightened out with a little help from NAD.