NAD T758 V3 A/V Receiver Review Page 2
Even without this hitch, setting up for a Dirac run proved less straightforward than running the software in most AVRs. It involves linking together a chain of four included items. You end up with the microphone plugged into a barrel adapter, plugged into a USB mic preamp, plugged into a USB hub, plugged into the USB jack of the VM130 module on the back panel. The USB mic preamp can also be plugged directly into a PC, though your firewall and antivirus software might have to be disabled to allow the receiver to be recognized by Dirac—potentially leaving you open to criminal hackers during testing. Mac users must also select the USB Microphone in sound settings. Additionally, both the AVR and computer must be on the same local network.
Once the setup was properly configured, I then used the software in the computer to measure the room acoustics from nine listening positions, loaded NAD's proprietary RoomFeel target onto each group of channels, ordered the program to optimize settings, saved the project, and finally exported the settings to the AVR. You can save up to three versions in the software and select them in the receiver's interface. The target-loading and optimizing steps share the same Filter Design tab on the PC-app user interface, and the app doesn't step you through them sequentially—I needed a bit of extra hand-holding from NAD to get it right. NAD does offer a step-by-step video on its website and context-sensitive help in the Dirac app.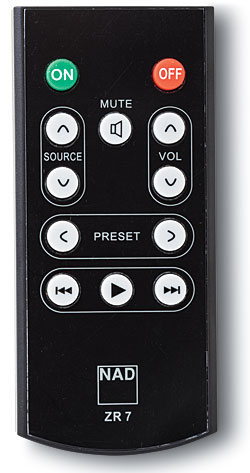 Ultimately, Dirac is an audio tweaker's paradise; it's great to see how your system measures in your room and how the program corrects it. And the results, as you'll read below, were excellent. But be advised that, compared with the plug-and-play simplicity of most auto-correction schemes, the learn- ing curve for this one is steep.
Associated equipment included five Paradigm Reference Studio 20 v.4 speakers, two Klipsch RP-140SA elevation modules, Paradigm Seismic 110 subwoofer, Oppo BDP-83 universal disc player, Micro Seiki BL-51 turntable, Shure M97xE cartridge, and Denon PRA-S10 serving as phono preamp. All movie demos were on Blu-ray Disc.
Tighter and Snappier
Desultory break-in listening, before room correction, revealed a reasonably neutral amplifier with no gross flaws or additive character. NAD is good at that. With Dirac, the most obvious difference was the improvement in bass response, which zapped my room's standing wave and tightened rhythm sec- tions. Leaving the basic midrange character of my room and speakers intact was no burden—the room's balance of frequencies is agreeably listenable, if not unflawed, and the speakers are pretty neutral. The impulse response correction was more subtle, and where room correction is concerned, subtlety is not a bad thing. Imaging improvements were minor, but everything from top to bottom seemed a little snappier.
The Guy Ritchie bomb King Arthur: Legends of the Sword was a Dolby Atmos feast, giving the height channels a good workout. Even with only one pair of Atmos speakers sup- ported by the seven-channel receiver, the soundfield was big, airy, and not terribly speaker bound, especially in front. What my notes call an "EZ tonal balance" didn't prevent a finicky approach to detail, especially in the score's buzzing trombone and cello flourishes, souped up in the mix for maximum menace. Well-measured bass rounded out the package.
The Zookeeper's Wife (DTS-HD Master Audio) is a true story about zookeepers who provided escape and refuge for people from Warsaw's Jewish ghetto during World War II. The Nazi bombing of the zoo was all too forceful and evocative. This soundtrack had a warmer, softer feel and a slightly less vivid soundfield, though the receiver didn't allow the softening to impair dialogue intelligibility.
The finale was Game of Thrones, season seven, episodes one to three, an even more vigorous celebration of Dolby Atmos. As the White Walkers rose out of the mist in "Dragonstone," the mix threw a surprisingly large proportion of the orchestral score into my up-firing Klipsch elevation modules. The battle of two naval fleets in "Stormborn" became more of a medieval battle scene as armed men crossed between boats and attacked hand to hand, filling the soundfield with mayhem—this was perhaps the only scene where I would have liked to have been running at least four height channels. It became abundantly clear in this scene that the net effect of Dirac room correction and height effects was greater than the sum of its parts, the room correction sharpening perception of numerous fast-moving objects rioting throughout the wedge-shaped soundfield.
Bliss of Bis
Sibelius's Kullervo and other works featured Osmo Vänskä leading the Minnesota Orchestra and YL Male Voice Choir on yet another beautifully recorded multichannel hybrid SACD from the Swedish label Bis. (Vänskä's Beethoven cycle is my go-to hi-res surround version.) The soundfield was extremely airy— probably because the receiver was receiving multichannel PCM from the disc player and upmixing it to Dolby Surround, with its simulated height effects, by default. But even with Dolby Surround switched off in the GUI, the soundfield was fine-grained and colorful, with notably clear, sumptuous, and well-integrated decays, especially with a solo clarinet part in the second movement. There was also a strong spatial sense of the venue, possibly a mixture of the RoomFeel target and information embedded in the recording.
Billy Cobham's second solo album Crosswinds (LP) harnessed his tireless and sometimes explosive drumming to a percolating jazz-funk groove, serviced by the Brecker brothers and the late guitarist John Abercrombie. I compared the room-corrected stereo mode to analog bypass and tried to listen beyond the obvious sub-on, sub-off distinction. I was well into side two before realizing that the soundstage was getting a little extra focus from Dirac, though again, it was subtle.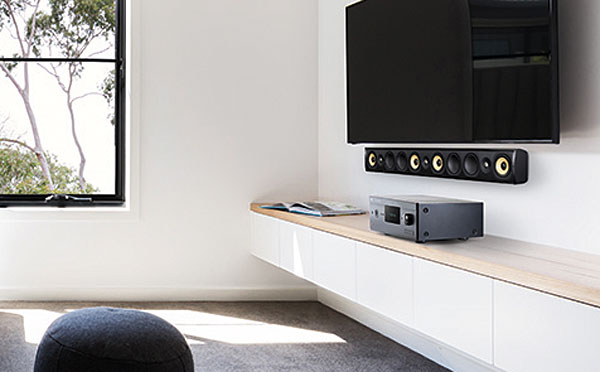 Once I got used to tight, fast rhythm sections, I couldn't resist going for more. Stewart Copeland's prodigious playing on the second Police album, Reggatta de Blanc (LP), never sounded more disciplined and satisfying. But the room correction also excavated several distinctive high-frequency textures from his cymbal work. Andy Summers' Telecaster was also a feast of spidery tone as he worked his way through tremolo, phase shifter, and other effects. Dirac rocked this album hard yet subtly.
The Bluesound app was easy to install and trouble free, not balky or buggy as some are. The 16 supported streaming services included some new to me (Calm Radio, Murfie, WiMP). Pandora was not among them, so I wasn't able to access my free account, but Radio Paradise was an adequate substitute. It describes itself as "a unique blend of many styles and genres of music, carefully selected and mixed by two real human beings." NAD gives it special prominence, along with TuneIn, on the streaming home screen.
NAD's Modular Design Construction makes V3 of the T758 a special occasion as one of the small but growing number of surround products with Dirac. Putting aside the aforementioned challenges with learning to use it, it's an empowering tool for the questing audio tweaker who wants the flexibility to experiment with room correction parameters. Coupled here with this fine-sounding receiver, the audible results are beautiful.