My Majestic Theater
Long before I met my wife I dreamed of having my own home theater, many ideas have come and gone since then, but I always knew that I wanted a dedicated theater in a classic style. I finally came one step closer to my dream in 1999 when my wife and I bought a new home in the suburbs, although it would be years before I would actually start my project. I began researching and collecting items from the past, and in 2006 I finally got the nod from my financial advisor (that would be my wife) though there was one caveat ... I was put on a very strict budget.
My plan was to create an authentic 1930-40's style theater with a lobby area. There were many challenges, like re-routing heating ducts and plumbing, and building the theaters shell, but the biggest challenge was getting my ideas past my wife. It was difficult for her to visualize what I had in mind and she never agreed with my ideas. However, I always insisted and held my course right down to the final details. I still remember her calling me crazy for searching three months just to find the perfect hardware for the door, which I found in a 100-year old home in Buffalo NY.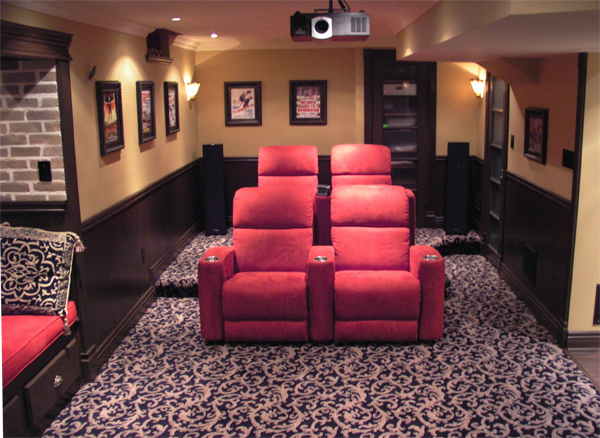 Aside from some electrical work I did every bit of work myself. This was one of the biggest tasks I had ever taken on and I can't say it was always enjoyable. The wainscoting and trim was a huge task along with the veneer brick walls, where each brick was painted by hand.
The focal point of the lobby is a concession stand that I built myself along with a 103-year-old solid brass National Cash register that helped bring the theme to life. In the theater, I added a raised rear seating area along with a bench seat to accommodate extra viewers and a bump out in he back of the room allowed me to hide the equipment out of sight.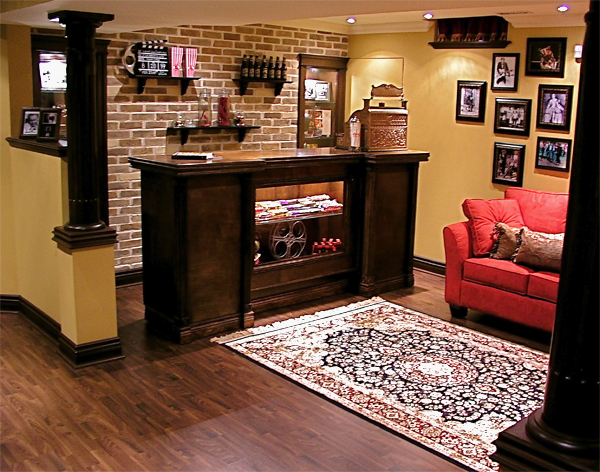 Choosing the right speaker cable was an important step, so I bought test lengths of low, mid and high grade speaker cable and tested each one until I found the right one for my system. As for video cables, it was a no brainer as I used a custom cable supplier in Seattle that I trust to provide me cost effective A/V cables.
When it came to the heart of the system I desperately needed some upgrades, so I went back to my financial advisor to request more funds. A bit of sucking up and 1-years worth of dishwashing increased my budget enough to acquire a used Runco DLP projector and a Krell Showcase processor.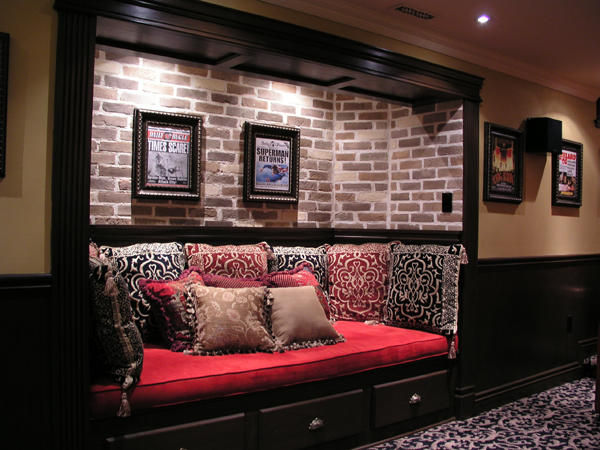 When it came to the curtains, I fortunately had the most amazing seamstress ever (my mother in-law). The carpet was something of an over budget item. My wife and I searched high and low for just the right carpet but nothing fell into the budget. We finally caved and spent the extra money because we knew by cheeping out now it would only ruin all the worked done so far.
All in all I'm ecstatic with the results and the best part is my wife loves it to, she never wants to go out to a movie theater any more.
Equipment List
Runco DLP Projector
Krell Showcase Processor
Sony 400 disc DVD Player
Sony BDP-S550 Blu-Ray Player
Parasound HCA 1200II Amp x 2
Parasound HCA 2003 Amp
Panamax M5-5300-EX
Panamax M4300-PM
Mirage OM-10's (Main L/R)
Mirage OM-12's (Rear)
Mirage OM-R2's (Side)
Mirage MCSi (Center)
Mirage BPS-150i (Sub)
100" Grandview Fixed Screen
Philips RC-9800i Touch screen Remote
Lutron Smart Dimmer System