Music: Who'da Thunk!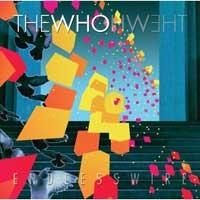 Universal/Republic
---
Endless Wire Music •••½ Sound •••
---
Live at Lyon (Bonus DVD) Show ••••½ Picture •••½ Sound ••½
Is the glass half empty or half full? With THE WHO down to two, having lost the most innovative rhythm section in rock history, it's a question worth asking - especially because 24 years have passed since the band's last set of new material. Well, Pete Townshend is one of rock's great writers and Roger Daltrey one of its great voices, and their collaboration on Endless Wire yields some genuinely exciting moments. Among them is "Black Widow's Eyes," which examines irrational love - for a terrorist, of all things - from a rational view, kicking up a tempest and then assessing the carnage.
The closing opus is a 10-track "mini-opera," Wire & Glass. Its breathless gait recalls a clump of song fragments from Guided by Voices (or the Who's own 1966 suite "A Quick One While He's Away"). It's a curiously innovative mad dash through the mind of Townshend as he contemplates what it is to be young and ascend the rock & roll ladder. And all told, Endless Wire merits points for ambition. But the sonics are a little cold, coming across like a computer recording rather than an old-fashioned, organic, true-Who dustup.
On the bonus DVD, Live at Lyon , the two principals are full of energy on five warts-and-all numbers (including "Baba O'Riley," "Won't Get Fooled Again"). And the band, especially Ringo Starr's kid Zak on drums, acquits itself well. The camera work is arresting without being exhausting, and the surround mix puts you squarely in the center of the music. But the sound quality itself lacks the definition and dynamism you'd expect from a professional project.
more of this month's reviews Back to Homepage What's New on S&V