Music: Songbirds of a Feather?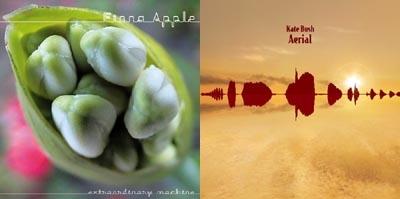 Kate Bush Aerial Columbia
---
Music ••• Sound ••••
Fiona Apple Etraordinary Machines Epic/Clean Slate
---
Music •••• Sound •••• Extras •••½
Before anyone says another word about
Kate Bush
's influence on songwriters like
Tori Amos
and
Fiona Apple
, I'll make one request. Listen to Bush's 1982 art-rock masterwork,
The Dreaming
, or the second half of its 1985 follow-up,
Hounds of Love
. Now name one thing by Amos or Apple (or anyone else) that sounds remotely like it.
Unfortunately, Bush's first album in 12 years, the two-CD Aerial, doesn't sound like The Dreaming either. It sounds exactly like the work of an artist who's been raising a family in the country for the past decade: there's more contentment, less intensity, and absolutely no banshee wails. In fact, given all the graceful melodies and gentle piano, you'd swear Bush is turning the tables and emulating Amos. But instead of the sexual/philosophical subject matter that Amos draws from, the various songs on Aerial's first disc muse on subjects like math, clotheslines, Bush's son, and Elvis.
The second disc, containing the concept piece "A Sky of Honey," is by far the more satisfying, though it takes a while to get off the ground. And not until its closing trilogy - especially the album's title track, with its birdsongs and mad laughter - does Bush truly get into the mystic. Take those bright moments (and the presence of names like Gary Brooker and Lol Creme) as a reaffirmation of her art-rock past. And the subtler direction here is at least more rewarding than the pop-crossover attempts on her last album, The Red Shoes. Still, Bush has been away for more than ten years, so a merely pretty album - even a frequently gorgeous one - is bound to feel like an anticlimax.
Fiona Apple took only six years to deliver her third album, Extraordinary Machine. During that time, an unreleased version produced by Jon Brion - yes, the same Jon Brion who co-produced Kanye West's latest megahit - was apparently rejected as noncommercial, only to be leaked online mysteriously. (Both Epic and Apple now maintain that she pulled the plug on that version herself.)
Forget the sellout charges, though: new producer Mike Elizondo's work is still plenty quirky, and a pair of Brion-produced tracks give Machine a suitably odd beginning and end. In fact, the disc finds Apple exactly where Bush was at the three-album mark: breaking away from piano-based balladry and moving toward a more idiosyncratic, rewarding approach. And Apple's "Get Him Back" is one of the most toothsome breakup/revenge songs since, oh, Bush's "The Wedding List."
Of course, the parallels go only so far: Apple is her own woman, with a deep voice and jazz/torch leanings that make her a rarity in the singer/songwriter world. So does her dry, cynical sense of humor, which gets a workout in "Better Version of Me" and the music-biz treatise "Please Please Please." And there's enough musical invention here to suggest that a Dreaming-style peak may not be far away.
The DualDisc extras include a decent video for "Not About Love." There's no surround mix, but the (ahem) "enhanced stereo" version of the album does help make the varied sonic textures more vivid. Fans will want the DualDisc mainly for the six-song live performance that draws from this album and its predecessor. Here, joined only by Brion on acoustic guitar, Apple is relaxed and charming. The extras get docked a notch for including less than a minute's worth of the promised "behind-the-scenes footage."