MUSIC REVIEWS: System of a Down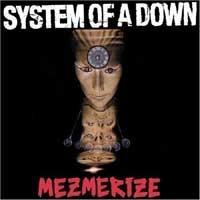 Mezmerize American/Columbia
---
Music •••• Sound ••••½
We won't know the full extent of System of a Down's third "album,"
Mezmerize/Hypnotize
, until the second disc drops this fall. But for now,
Mezmerize
's filler-free assault nails its targets with precision-guided metal/rock. On "B.Y.O.B.," singer
Serj Tankian
aims his biting black humor at bloody Iraq while knockout thrash riffs and "la la la"-fueled pop raise an eyebrow.
Daron Malakian
wages six-string devastation on "Revenga" and sarcastically announces "My cock can walk right through the door" in the anti-authoritarian "Cigaro." The New Wave-y "Old School Hollywood" and the heartbreaking "Lost in Hollywood" conclude the first hit of what may turn out to be a lethal double dose.
WHERE TECHNOLOGY BECOMES ENTERTAINMENT