MUSIC REVIEWS: Foo Fighters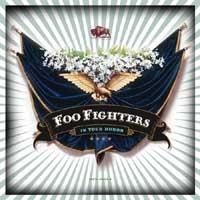 In Your Honor RCA
---
Music ••••½ DualDisc Mix •••• Extras •••
Foo Fighters 5 is a mighty big enchilada, especially in its double DualDisc edition. That's right, two DualDiscs: an "electric" album backed by a DVD documentary and an "acoustic" album with a surround mix on DVD-Audio. There's also a 16-page booklet, and the whole thing is housed in a removable slipcase. And, oh yeah, it's modestly called
In Your Honor
.
All of that might seem like an unintentional satire of rock pomp. But In Your Honor is everything it means to be. Singer, guitarist, and bandleader Dave Grohl has said he wanted no middle ground, so the electric disc is as hard as nails while the acoustic disc is a low-key, melodic gem. The entire set is a testament to the range and tightness of the Foos.
From the opening guitar-army onslaught of the title track to the ringing feedback finale of "End over End," the electric album is an unrelenting blast of aggressive hard rock. It peaks with the powerful one-two of "The Last Song" and "Free Me." The first is a cathartic kissoff that sounds like the U2 of "I Will Follow" given a swift kick by the Sex Pistols of "God Save the Queen." And "Free Me" has furious, Led Zeppelin-like riffing and some of the most intense screaming on record. The disc plays through like one long song, which isn't a complaint but praise for its sustained ferocity. And it sounds great in the beefier "enhanced stereo" on the DVD side. The 20-minute making-of documentary includes interviews with all four Foos. Just one complaint: why is there no surround mix of the electric album, especially since the mix of the acoustic one turned out so brilliantly?
Led Zep's John Paul Jones makes an appearance on the acoustic disc, as does Norah Jones, who adds piano and vocals to the lovely bossa-nova "Virginia Moon." The diversity of settings is shown to maximum effect in Elliot Scheiner's six-channel mix, where he apportions the musical elements more or less democratically. The mix is more about immersion than segregation, and the tracks (especially the acoustic guitars) have a crystalline clarity. Grohl sounds like a different person here; it's hard to believe that the nuanced singer of "Miracle" is the same guy who shreds his cords on the other disc. The acoustic album reaches its zenith in "Over and Out," where guitars, vibes, strings, and tom-toms set a haunting scene.
Grohl and the Foos are to be hailed for dreaming big and hitting the mark with In Your Honor. It is, quite simply, an awesome achievement.