MUSIC REVIEW: Marty Stuart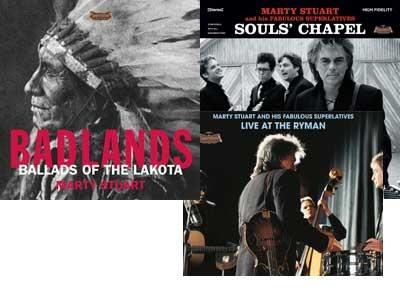 Souls' Chapel Superlatone/Universal South
---
Music •••• Sound ••••
Badlands: Ballads of the Lakota Superlatone/Universal South
---
Music •• Sound ••••
Live at the Ryman Superlatone/Universal South
---
Music •••½ Sound ••••
Breaking away from Nashville country with a vengeance, reformed honky-tonker Marty Stuart has released three CDs in three genres within six months. Although there isn't a mainstream studio album in the batch, Stuart carries the same excellent band (the Fabulous Superlatives) and plenty of his old country-rock instincts into all three.
In fact, you'd be hard-pressed to find a more rocking gospel album than the first of the three, Souls' Chapel, or a more lively set of modern bluegrass than the most recent, Live at the Ryman. The latter includes a banjo-driven version of Stuart's breakthrough hit, "Hillbilly Rock," that scorches the electric original. With a stack of old bluegrass chestnuts (and a between-songs joke that's even older), Ryman is all about the picking. Not everyone can afford to open their set with "Orange Blossom Special," the kind of workout that an easily worn-out group would save for the finale.
Still better is Souls' Chapel, a celebratory gospel album instead of a fashionably ominous one. Leaving the mandolin in its case, Stuart hangs the disc on a tremolo guitar sound that would be more at home on a Fat Possum blues disc. Stone-country vocal harmonies are matched with Memphis soul material (two songs from Pops Staples and one from Steve Cropper), but the mix never sounds forced - not even when Stuart makes the hymn "Way Down" sound just like "Baby Please Don't Go."
Only one well-intentioned dud keeps this trilogy from ranking as a career peak. Released between the other two albums, Badlands: Ballads of the Lakota is properly respectful of the Sioux people. But it's a mixed bag of field recordings, spoken interludes, and epic rock ballads, making it more an educational experience than a musical one. The grandiose finale (two songs in 15 minutes) tries way too hard, and only on the scathing "So You Want to Be an Indian" does Stuart summon the righteous anger that Johnny Cash brought to his similar-themed albums in the 1960s.