MUSIC REVIEW: Kings of Leon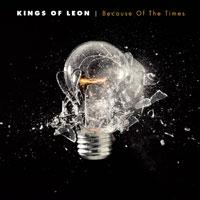 Because of the Times RCA
---
Music •••½ Sound ••••
Kings of Leon look so much like an old-school Southern rock band that they fooled a lot of people into thinking they sounded like one. Yet their first two albums were as winningly weird as anything to hit the charts in recent years. With obscured lyrics, shifting sound textures, and a disregard for conventional song structures, 2003's
Youth & Young Manhood
and 2005's
Aha Shake Heartbreak
were at least as close to Wire as they were to Lynyrd Skynyrd.
Only trouble was that those two discs were nearly identical, so a change was in order for Album No. 3 - and I'm glad to report that on Because of the Times, Kings of Leon have only gotten weirder. They've made one concession to the mainstream: Caleb Followill has finally learned to enunciate, so you don't have to work quite as hard to discover what the songs are about. You can also catch great one-liners, such as "She shakes like the morning railway" (in "Arizona"), not to mention "She's got a hat, and all her hat says is, 'Asshole' " (in "Fans"). Tracks like "Knocked Up" also show a flair for dark-toned storytelling that the band's Southern brethren in Drive-By Truckers - and for that matter, Lynyrd Skynyrd - would appreciate.
But the music is even less linear than it was in the past, and more ambitious as well. The opening "Knocked Up" takes its time - a full 7 minutes - to build slowly, release fast, and then pull back again. "Charmer," with its random screams and pulsing bass riff, sounds like a second cousin to Flipper's avant-punk classic "Sex Bomb." In fact, the album's first half, through the manic yet danceable "My Party," is a joy ride to parts unknown. The oddball sound mix helps make that impression - the same mix of upfront bass, dry vocals, and brittle guitar once favored by Public Image Ltd. Yet there's always a solid pop sense (probably the work of Nashville hand and longtime collaborator/producer Angelo Petraglia) behind the avant moves.
Unfortunately, the band takes one left turn too many in the second half. The album gets wrapped up in slower tempos, and lead guitarist Matthew Followill starts laying back and never steps forward again. Also, Caleb gets pushed way up front for the first time; while he's a distinctive singer, he's not versatile enough to command the full spotlight just yet. And as "Ragoo" makes clear, Kings of Leon will never be a reggae band. It seems they're aiming for a soulfully wasted, Exile on Main St. vibe, which they may well nail next time around.
Album No. 3 is traditionally make-or-break time for a buzz band. (You have to wonder if the Strokes, for example, will still get past theirs.) And Because of the Times does make it, growing pains and all.
more Entertainment reviews Back to Homepage What's New on S&V