MUSIC REVIEW: The Fiery Furnaces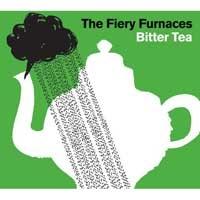 Bitter Tea Fat Possum
---
Music ••• Sound ••••
Built around siblings Matthew and Eleanor Friedberger, the Fiery Furnaces are a brilliant and frustrating band. The brilliance comes out onstage, where Eleanor is a magnetic frontwoman and the complex material is played with Who-like ferocity. But on disc they get into weighty concepts, some inspired (like the neo-prog epic Blueberry Boat) and some just bizarre (like Rehearsing My Choir, with their grandmother on vocals).
Bitter Tea
is yet another concept - roughly, a playground version of evil postpunk, with cheap, tinkly keyboards and reversed vocals on every track (on a 73-minute album!) and almost none of Matthew's guitar. The melancholy story line is out of sync with the bubbly music. Thankfully, a melody grabs you whenever the annoyance factor threatens to take over, and Eleanor remains a wonder (think a young Laurie Anderson with real rock instincts). Like all Fiery Furnaces albums, this one is worth sticking with - and it's to the band's credit that it works at all. Still,
Bitter Tea
seems a sidestep from the art-rock classic the Furnaces clearly have in them.
more of this month's reviews Back to Homepage What's New on S&V
WHERE TECHNOLOGY BECOMES ENTERTAINMENT