Mountaintop Media Room
If you thought that the only place where you can achieve A/V perfection is a dedicated space, think again.
As media becomes more entrenched in the way we live our lives, it logically follows that the way we listen to and watch media should fit within our lifestyles. And, according to Anson Fogel, COO and CTO of Electronic Systems Consultants (ESC) in Aspen, Colorado, that doesn't always mean a dedicated room. After all, while such spaces are certainly decadent, not everyone has the extra real estate to devote to such a room.
"There is a common misperception that, in order to get the ultimate performance from your audio and video system, you must have a dedicated space," says Fogel. "This is absolutely not true. It's just that obtaining that quality level requires a little more creativity and hard work."
This gorgeous media room by the team of experts at ESC—which, incidentally, took home the Bronze Technical Design Award for the Best Media Room from the CEDIA Electronic Lifestyles Awards this year—is a perfect example. This beautiful, warm, contemporary room, located in a similarly appointed home in a remote mountain valley outside of Aspen, is not only a thriving center of activity in the 6,000-square-foot home, but an impressive audio/video system, as well.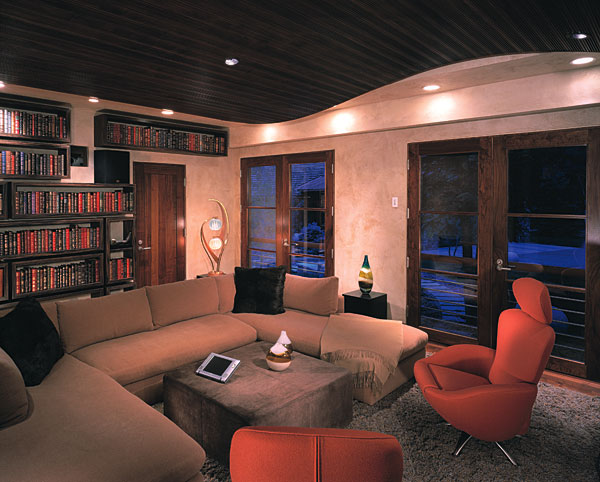 One of the room's most important features is the fact that it's located at the primary domestic core of the house, off the kitchen and adjacent to the dining room. It is a multipurpose space that serves as a den, a family room, and a place where the homeowners can read in silence, listen to music, or enjoy the media system. "As our lives revolve more and more around media, it's important that we as installers provide spaces that are more useful and centrally located, rather than an adjunct to the house, such as a basement," says Fogel.
Fogel and ESC were involved at the beginning stages of the home's construction, and, like most of ESC's clients, this job was a referral. With a budget of just under $100,000, the team set about eking out every last bit of performance from both the room and the system, which was the biggest challenge. "This space is very sophisticated in terms of audio and video reproduction, which you might not expect from such an inviting room," says Fogel. The front wall is covered with neutral acoustic fabric, behind which are hidden acoustic treatments, two Velodyne HGS-12 subwoofers, two Aerial Acoustics 8B front left and right speakers, and an Aerial Acoustics CC5 center-channel speaker.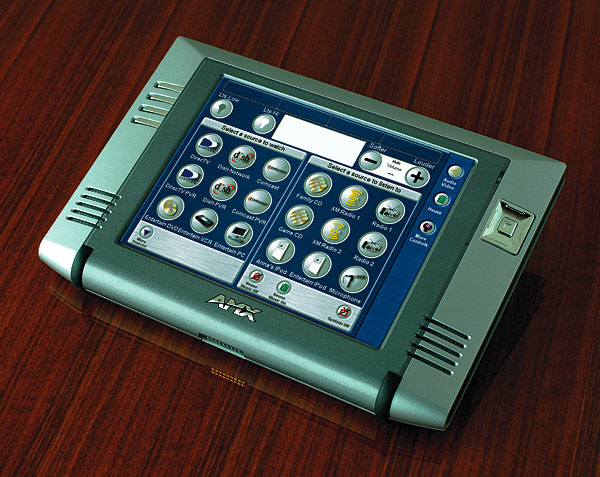 "In a dedicated space, we might use acoustic fabric walls for all four walls, but it doesn't look inviting. In fact, it can look almost institutional at times, so we did it on just the front wall." Two Aerial SR3 bipolar surrounds are located on the shelves in the back of the room in a very precise way that allows them to take full advantage of these natural acoustic diffusers. In addition to the carefully planned bookshelves at the rear, there are very sophisticated recording-style acoustic treatments in the room. The RPG FlutterFree ceiling unit looks like a design element, but it's actually acoustic treatment, providing both stunning good looks and enhancing acoustics. A Meridian G68 controller and a Krell amplifier are in a separate room near the rear of the media room.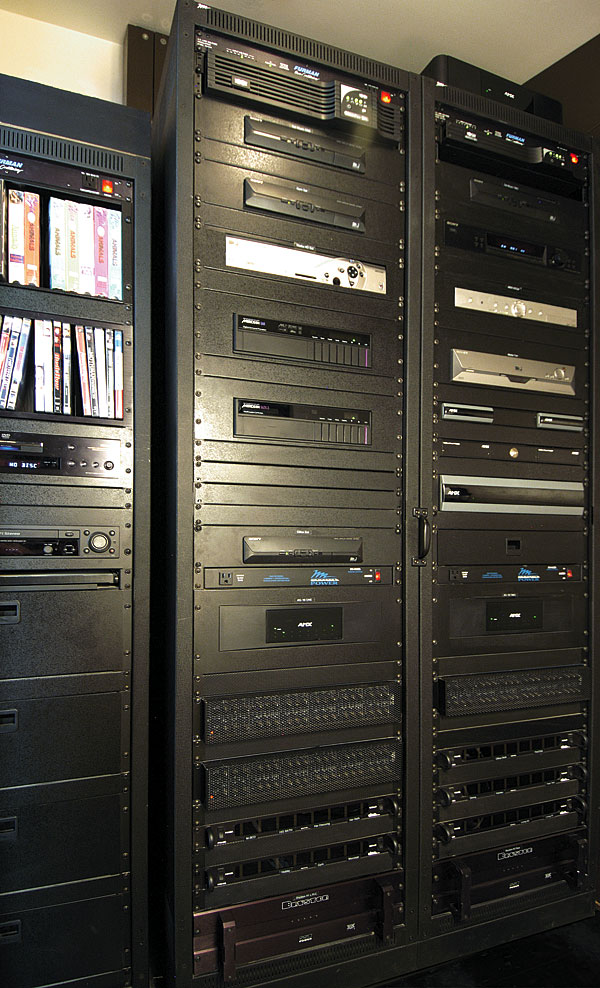 This little room also houses a Sony VPL-VW100 SXRD HD projector. The Sony fit the bill not only for its small form factor (the Sony QUALIA was simply too big for the small room), but for its image quality, resulting from the unit's three full HD panels. A window of optical glass is located in front of the projector, allowing it to shine through the wall to the Stewart FireHawk electric screen. "With this setup, we get 17 foot-lamberts off the screen, while the SMPTE standard specifies only 12 ft-L. The image is stunning," says Fogel. A Faroudja NRS processor offers upconversion for non-HD sources. When the screen is turned on, motorized blackout shades and drapes conceal the windows, blocking out light that can wash out the image on the screen. A wholehouse AMX system with a Modero touchpanel controls the entire system.
To achieve these high image and audio standards, ESC chose high-quality equipment and carefully engineered the room—all without compromising the owners' aesthetic standards. In fact, the room's interior design went more smoothly than most installations Fogel has worked on. The lady of the house is a degreed architect with a background in design, so an outside interior designer was not required. "Having the owners that involved in the design, you get this clarity of vision that you don't normally get," says Fogel. "The vision was incredibly clear. They made decisions and then got things done." The room has traditional, nontiered seating, including two red chairs from Domus Designs and a custom-made sectional, which make the space more appropriate for use as a multipurpose room. The room has modern sensibilities with respect to space, design, and layout, but the rich textures and furnishings, like the 2-inch-thick shag carpet, allow it to remain comfortable and inviting.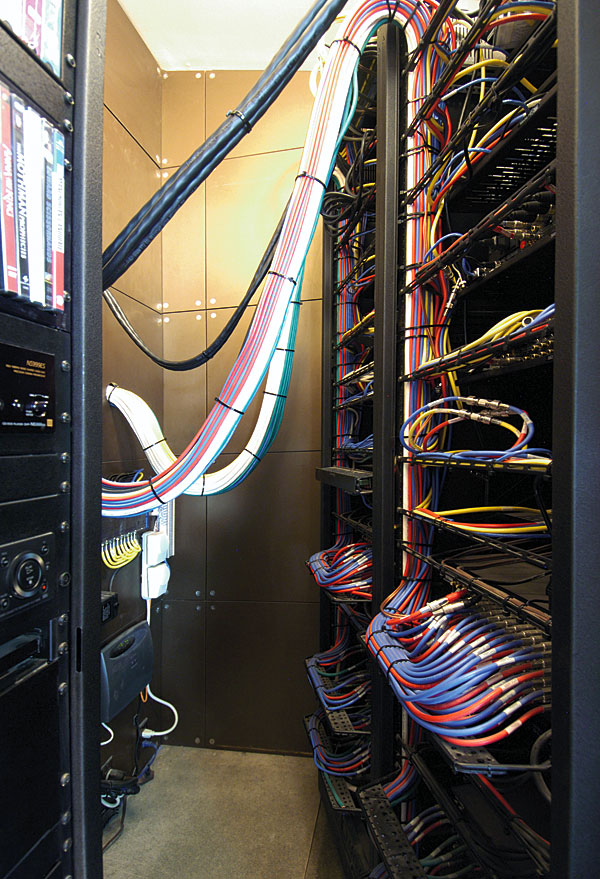 While the complete project took approximately two and a half years from when the homeowners first began planning the house, the time and consideration was well spent on a multipurpose room that isn't relegated to the basement. "The homeowners use this room all the time, every day," says Fogel. "If they had a dedicated theater, that simply wouldn't be the case."
Credits: Electronic Systems Consultants, LLC, (970) 925-1700, www.escusa.com; Marty Schlumberger, Schlumberger Construction, (970) 923-0117
How It Works For You
• If you can hire an expert, Fogel recommends a CEDIA member with lots of experience doing exactly what it is that you want to do. Whether you want a dedicated theater or a media room, make sure your installer has done several of the particular type of project you are interested in.
• Use your room. "Look at putting a media space in your house, but don't sacrifice comfort in the name of quality," says Fogel. "If you and your family aren't comfortable, it's a waste of money. There's no reason to build a room you won't spend a lot of time in."
• Get creative with acoustics. Shelves full of books can act as acoustic diffusers. If you don't like the regimented look of acoustic treatments, you have other options.
• Get good gear. If you are building a media room, it is important to invest in good equipment. Unlike a dedicated space, in a media room, it's simply not quite as easy to correct for poor-performing components.