Midnight Oil: Full Tank: The Complete Album Collection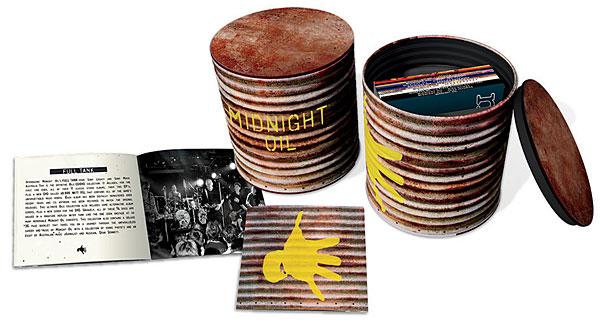 As this semi-guerrilla Midnight Oil performance took place during the pre–cell phone/digital camera era, the thousands of New Yorkers on hand with us were wholly invested—sans any techie-gear distractions—in what our collective eyes, ears, and hearts took in that supercharged afternoon in Midtown Manhattan: namely, one of the most blisteringly intense half-hours of live music from one of the best live bands ever.
What that singularly electrifying afternoon reinforced for and in me at the time (as it continues to do even now, over a quarter-century later) was the power and the passion of a quintessential Australian band that has never made any bones about putting forth staunch political views while concurrently making sure their listeners don't (and can't) sit still while listening to their principle-driven soundscapes. Unlike many of their contemporaries, Midnight Oil never failed at finding the precise sonic blend between message and music, both live and in studio. Or, as one of their most apropos band slogans puts it, "And Midnight Oil makes you dance. And Midnight Oil also makes you think."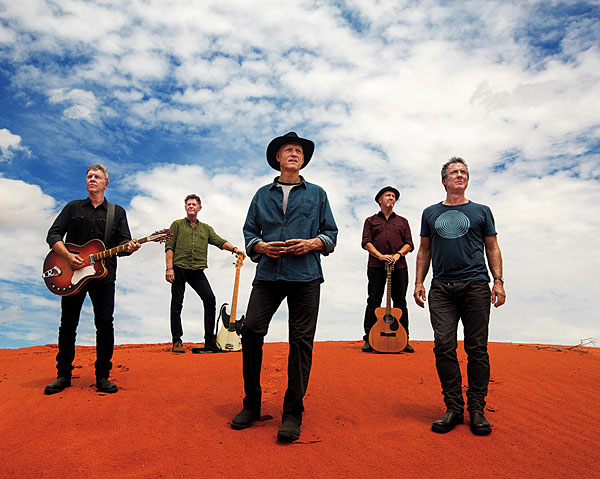 And now, Midnight Oil has also recently returned to the live stage following an almost-15-year hiatus. I can report the band is as strong and as relevant as ever after seeing them polarize a packed Webster Hall in downtown New York this past May 13. I can also confirm the proof is very much in the Oils' recorded pudding. In fact, the timing couldn't be more right for the bulk of the band's studio output to appear in fine remastered form on Full Tank, a career-spanning collection housed in, yes, a metal cylinder meant to replicate the water tanks that have adorned many a Midnight Oil live stage over the years. Thirteen CDs comprising 11 albums and 2 EPs tell the band's in-studio tale from 1978–2002, accompanied by the 40,000 Watt RSL DVD with 27 videos, encompassing the iconic clips for signature songs like "Read About It," "Beds Are Burning," "Blue Sky Mine," and "Truganini."
As the Oils progressed as a band, their sound evolved from of-era unhinged punk—fist-pumping sneerfests like "Powderworks" (1978), "Cold Cold Change" (1979), and "Lucky Country" (1981)—into sharply observational alt-rock powder kegs. The true beginning of where band idealism met its aural match occurs in "Power and the Passion," from 1982's Nick Launay–helmed countdown to impending Armageddon, 10,9,8,7,6,5,4,3,2,1. Here, ever-imposing vocalist Peter Garrett seethes through lines like "What do you believe is true?" and "Sometimes you've got to take the hardest line"—lyrics that, incidentally, seem even more resonant in the present day—while buttressed by mind-melded guitar foils Jim Moginie and Martin Rotsey. "Passion" is perfectly punctuated by powerhouse drummer Rob Hirst, whose furious, 53-second percussive break starting at 2:33 also serves as a top-shelf wide-panning stereo demo sequence.
From there, perpetually higher-ratcheting benchmarks follow at virtually every turn. A brief sampling of the Oils' ongoing in-studio ascendance includes 1984's follow-or-else ultimatum "When the Generals Talk," 1985's cruelly ironic barnburner "Progress," 1987's career-apex sing-along-cum-call-to-arms "Beds Are Burning," 1990's slow-build to explosive unification dirge "One Country," 1998's frenzied pit-bull punker "Redneck Wonderland," and 2002's acoustically hopeful field guide, "Luritja Way."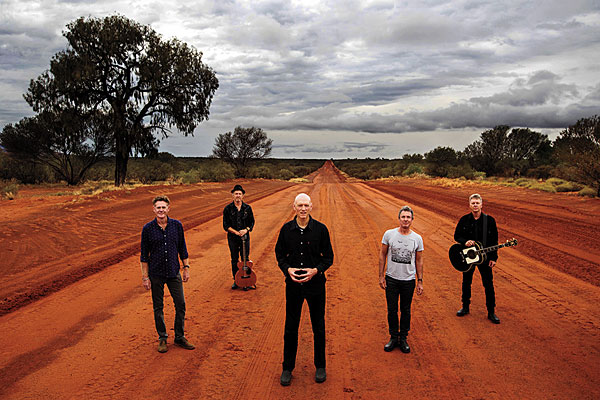 And if the 11 hours of Full Tank material merely serves to whet your Oils whistle and you're craving more, I suggest you also seek out the companion Overflow Tank, which contains four CDs of demos, outtakes, rarities, and live cuts (highlights: the gutbucket enthusiasm of "Spirit of the Age," and a pseudo-trippy cover of The Grateful Dead's "Wharf Rat"), as well as eight DVDs with jaw-dropping live and documentary footage (1990's Black Rain Falls, which chronicles the aforementioned Exxon Building event, and 1993's mesmerizing MTV Unplugged among them).
No matter which way you choose to listen to and/or watch this eternally captivating band, you'll find no dead hearts, stationary feet, tin legs, and/or quiet minds to ever be in sight. Rather, Midnight Oil's supremely fulfilling Full Tank ensures your sonic reservoir will never be left empty.
CD & DVD
Label: Sprint/Legacy/Sony Music
Audio Formats: 44.1-kHz/ 16-bit PCM Stereo (CD & DVD), 44.1-kHz/24-bit PCM Stereo (download)
Number of Tracks: 153 on 14 discs (126 on 13 CDs, 27 on 1 DVD)
Length: 10:44:04 (8:50:05 on 13 CDs, 1:53:59 on 1 DVD)
Producers: Jim Moginie, Arlene Brookes (Full Tank content); Midnight Oil, Keith Walker, Leszek Karski, Glyn Johns, Nick Launay, Francois Kevorkian, Warne Livesey, Malcolm Burn, Magoo (original albums)
Engineers: Steve Smart, Bob Ludwig (2017 remastering); Keith Walker, Peter J. Walker, Ross Cockle, Sean Fullen, Nick Launay, David Price, Guy Gray, David Nicholas, Brent Clark, Malcolm Burn, Grant Pudig, Magoo, Evan McHugh (original albums)

It was one of the most galvanizing live experiences of my life. The instant WNEW-FM announced Midnight Oil would be performing live on a flatbed truck on Sixth Avenue in the heart of New York City in front of the Exxon Building around noontime on May 30, 1990 to protest the mishandling of the March 1989 Exxon Valdez oil-spill disaster in Prince William Sound, Alaska, three colleagues and I sprinted the entire length of the two long city blocks from the Stereo Review and Audio offices at 50th and Broadway to get as close as we could. Success! Each of us wound up standing no more than 10 people deep from the flatbed's perch upon our out-of-breath Sixth Avenue arrival.