MartinLogan Motion 60 XTi Speaker System Review Page 2
While having all of that control and tuning capability is great, the Dynamo 1600X also offers flexible connectivity. Along with the standard RCA inputs for left/right and LFE signals, there's a balanced XLR LFE input if your surround processor supports that. Speaker- level inputs are provided, and there's a slot where you can plug in the company's optional SWT-X wireless module ($200) for a cable-free connection to an A/V receiver or surround sound preamp.
With 900 watts of continuous power (1,800 watts peak) driving a 15-inch woofer in a sealed enclosure, the Dynamo 1600X promises deep and tightly controlled bass, and its output can be further tweaked by choosing to install the sub with the woofer facing forward or downward. Controls provided on the back panel are limited to a volume level knob and various power switching and trigger-on options, but given the comprehensive controls included in the SubControl app, that's hardly a problem.
Setup
With so many speakers having passed through my home theater room over the years, finding the perfect spot for them has become second nature for me. Since the Motion 60XTis have a big pair of rear-firing bass ports, I found they liked to be a little further out from the front wall than usual—around four and a half feet. I positioned the 50XTi midway between them, but because the tweeter on the 60XTi is mounted up high on the cabinet, the center speaker had to be noticeably lower to avoid blocking my projection screen. While this placement could have resulted in a discontinuity in movie sound effects that sweep across the front stage, in practice I didn't hear a problem.
The 35XTi surround speakers were positioned slightly behind the listening chair against the side walls, while the sub was in the usual front left corner. I found the 60XTis to be fairly sensitive to toe in; turning them slightly inwards helped solidify image focus while enhancing soundstage depth. The Dynamo 1600X was tuned using the ARC app in tandem with the SubControl app, a process that helped to tame a 65-Hz peak I see in my room with most subs. For surround listening with both movies and music I drove the speakers with a Denon AVR-X8500H receiver, and a Peachtree Audio Nova integrated amp for two-channel listening. Sources included discs played on an Oppo UDP-203 universal player, video streamed from an Amazon Fire Cube, and music streamed from Qobuz and Tidal.
Performance
To kick things off I listened to the Motion 60XTis running solo. Using the same amp, and even the same recordings, that I used when reviewing the older 60XTs helped me get a handle on whether performance changed along with the cosmetics. Of course, it's unrealistic to expect to reliably recall the sound of something auditioned over four years ago, but I did have my original review and listening notes to reference.
Cueing up my favorite bass torture track, "Words of Wonder" by Keith Richards, I was struck by the 60XTi's powerful yet tuneful bass. With many speakers you can encounter a problem where some deep bass notes ring out loud and clear, while others all but disappear. Maybe I just hit on the perfect position for the speakers, but every note from Charlie Drayton's bass on this track was present and powerful, even when he dropped down the scale to play really deep stuff.
The 60XTi's sense of focus and clarity through the mid- and high-frequency ranges was exceptional, with no sense of strain or compression even when the volume was turned up pretty high. MartinLogan says that the Motion series speakers were voiced to have a presenta-tion similar to their electrostatic speakers, and while that's probably an accurate statement when it comes to tonal balance, there's really no way that a direct-radiating speaker can deliver the type of huge, room-expanding soundstage you get with dipole speakers. The Motions are more about pinpoint focus and clarity than in busting down a room's boundaries.
"A Secret Silken World" is the opening track from David Baerwald's Triage album, and it has a cool and sophisticated vibe to underpin Baerwald's somewhat cynical lyrics, along with smooth trumpet lines courtesy of Mr. Herb Alpert. Producer Bill Bottrell's mix captures Baerwald's vocal articulation beautifully, and later in the song when some unusual vocal double-tracking is added, the 60XTi's transparency made it easy to hear this kind of subtle contrast in the production.
Switching over to movies, Avengers: Infinity War is a perfect disc to give any surround system a real workout, with a powerful orchestral score by Alan Silvestri underpinning the action scenes. The scene just before the opening credits where Hulk crash-lands through the roof of the Sanctum Sanctorum in New York combined many sonic elements that demonstrated the Motion system's powerful performance, and especially that of the Dynamo 1600X subwoofer. Watching it, the sense of space was huge, and the excellent timbral match between the five speakers created a cohesive, room-filling soundfield. The impact of the Hulk crashing through the ceiling and then the stairs was delivered with a tremendous wallop, but the sound wasn't harsh or bright in any way. All of this chaos was accompanied by the orchestral score cranking up for the movie's title card, with violins and wind instruments sweeping to a dramatic flourish. If I had to describe the system's sound using as few words as possible, I would characterize it as powerful and smooth.
This sense of smoothness was further helped by the close sonic match between the Motion 50XTi center speaker and the 60XTi towers flanking it. Because dialogue clarity is so critical when watching a movie, there is a temptation to design a center channel that emphasizes certain portions of the audio spectrum that enhance dialogue. Not so with the 50XTi, which uses the exact same drivers as the other speakers, so the tonal balance remains smooth across the front stage. Speaking voices sounded natural, even with mayhem busting out from the other speakers when I watched Avengers: Infinity War.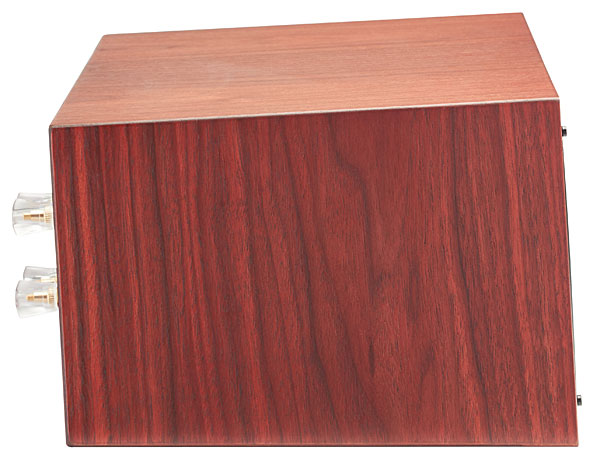 Conclusion
MartinLogan's Motion series speakers have been around for a few years and they have always been impressive. Now, with sleek new cosmetics and expanded finish options, they're better than ever, and performance has also been improved through subtle driver refinements. The AMT folded ribbon tweeter used throughout the Motion series remains a world-beater, and it endows the speakers with a healthy dose of the transparency you hear with MartinLogan's flagship electrostatic products. Finally, the Dynamo 1600X subwoofer is a beast that delivers both power and speed through its use of a sealed cabinet, powerful amplifier, and versatile room-correction technology. The Motion series may have mostly gotten a facelift but having had experience with the previous version, it's a very welcome one.