Logan
The year is 2029. Mutants, once misunderstood and widely feared, are almost extinct and largely irrelevant. Once the deadly-yet-noble X-Man known as Wolverine, Logan is now an Uber driver living a sullen existence on the U.S./Mexico border. Well past his prime, and not just due to his advanced age, he struggles through each day, tending to his even more decrepit father figure, Professor Charles Xavier (Patrick Stewart). Everything is about to change when he learns of a top-secret experiment known as X-23 (Dafne Keen, a real treasure), a curious young girl with a shocking history and in need of his help. In short order, Logan will be forced to confront his greatest fear as well as his mortality, making the most difficult choices of his long life for the sake of what's right.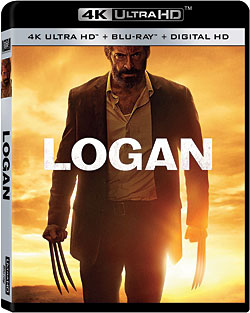 Logan is quite different from the flashier, more blockbuster-y superhero fare. It dares to take its time, with long, dialogue-driven scenes. It also carries a well-earned R rating, with an alarming number of F-bombs and plenty of graphic violence as the mutant with the adamantium claws is finally allowed to cut loose on camera. Bonus: Now there's no need for a subsequent "unrated" director's cut.
The 4K presentation effortlessly delivers wondrous detail in just about every 2.39:1 shot. Even shafts of light cutting through dusty darkness show little to no banding. The actors are unafraid to show their years and more, with wrinkled, veiny, liver-spotted visages on display, their imperfections inspiring deeper sympathy. HDR is particularly effective in the harsh desert sun and in the subtle lighting of the many dawn and dusk scenes. Also included is the black-and-white alternative, Logan Noir, which has its own visual charm thanks to the painstaking cinematography underlying the full-color theatrical version. Noir especially highlights the deep, organic-looking blacks.
Despite the lack of floating cities and exploding spaceships, the Dolby Atmos soundtrack finds plenty of ways to impress. (My comments are based upon the Dolby TrueHD 7.1 core.) Marco Beltrami has crafted a non-traditional action movie score, often intimate, sometimes barely noticeable but always enhancing the mood as it floats through this fine mix. Automated trucks whiz by on the highway, from speaker to speaker, and there's a pleasing low end amid the angry crack of gunfire. The distinctive metallic squeak and bloody squish of a claw attack is frequent and clear, but it's when Charles unleashes the full might of his psychic powers that the room truly comes alive, with an ominous seismic rumble.
The four-disc set includes Logan and Logan Noir on both 4K and high-definition Blu-rays, the latter two featuring DTS-HD Master Audio 7.1. Director James Mangold's commentary appears on all four discs, the sort of track that adds genuine perspective to what we're seeing. All of the other extras are located on the theatrical HD Blu-ray: half-a-dozen deleted/extended/alternate scenes and a feature-length making-of.
We're going to miss you, bub.
Blu-ray
Studio: Fox, 2017
Aspect Ratio: 2.39:1
Audio Format: Dolby Atmos / TrueHD 7.1 core
Length: 137 mins.
MPAA Rating: R
Director: James Mangold
Starring: Hugh Jackman, Patrick Stewart, Dafne Keen
There have certainly been terrific comic book movies, but Logan is a terrific movie that just so happens to be inspired by comic books. The proper balance of story, character, and juicy action set pieces is an elusive one. (Think back to the disappointing first two solo Wolverine flicks.) But in his ninth and reportedly final portrayal of Logan, charismatic star Hugh Jackman— in the role that will surely define his career—is at the center of a remarkably original, powerful film.

SPONSORED VIDEO