LG HU810PW 4K Laser DLP Projector Review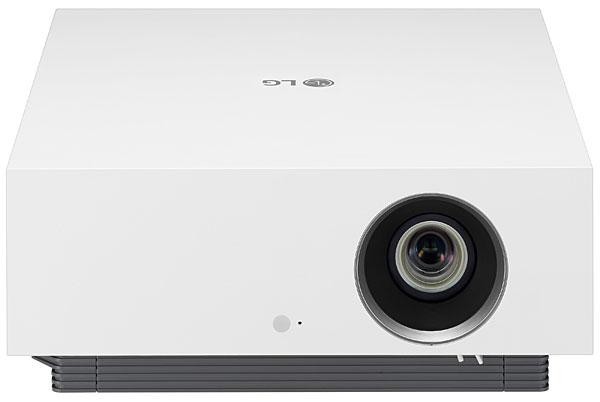 PRICE
$2,999
AT A GLANCE
Plus
Ample brightness and good contrast
Flexible zoom and lens shift range
Built-in streaming apps
Minus
Requires calibration for best performance
Smart features may be overkill for some
THE VERDICT
LG's 4K laser DLP projector is packed with smart features and offers impressive all-around performance at a reasonable price.
As the "Smart TV" has become the norm, projectors in contrast have remained steadfastly dumb. For many home theater enthusiasts, that arrangement has worked out just fine, with streaming, voice control, and other forms of internet-connected interaction handled by front-end components on the A/V rack and the projector serving as little more than a means to display an image. But recent ultra short throw and other "lifestyle" projectors have begun to blur the distinction between smart and dumb by offering some of the high- tech features found in the latest TVs. And now with the arrival of LG's HU810PW, we have something we haven't seen here before here at Sound & Vision: a model designed for a traditional ceiling-mount installation that's loaded with TV-type smart features.
LG calls the HU810PW a 4K UHD Smart Dual Laser CineBeam Projector. To parse that mouthful, the HU810P is a single-chip (0.47-inch) DLP projector that delivers 4K resolution via pixel-shifting and uses a dual-laser (red, blue, plus green phosphor) light source to beam images with up to a specified 2,700 ANSI lumens brightness. Smart features come courtesy of the same webOS 5.0 interface found in LG's flat-panel TVs, with the projector offering access to Amazon Prime Video, Disney+, Peacock, YouTube, Showtime, Starz, and other streaming apps via a wired or Wi-Fi connection.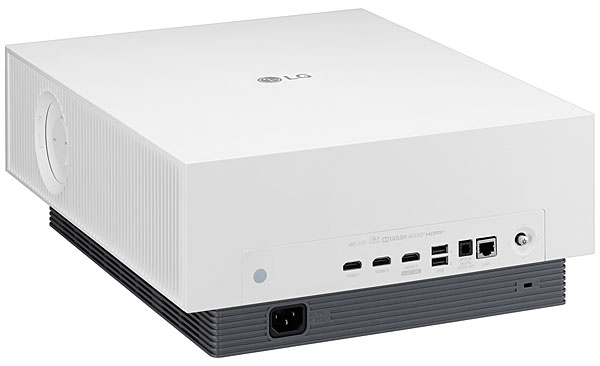 An HDMI eARC port lets you route audio, including Dolby Atmos soundtracks, directly from the projector to an outboard receiver or surround sound processor, and the HU810PW also has a Bluetooth output for a wireless connection to a soundbar.
Along with its 4K display capability, the HU810PW supports the HDR10 and Hybrid Log Gamma high dynamic range formats and is spec'd for 97 percent DCI-P3 color space coverage, though a footnote in LG's spec sheet claims that this only applies to certain picture modes. The projector lacks a dynamic iris, but does provide Dark Room, Bright Room, and user-adjustable Iris modes, which are aided by an Adaptive Contrast setting that helps to maximize picture contrast depending on room lighting. There's no user- adjustable HDR tone mapping adjustment similar to the one found in Epson and JVC projectors, though a Dynamic Tone Mapping feature capable of adjusting HDR images on a frame-by-frame basis can be enabled.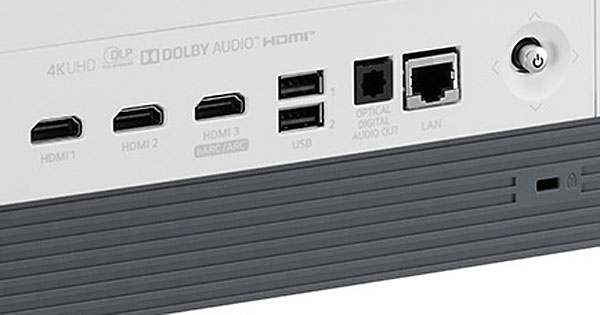 The life of the projector's laser light source is specified for up to 20,000 hours, which translates to nine-plus years of six-hour daily viewing time. It boots up to full brightness within a few seconds after power-up, and shuts down quickly and quietly. Along with Wi-Fi, the HU810PW's wireless streaming support extends to Apple AirPlay for Mac computers and iOS devices and screen mirroring via Miracast for PCs and Android devices. Voice control is also onboard, with Google Assis- tant, Amazon Alexa, and LG's own ThinQ+ assistants all supported.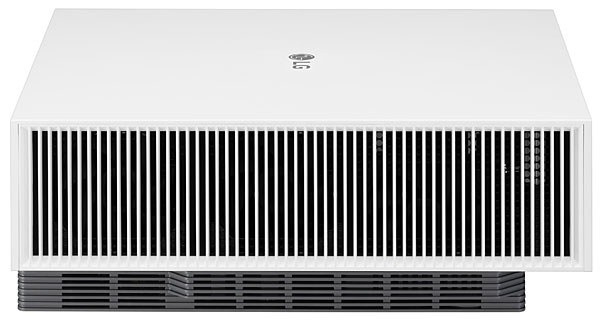 LG's cosmetic design for the HU810PW could best be described as "unassuming." It has a boxy white case, with a dial to manually adjust horizontal/vertical lens position on the right side and knobs to manually adjust zoom and focus at the bottom front beneath the lens. A joystick control to navigate onscreen menus and power the projector on and off is located on the projector's back panel above the inputs.
The LG's connections include a pair of HDMI 2.0b inputs plus an HDMI version 2.1 input that supports eARC (Enhanced Audio Return Channel) and ALLM (Auto Low Latency Mode). And while HDMI 2.1 on a projector should be great news for gamers, bandwidth for that input is limited to 24Gbps, which is not enough to support 4K/120Hz video output from latest-gen PlayStation 5 and Xbox Series X gaming consoles. On the subject of gaming, I measured input lag from a 1080p test signal generator at 80ms in Game mode—a below-average level of performance compared with other projectors.
LG packages the same Magic Remote with the HU810PW that you get with the company's TVs. This offers "point-and-click" capability where you use the fully backlit handset to drag a cursor around the screen, and then click on items to select them. There are navigation and scroll wheel controls, along with buttons to directly access onscreen menus, picture modes, and a microphone for voice control. Simplink (HDMI-CEC) lets you use the remote to also operate connected devices like a Blu-ray disc player. And if you have an A/V receiver connected to the projector via HDMI eARC, the remote can adjust the AVR's volume. For someone like myself who regularly uses a "dumb" projector, LG's Magic Remote—and the busy WebOS 5.0 screen interface—took some getting used to, but I eventually adapted. Unfortunately, many of the streaming apps that I regularly use for viewing like HBO Max, Netflix (Netflix!), and The Criterion Channel were not available for download from LG's App Store, so I ended up using using an external Roku Streaming Stick+ for much of my evaluation.
Setup
Like many a projector before it, the HU810PW was installed on a high shelf located at a 14-foot distance from a 92-inch diagonal, 1.1 gain Stewart Filmscreen Cima screen in my home theater room. The projector's 1.6x zoom allowed me to easily adjust image size to fill the screen from that distance, while its 60 percent vertical, 24 percent horizontal lens shift adjustments helped to precisely center the image. The manual focus control meant repeated trips between projector and screen were necessary to evaluate image crispness after making fine adjustments, but I was able to eventually dial the focus in perfectly.
Note: The Where to Buy link below is an affiliate link. If you purchase through the link, we may earn a small commission at no extra cost to you. Thank you for your support!