LG HU810PW 4K Laser DLP Projector Review Page 2
Most of the LG's picture presets had a pronounced blue bias that made white tones look overly cool. That list included Filmmaker mode, a setting that otherwise eliminates image processing such as motion enhancement. The most accurate preset I measured was Bright Room (Expert), which proved close enough that I would recommend it for most viewers. As a starting point for my adjustment, I instead ended up using Dark Room (Expert), a mode that required substantial calibration to whip into proper shape (see Test Bench). Similar to LG's HU85LA ultra short throw model
Sound & Vision
's Kris Deering
tested
in late 2019, the HU810PW offers 2-, 10-, and 22-point white balance adjustments—a unique feature for a projector. Starting out with 2-point adjustment, and then switching to 22-point for more granular tweaking, I was able to dial in a near-perfect grayscale, while the color management system controls let me make substantive improvements to color point accuracy.
A fully different set of picture presets is available for viewing programs with HDR. I opted for the Cinema Home mode, which delivered a maximum light output in the 110 nits (32 footlamberts) range. (A preset labeled Brightest unsurprisingly delivered the LG's maximum measured light output at 307 nits, though the LG's grayscale skewed green with that one selected.) There are multiple settings that affect picture contrast for both standard and high dynamic range viewing, including Energy Saving, Iris, Black Level, Dynamic Contrast, Adaptive Contrast, and Brightness Optimizer settings. As detailed in the Test Bench section, various combinations of these resulted in a maximum 3,225:1 contrast ratio—about twice as high as what we've measured on other 4K DLP- based projectors. Some of the settings crush highlight detail in images when applied, however, so you'll need to experiment to find an appropriate mix for your viewing environment, screen, and taste. For my own HDR viewing, I set Energy Saving to Minimum, Iris to User Mode (6), Adaptive Contrast to Medium, and Dynamic Contrast to Low.
HD/SDR Performance
To check out the projector's performance with regular high- definition programs, I streamed The Knick on HBO Max. This series, which originally aired on Cinemax in 2014-2015 and is directed by Steven Soderbergh, takes place in a struggling hospital in early 1900s Manhattan. The set decoration and costumes are both meticulously detailed, and so are the early apparatuses depicted from this embryonic period of modern medical exploration. The crisp whites of the surgical gowns in each episode came across with satisfying bright- ness and highlight detail. Darker scenes, such as those that take place in the Chinatown opium den where brilliant yet troubled chief surgeon John Thackery spends much of his downtime also displayed impressive depth. Skintones of the cast looked natural, and with the LG handling 4K upconversion, the consistently crisp picture allowed for fine details in the ornate drawing and dining rooms of the hospital's wealthy benefactors to emerge clearly. (As an HBO Max subscriber since its May 2020 launch, I can attest that streaming quality of the service has greatly improved since I first used it to rewatch GoT during the early lockdown days.)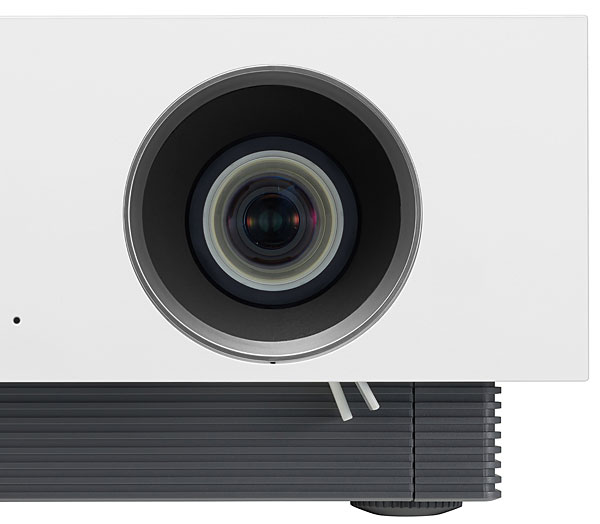 Ultra HD/HDR Performance
For my 4K/HDR evaluation, I used a mix of personal refer- ence movie discs on Ultra HD Blu-ray and streamed shows on Amazon Prime and Netflix. Starting out with 2001: A Space Odyssey, the cave scene where pre-hominids huddle displayed good black depth and impressive detail in the fur of the creatures. Shadows lacked the level of black extension I've noted on projectors that use a dynamic iris, but the performance here was a definite notch above other DLP models I've recently had in-house.
The mostly monochrome 2018 Chinese film Shadow offers a good example of how high dynamic range can enhance black-and-white images. LG's projector presented a wide range of creamy gray tones in scenes that take place in the king of Pei's court, and I didn't note any color tinting that wasn't originally part of the movie's post-production special effects. Blacks in Shadow looked consistently solid, and image highlights also had a satisfying level of punch. It was on this film in particular that I noticed how some of the HU810PW's contrast enhancement features could easily cause HDR high- light detail to appear washed out, but once I hit upon the right mix of adjustments (listed above in the Setup section), the picture had a punchy, yet balanced look.
Of the LG's built-in apps that I checked out, both Amazon Prime and YouTube programs could be displayed in 4K/HDR, with Amazon also providing Dolby Atmos soundtracks. Watching the Amazon Prime series ZeroZeroZero, I noted rich color and excellent detail in shots of a tanker ship crossing the Atlantic Ocean. And in a later scene where a para- military squad descends onto the tanker from a helicopter, the ship's floodlights and the spotlights on the soldiers' rifles contrasted powerfully with the dark background of the night sky. A subsequent scene in Mexico where the same squad ambushes a drug dealer's entourage in an SUV showed similarly strong contrast as vehicle headlights flashed in a darkened tunnel.
I took advantage of the LG's arrival to bust out my copy of the Midsommar Director's Cut: Collector's Edition on Ultra HD Blu-ray disc. Shot with 8K and 5K cameras and mastered at 4K resolution, director Ari Aster's 2019 movie initially only received a Blu-ray release—a big disappointment. (While that disc looked good overall, it didn't nearly match up with my visual memory of what I saw in the theater.) Watching the Ultra HD Blu-ray version on the LG, the play of sunlight on the Swedish commune's rural retreat had a wonderfully natural look, and the white clothing worn by the residents displayed extremely fine tonal gradations. Color in particular corresponded with my theatrical experience, with the flowers worn by the May queen during a ceremonial feast literally bursting with vivid hues.
Conclusion
With the HU810PW, LG has delivered a DLP projector offering impressive performance that's also reasonably priced for a 4K model with a laser light source. Getting pictures to look their best required a fair amount of work, but once I had the settings dialed in, I was very happy with what I was seeing with both regular HD and 4K/HDR sources. For some viewers, the HU810PW's streaming and voice control features likely won't matter, but once you do get used to the projector's Smart TV interface, it's easy to navigate. LG may be a company closely associated with OLED TVs, but the HU810PW confirms it can also make projectors that will satisfy the demanding home theater enthusiast crowd.