La La Land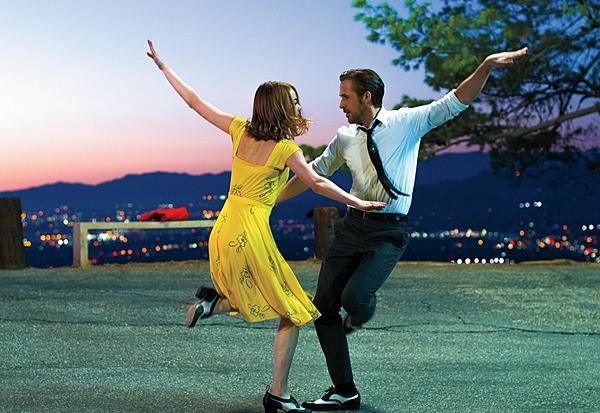 La La Land celebrates the daily indignities and full-on humiliations of folks pursuing careers in the entertainment game. A somewhat jaded piano player (Ryan Gosling) crosses paths with a starry-eyed, hopeful actress (the radiant Emma Stone), and while it might not be love at first sight, each sees something in the other that everyone else seems to have missed. Of course they fall in love, and yes, there is a sense of cliché to the boy-meets-girl of it all, but the unique spin on the underlying formula at play is sort of the point. By using the inherently artificial trappings of a bygone medium—the big-screen musical—to tell a story about real life (or something close to it), La La Land gives us something new, often exhilarating, and almost ceaselessly charming. With its bittersweet, knowing nods to the glamour of old-school show biz, it's ultimately a rather touching fable about chasing dreams and the price of success.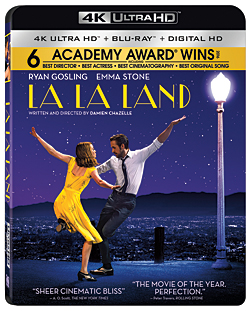 As whimsically promised at the top of the movie, La La Land is presented in CinemaScope, at the especially wide 2.55:1 aspect ratio, specifically. Beautifully shot by Linus Sandgren on good old- fashioned film, the movie displays a warm, inviting layer of grain and a striking color palette that underscores the exaggerated reality of it all. Deftly manipulated light and shadow are employed to craft select scene transitions, and the generous distribution of light—largely owing to HDR—lends a dreamlike quality to some of the nighttime scenes. Likewise, minute details can be discerned lurking in the shadows of a nightclub, and the outstanding 4K resolution reveals fine nuances, such as unexpected pores on an actress's face.
The ambitious tunes and score by Justin Hurwitz give the orchestra plenty to work with, and the cre- ative Dolby TrueHD 7.1 mix takes it even further, as instruments are audible all around the listener at times, to better engage the audience. (This track is Dolby Atmos-enabled as well.) The songs are clean and full-throated, obviously recorded in the pristine confines of a studio, yet without that distracting shift and subsequent phoniness that typically tainted the musicals of yore. Instead, they seem to pop out of the soundtrack and rise above the sonic mundanity, appropriately bigger than life. This movie's music is its heartbeat, further exhibiting a pleasing and credible bass presence that adds just the right note of gravitas.
Audio commentary is provided by former college roommates Chazelle and Hurwitz, and their repartee works particularly well alongside the many individual featurettes that illuminate key points of this spirited production. There are also demos for two of the tunes, and we can jump directly to any of the songs within the film. A Blu-ray of the movie and extras is included, as well as an HD Digital Copy for iTunes and UltraViolet via a unique printed code.
Chazelle renders his earnest ode to the foibles of L.A. life as a sensory experience, one that fairly begs to be seen and heard on this fine Ultra HD 4K Blu-ray.
Blu-ray
Studio: Summit, 2016
Aspect Ratio: 2.55:1
Audio Format: Dolby Atmos / True HD 7.1 core
Length: 128 mins.
MPAA Rating: PG-13
Director: Damien Chazelle
Starring: Ryan Gosling, Emma Stone, John Legend
Right or wrong, writer/director Damien Chazelle knew what he wanted. From the cinematographic techniques to the costumes and sets to the staging of the elaborate song-and-dance numbers, he employed every tool at his disposal to bring this uniquely Hollywood tale to life.