Klipsch Reference Theater Pack Speaker System Review

PRICE
$999
AT A GLANCE
Plus
Klipsch's classic horn-loaded sound at a budget price
Minus
Enclosure adds some coloration
THE VERDICT
This redesign of Klipsch's bestselling sat/sub system makes some compromises from its predecessors—but still produces excellent sound.
Some people are just good at things. People like Rembrandt van Rijn, who could make a painted image gaze into your soul; or Meryl Streep, who can be Anna Wintour one moment and Julia Child the next; or Warren Buffett, who's been known to make his shareholders a dollar or two; or Billie Holiday, who could sing like Louis Armstrong's trumpet and fit a lifetime of hard loving into a single phrase. Companies can be good at things, too. Klipsch, for instance, became famous for their horn-loaded drivers under founder Paul W. Klipsch. In the last couple of decades, the brand has parlayed its expertise in horns into a commanding position in the compact speaker category, marketing one bestselling satellite/subwoofer set after another.
The Sixth Generation
The Klipsch Reference Theater Pack is the company's sixth-generation sat/sub system, succeeding the Quintet, which we tested back in 2013. It sells for $999 with an 8-inch subwoofer, compared with $1,050 (not factoring in a halfdecade of inflation) for the previous configuration we reviewed with a 10-inch sub.
The Reference Theater Pack consists of four RTP Satellites—or Pack Sats, as I like to call them—plus an almost equally compact, horizontal RTP Center and an R-8SWi subwoofer (not sold separately). The 0.75-inch tweeter in the sats and center is still recessed into a 90 x 90-degree Tractrix horn. But there are notable differences from the previous system.
The 3.5-inch woofer has been upgraded from injection-molded graphite (IMG) to spun-copper-colored IMG. Largely a cosmetic touch, it makes each little speaker look gorgeous when used with the grille off. The 0.75-inch Linear Travel Suspension tweeter is another feature that the Reference Theater Pack borrows, as its name implies, from Klipsch's higher-end Reference line of loudspeakers.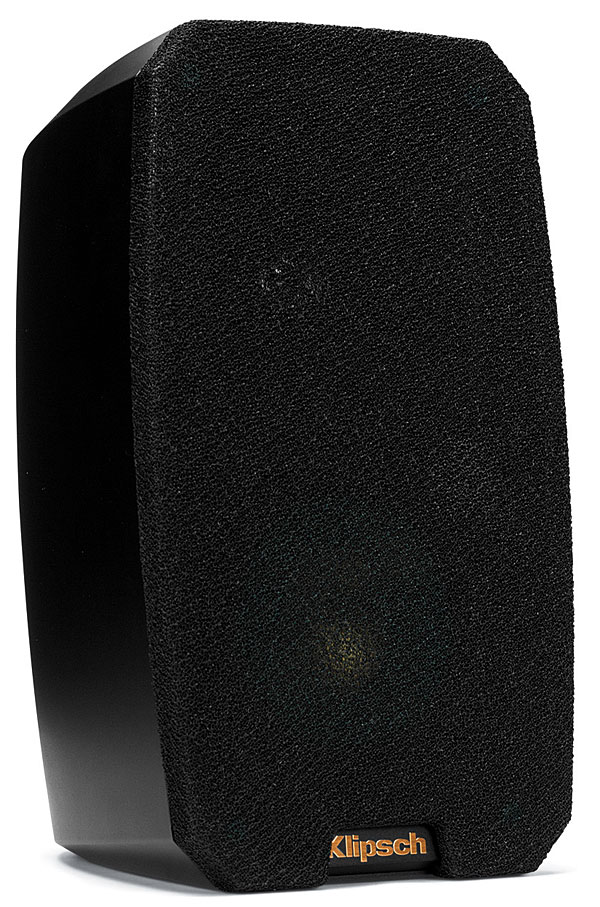 The new satellite's curved enclosure is made of "black brushed polymer," a.k.a. plastic, a step down from the highly inert "forged stone polymer" (a composite molding compound called AcoustaComp) that was formerly used. As a result of this and other changes, though a quarter-inch taller, the Pack Sat weighs less than half as much as the old Quintet sat. My fear going in was that this could influence the sound, adding cabinet-induced colorations for starters. More on that below.
Cloth-covered grilles are magnetically attached. On the back are a port, a threaded insert on each sat (two on the center), and spring-loaded cylindrical binding posts. The new enclosure makes it harder to access the binding posts because it dispenses with the formerly cone-shaped recesses that cleverly guided wire tips into the posts and replaces them with holes that make the job more like threading a needle. Thin, soldered tips would work best.
When we reviewed the Quintet, it was available with a 12- or 10-inch subwoofer, sold separately from the satellites. The Reference Theater Pack comes with an 8-inch sub included, and it adds a new attraction: a 2.4-gigahertz wireless kit. The sub's internal amp is rated at 50 watts RMS and 150 watts peak, which is considerably less than the 200 and 450 watts spec of the 10inch sub we previously reviewed.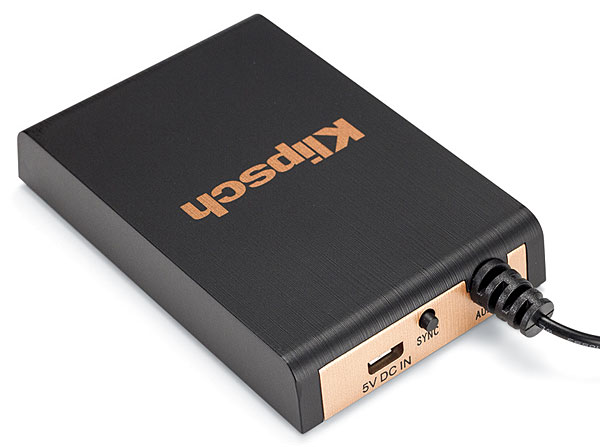 Associated equipment included a Denon AVR-X7200W A/V receiver, Oppo BDP-83SE universal disc player, Micro Seiki BL-51 turntable, Shure M97xE cartridge, and Denon PRA-S10 serving as phono preamp.
The Sound of Rap
These Klipsch horns really communicated. Dialogue and other elements in the soundfield were well imaged, with strong outlines, but not without a modicum of shading. Tonal balance, while slightly forward, was certainly not too aggressive or sizzly; things that were supposed to sound warm sounded warm. With matched horns and drivers in every corner of the room, as well as in the center, it was easy to follow panning trajectories. Bass reflected the inherent limits of the Pack Sat's 3.5-inch woofer, and took some dialing in, but eventually I got the sats and sub on speaking terms.
On the downside, there was a hollow-plasticky coloration coming from the cabinets. Knowing that these had been switched from the harder, stone-like material to the lighter plastic, I asked myself if this was confirmation bias—the tendency to allow a pre-existing theory to overwhelm facts. But no. Although the Quintet review was years ago, I've never forgotten knuckle-rapping the Quintet cabinet; it sounded and felt like stone. Rapping the RTP enclosure reveals a hollow-sounding coloration, and it isn't subtle. The other confirming factor was plain old listening. Yes, I could hear the resonance from time to time, though it wasn't a deal breaker and didn't prevent the system from performing well enough in other respects—imaging, resolution, and overall clarity.