Klipsch Reference Theater Pack Speaker System Review Page 2
Gold (Blu-ray Disc with DTS-HD Master Audio soundtrack), starring Matthew McConaughey as a modern gold prospector, features some pleasing natural effects from the jungles of Borneo (actually filmed in Thailand). The horn-loaded tweeters made them almost too colorful; when perspective shifted within a scene, the transition was dramatic. The subwoofer needed less than half of its volume control's range (with the usual default level in my receiver's surround processor) to produce an adequate level of low bass effects. Despite the modest sub amp, it got the job done in my New York apartment. Dialing out a slight localization of male voices pushed the sub level and crossover point down, though I would later rethink the crossover.
The Fate of the Furious (Blu-ray, DTS-HD Master Audio) loads up on action heroes (Vin Diesel, Dwayne Johnson, Jason Statham) and other stars (Charlize Theron and an uncredited Helen Mirren) and lays on the motorized noise with a trowel. I became grateful for both the Klipsch's well-behaved top end and the apparent decision to mix the film with a limited dynamic range. Although my aim for a one-size-fits-all volume setting was lower than a motorhead might prefer, the center speaker wouldn't let me miss a word of dialogue.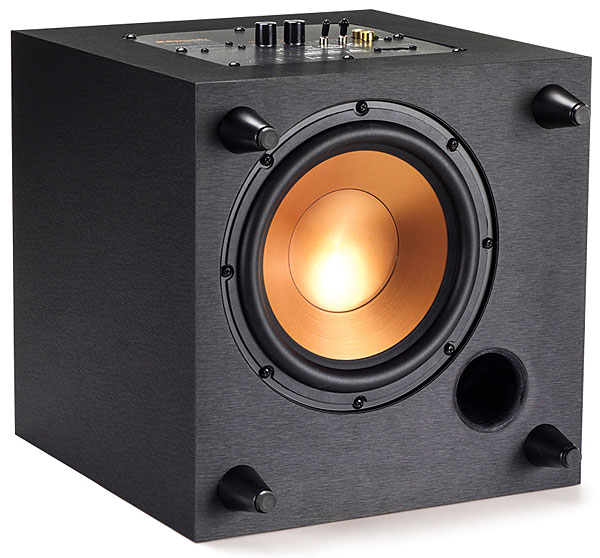 Grantchester (DVD, Dolby Digital), with James Norton as the village vicar who solves murder mysteries, can be filed under unintentional demo material (my favorite kind). The first season of this TV series was shot in 2014 with a stereo soundtrack. That left the center speaker unused and required the left and right Pack Sats to image dialogue on their own. In terms of clarity, they never failed, though the plasticky coloration was made even more obvious...
"White Album" Revisited
...until it wasn't. Why did the coloration all but vanish from "The White Album" in the vinyl box set of The Beatles in Mono? The box's reserved presentation may have called less attention to it; of the half-dozen versions of this album sitting on my shelves, this one is the least bright, and it's a relief to be able to play it loud. Whatever the reason, the Pack Sat zeroed in on those familiar voices, making them warm and fleshy. Chalk up a win for the little speaker. This would be the last album in which the band and their team miraculously fit numerous layers into a single channel, and the Pack Sats peeled the onion beautifully.
The one thing missing was Paul McCartney's bass. Dialing in bass takes extra effort with sat/sub systems in general (not just this one). My usual 80 hertz and even 100 Hz would leave a huge hole; nowadays, I start at 120 and go from there. In our Klipsch Quintet review, a different 3.5-inch woofer rolled off steeply below 200 Hz, so I knew I would have to use a higher sub crossover than I typically prefer. However, I refused to go to 200 Hz, which made the subwoofer unbearably obvious. And at 120 Hz, the hole between 120 and 200 Hz isolated the sub and omitted a big slice of upper bass. Switching to 150 Hz turned on Paul's bass guitar like a light switch.
I continued hopping among sub crossover points while listening to Simon Nicol's Before Your Time (CD), the Fairport Convention frontman's first solo album, replaying the opening track obsessively as I flipped between 120 and 150 Hz. With the Beatles, the difference was night and day—but it made far less difference to the rhythm section on this album, beautifully self-produced and self-engineered for the age of high fidelity, with crisp mids and a beefy bottom end that flattered ace players Dave Mattacks (drums) and Dave Pegg (bass). The system mined colorful textures from Nicol's finely aged baritone and the layered filigrees of his delicate but rhythmically surefooted acoustic guitar.
Next, I turned to a live recording of outgoing music director Alan Gilbert leading the New York Philharmonic in Verdi's Requiem at David Geffen Hall (CD). The recording seemed to soften the venue's hard string sound, which actually suited the Pack Sats well, enabling them to bring out the natural warmth of the chorus and soloists. One thing the venue and the satellites had in common was excellent low-level resolution, which meant that soft-voiced passages didn't vanish into the ether. (My CD was a Philharmonic subscriber freebie, but you can download the album in Amazon MP3 form or watch it free on the orchestra's website at nyphil.org/watch-listen/audio/broadcasts/1415/verdi-requiem.)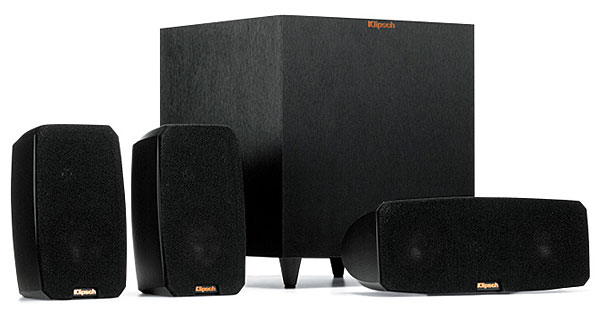 In assessing my Performance and Value ratings for the Reference Theater Pack satellites and center, I had to balance the downgrading of the enclosure from filled polymer to mere plastic against the continued effectiveness of the horn-loaded tweeters and IMG-coned woofers. There was something special about those AcoustaComp enclosures, though, and I hope they make a comeback someday.
On the other hand, Klipsch's use of horns is not only an evergreen company tradition but also an inspired piece of ingenuity that, literally, has been passed down from generation to generation. And it survives because it does what it does really well, allowing small satellite speakers to assert a big sound. Another positive factor is the addition of wireless transmission to the now more compact sub.
That the sub was also downgraded to one with a smaller driver and less powerful amp to hit a price point did not go unnoticed. However, my respect for its nimbleness at frequencies just below the sat-friendly sub crossover slowly but surely increased over time. So yes, the Pack is a step down from the Quintet—and if you're lucky enough to find anything left of the latter in the retail pipeline, go for it. But the Pack Sats are still excellent performers, and the Value rating for the system as a whole benefited from the $50 price cut.
The Klipsch Reference Pack successfully continues the brand's string of excellent-sounding budget sat/sub systems. There are some folks who love horns not only for their inherently higher efficiency— a good thing to have in a speaker system when it's running with a $500 receiver—but also for their distinctive clarity. Klipsch continues to profit from the wisdom of the company's elders.