KEF R5 Surround Speaker System Review Page 2
The KEF system excelled on solo vocals as well. Elvis Presley's cover of "Fever" sounded warm but not mushy. Holly Cole's "Train Song," another audiophile warhorse, struck a deft balance between vocals and acoustic bass, and so did "My Treasure," with bassist Mads Vinding accompanying Sinne Eeg. (Never heard of Sinne Eeg? If you like female jazz vocalists, check out this Danish singer's recordings.)
The Animusic Blu-ray disc is a stunning combination of quirky computer animation and 5.1 DTS-HD Master Audio multichannel music (much of it synthesizer- generated). My favorite track on the disc is a bonus from an older Animusic release, Aqua Harp, that features harp, chimes, bowed string bass, and more, all played by invisible hands. The KEFs brought this track and other music from the disc to life in simulated spaces ranging from the familiar to the wildly reverberant.
Another disc I listened to was An Evening with Puccini, a concert Blu-ray with 5.1 DTS-HD Master Audio that was recorded in 2015 in Milan's famed La Scala and features the German tenor Jonas Kaufmann. The orchestra here sounded superb on the KEFs, especially in the instru-mental interludes. The vocals came across as a bit too-forward and edgy at high levels, but I've heard this before with other speakers, so I can't lay the blame on the KEFs. Using the Marantz pre-pro's graphic equalizer to slightly pull down the levels at 2kHz and 4kHz on the center channel resulted in an almost perfect fix, and the disc's vocals now sounded compelling. (And yes, the program includes Nessun Dorma, the go-to aria for every movie in the past 10 years that includes an opera scene.)

Movies Performance
How to Train Your Dragon is one of my favorite animated films. For me, a movie's music score is second in importance only to its plot and dialogue. The KEF system beautifully carried John Powell's terrific soundtrack for the film. The brass fanfare when Hiccup first rides the dragon Toothless had an impressive snarl, and quieter scenes, such as one in chapter six where Hiccup makes his first friendly approach to Toothless, were equally entrancing.
Oblivion is an underappreciated sci-fi classic with a whip-smart soundtrack. Watching the standard Blu-ray version with 5.1 sound, the KEFs grabbed on and wouldn't let go. From the roar of engines to the synthesizer-heavy score, they kept my attention riveted. The perfor- mance of the R2c center was also strong on effects and delivered natural-sounding dialogue without any excessive sibilance.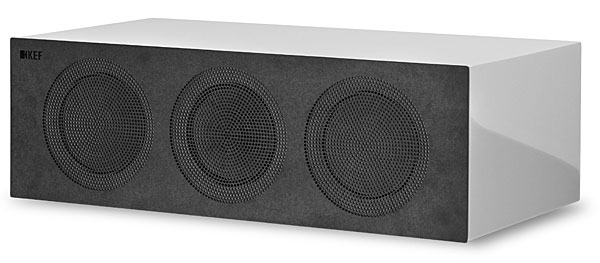 The KEF system skillfully handled action scenes on the above movies and others without sounding bright, gritty, or coarse. Were their dynamics just a little reserved compared to the best speakers I've heard in my room? Perhaps, but not by much. KEF's Uni-Q drivers have typically rolled off the treble gently and smoothly at wide off-axis angles. With the left and right speakers toed in to face the main listening seat this wasn't an obvious concern. But I did notice it when sitting far off to the side, so if you want several dispersed listeners to hear well-balanced treble, you may need to slightly compromise toe-in at the primary seat.
The pair of KEF Kube12bs didn't equal my Revel B15 subwoofer when it came to output, extension, or clarity. But none of that was surprising given the size of my room and the fact that a single B15 sold for $3,000 when it was originally introduced. I did hear occasional complaints from the KEF subwoofer pair: they'd sometimes drone along on a sustained music note or sound effect, prompting thoughts of turning them down to sacrifice higher output for better control.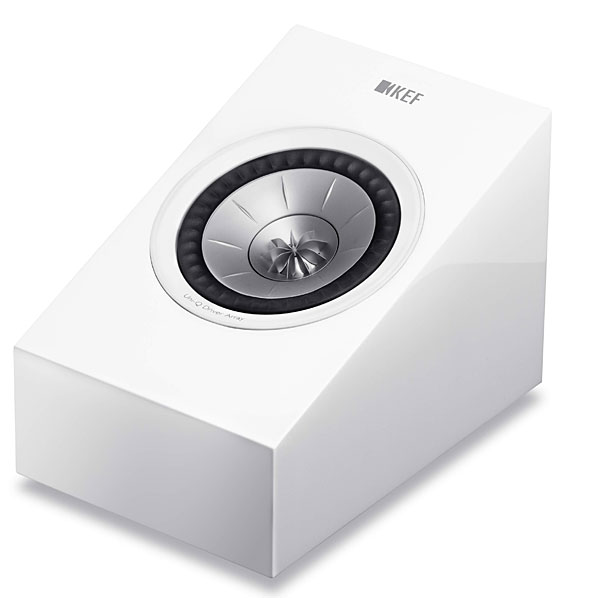 It also sometimes sounded like their amps were limiting output—and not particularly gracefully—to avoid pushing the drivers into harmful, excess excursions. But for the most part the pair of KEF Kube12bs came closer to that B15 than you might expect, and I was only rarely conscious of any shortcomings. (The B15 and Kube12s were set up in different room locations: the B15 where it has been used for three-plus years with its onboard, three-band parametric EQ carefully adjusted; the Kube12s where I eventually determined they worked best.)
Up to now my exposure to Atmos has been limited to manufacturer demos where I've clearly preferred the result offered by direct, in-ceiling speakers over the reflective variety. But an upward-firing, ceiling-reflective Atmos setup is likely the better option for most.
For such a setup Dolby firmly recommends a flat ceiling. But my ceiling, while symmetrical front to back, is definitely not flat. Nevertheless, I did hear sounds that appeared to come from above. These could be obvious, including several dramatic PA announcements such as "report to battle stations" in Independence Day: Resurgence, or helicopters flying overhead during the final concert in Sing. But most often such overhead sounds were vague and hard to pinpoint. That's not a critique of the KEF Atmos speakers. I suspect that the result would be better with a flat ceiling—though better yet with in-ceiling Atmos speakers. But what I did hear consistently from the upward-firing KEFs on Atmos-encoded material was enhanced spaciousness and ambience—a larger sonic "bubble" all around me that my everyday 5.1 setup can't quite duplicate. This significantly enhanced the "you are there" experience.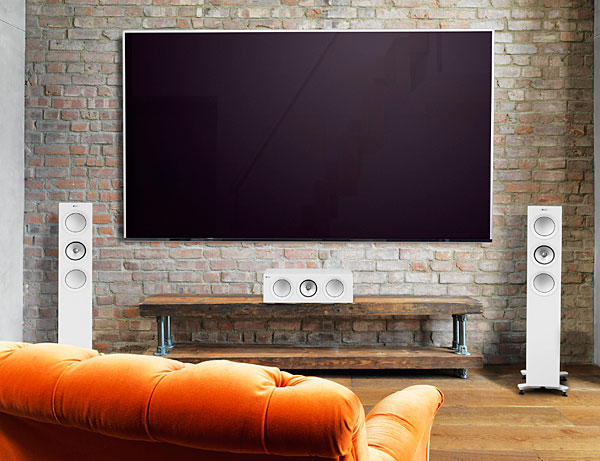 Conclusion
A good point of comparison for this KEF R Series rig would be the Paradigm Premier system that I recently reviewed (February/March and at soundandvision.com). At just under five grand, that system was less expensive than the KEFs and had a more overtly detailed presentation: brighter, even leaning toward aggression when appropriate to the source and playback level. The Paradigms also tilted more toward my preference for wide dispersion and an open, spar- kling top end.
The sound with KEF's R5-based system is no less detailed, but it offers high-end performance in a more controlled, polite way with music and ample excitement for both surround music and movies. If it's a little pricier than your budget allows, one hybrid option would be to substitute models from KEFs affordable
Q series for the surround and Atmos speaker duties, which would drop the total system price dramatically. While I wasn't able to audition that specific configuration, I imagine that any reduction in performance would be minimal. In any case, a full system comprised of KEF's new R Series speakers should delight anyone who takes it home.