Kathleen Edwards: Asking for Flowers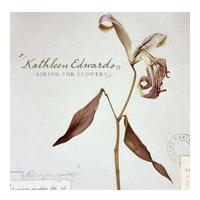 Zoe/Rounder
---
Music •••½ Sound ••••
For Album No. 3, Canadian singer/songwriter Kathleen Edwards hunkered down in Los Angeles with Whiskeytown producer Jim Scott and a revolving all-star sessionman lineup: drummer Don Heffington, bassist Bob Glaub, keyboardist Benmont Tench, guitarist/keyboardist Jim Bryson, and pedal-steel whiz Greg Leisz (who mostly stays off his usual instrument for electric guitar). What could have easily lapsed into a sterile and anonymous musical playbook was kept invigorated by Edwards's unusual ability to write songs that hinge on cryptic, personal details yet still communicate on a universal level, and songs that handle newspaper headlines with a matter-of-fact humanity.
You don't have to know her intimate history (I sure don't) to enjoy the diary-like musings that drive "Sure as Shit": "And I cuss because I mean it / And for that in my heart I am hopeful / And these words that I chose / I was so careful." And you don't have to follow the news to know that, as she addresses in "Oh Canada," murder is treated very differently at each socio-economic level. There are no generic throwaways here. On every song, Edwards is working hard at the puzzles in her mind.
The music of Asking for Flowers bounces between a modest alt-country that's faux-rustic (there's always electricity and running water) to an organ/guitar-driven rock that recalls Tom Petty and Wilco. Edwards is comfortable with both, changing little in her delivery beyond extending a vowel here and there when the wrath of electric guitar comes near ("The Cheapest Key").
The title track reads like a deservedly bitter manifesto. From the lyric sheet, you can imagine Elvis Costello spitting forth lines like "Don't tell me you're too tired / Ten years I've been working nights" with a rasping anger. But at the same time, Edwards slurs it and makes it sound pretty, as if everything is just fine.
Dark moments are hidden throughout Asking for Flowers. Listen closely to catch them. Or you can leave them in the shadows and simply hum along and tap your foot. It's an experience where, depending on your appetite for risk, you decide how much to invest.