JVC DLA-X55R 3D D-ILA Projector Page 2
But a more thorough calibration was performed prior to serious viewing. JVC has added new White and Black Balance menus this year, but I left these in their default positions as I didn't find them any more useful than the normal custom Color Temperature and CMS controls in achieving a good calibration.
The e-shift2 MPC can now be turned off from the main menus, something missing from last year's models. You'll find more about our recommended settings and calibration results in the lab write-up, but I will say the DLA-X55R needed very little work to produce a solid picture.
Visual Ace
Once a full calibration was complete, I had the opportunity to spend a few weeks with the DLA-X55R viewing a variety of different material. I did all of my viewing on a 120-inch-diagonal Stewart StudioTek 130 white screen with 1.3 gain. Playback was via an Oppo BDP-103 Blu-ray player fed through an Anthem Statement D2V3D preamp. I used AudioQuest Coffee HDMI cables and Better Cables Silver Serpent HDMI cables for all connections.
JVC always impresses with its 2D performance, and the DLA-X55R is no exception. I didn't see a lot of difference from what I viewed with its DLA-X30, but that certainly isn't a bad thing given the performance I raved about last year. Blacks were every bit as good this time around, and the JVC line continues to be the king of the hill in terms of dynamic range and black levels. The image has a very punchy quality thanks to the new lamp, which delivered a very bright image even in the Normal (low) lamp mode. Of course, you can always trade off some brightness for even deeper blacks using the manual iris controls. I like to have about 12 to 14 footlamberts on my screen for most viewing, and this wasn't an issue with the lamp in Normal, even with the iris nearly half shut. High lamp mode cranked up the fan a bit louder than I prefer, but it did produce some superbright images on my screen. During most movies, noise in the High setting wasn't an issue, but I noticed it in the films' quieter moments. Sony still has the quietest projectors I've heard in high lamp mode, and I hope this is something JVC can work on in future models, especially since high lamp is really a necessity for 3D playback.
Using a Minolta T-10 light meter, the highest contrast ratio I could measure from the DLAX55R at a mid-throw distance was about 43,000:1. This was in Normal lamp mode with the iris fully closed down. In High lamp mode, I could achieve about 36,000:1 while still maintaining a pretty bright image. But the lowest contrast ratio I measured was only 23,000:1 in High lamp mode with the iris fully open. This is better than we see from most other display technologies, even when they incorporate a dynamic iris system. My default ended up at about 35,000:1 in Normal lamp with the iris in its mid position, which gave me about 14 ft-L on the screen. This is pretty similar to what we saw with last year's model, which is what I was expecting.
I was lucky enough to get the JVC at a great time for Blu-ray releases, so I had a nice assortment of material to view during the course of this review. Some of my favorites for 2D playback were the recent re-releases of Lawrence of Arabia and Finding Nemo on Blu-ray. Both of these titles provide jaw-dropping imagery that tested the projector's abilities in so many ways. Lawrence of Arabia is one of the most beautifully shot films ever, and the new restoration from Sony is a testament to just how good this Blu-ray can look.
I also thought this would be a perfect film to test out JVC's new e-shift2 technology. Among the improvements JVC made to the e-shift function we tested in last year's DLA-X70R is a new optical lens in the e-shift2's light path, and scaling is now performed with more data points being sampled before the upconversion. Unfortunately, I didn't have one of the older projectors on hand, so I can't make direct comparisons. The DLA-X55R features five different modes for the e-shift2 function, including the ability to turn it off completely for standard playback. As suggested earlier, to shut it off in last year's models, you had to either enter a topsecret code into the remote control or use one of the Clear Motion Drive's settings (for more on this, and more detail on e-shift, see our review of the DLA-X70R (April 2012 Home Theater or at HomeTheater.com).
Each of the e-shift2 modes offers its own sharpness, contrast, and smoothness adjustments. The presets for these controls were pretty aggressive. I found myself using the Film mode for 99 percent of my viewing. It lacked the harder edges seen with the other modes and offered the most natural-looking images.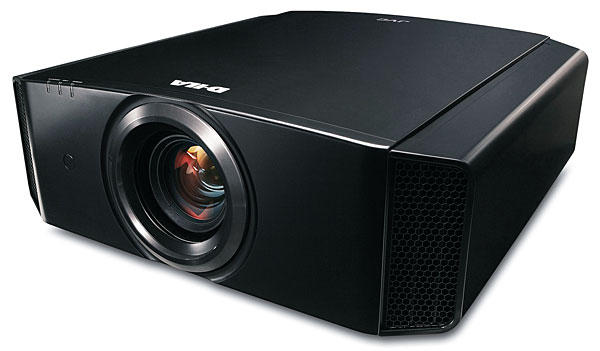 I didn't get much time to look at JVC's e-shift technology last year, although I got a few days to try out the DLA-X70R in my system after my colleague Tom Norton finished his review. My home theater screen isn't the biggest around, but at 120 inches diagonal I'd still say this is a large screen overall. My seating distance ends up being about 1.6 times the screen width in my setup, and I've never had any issue with pixel structure from D-ILA-based projectors. My vision has consistently tested better than 20/15.
Engaging e-shift on the DLA-X55R (or in my brief time with the DLA-X70R) revealed no apparent increase in resolution for me in my setup. The image looked slightly smoother with e-shift2 on compared with it off, but perceptual sharpness and detail didn't look any better. JVC is doing more tricks here than just upsampling the image, however, and I found the sharpening and contrast enhancements reminiscent of what I saw with the Darbee Darblet video processor that I reviewed in Home Theater's January 2013 issue. While I didn't find the results using e-shift2 to be quite as consistent as the Darblet when it came to sharpening and contrast enhancement, they were pretty close when dialed in. Since JVC lets you totally defeat e-shift2 this year, ultimately this just becomes another image processing mode that can be activated and tailored to your preference. But in my system, the image looked just as good without e-shift engaged. I can certainly see how this would be a feature you'd want if you sit very close to an extremely large screen, but that simply isn't the case for me.
One of the biggest improvements I see with this new JVC is its performance with image banding. My DLA-RS35 throws a spectacular 2D image, but any banding artifacts in the source material seem to get exaggerated a bit, which can be distracting. This was certainly the case with the new Blu-ray release of Finding Nemo. The undersea sequences are some of the finest highdefinition imagery I've ever seen, but my DLA-RS35 tends to show quite a bit of banding with the light variations in the water. Switching to the DLA-X55R completely eliminated this issue, causing some serious projector envy on my part. Gradients were entirely devoid of any signs of banding, and the image looked incredibly dimensional. The native high-contrast performance of JVC's imagers was on full display in the fish tank sequences as well, with amazing blacks and shadow detail. I can say without hesitation that this was the best 2D picture I've seen from any projector in my room to date. I'd love to see what JVC's upper-end models can deliver with their new wire-grid polarizers and higher contrast numbers.
The biggest improvement I saw this year from JVC was in its 3D performance. I gave the DLA-X30 some hard knocks on its 3D performance last year, and rightfully so—ghosting was prevalent in almost everything I watched, and it was a distraction that completely killed the 3D experience for me. Thankfully, it seems like JVC got the message, and this year it's taken a big step forward in 3D performance that's more in line with what I saw during my review of the Sony VPL-VW95ES SXRD projector. Now, I won't say that JVC has completely eliminated the crosstalk issue, but the company has managed to get it to a level where it is hardly ever a distraction, and you definitely have to go looking for it now to really see it. Even with difficult material like Despicable Me or A Turtle's Tale: Sammy's Adventures, ghosting was rarely a problem.
As with last year's models, you can get a boost to the image brightness by going into the 3D settings and adjusting the crosstalk cancellation adjustments. Boosting the value gives you some added brightness at the expense of more prevalent ghosting, but I found that there was usually a sweet spot that would allow me the best balance. Most of the time I could get away with a setting of 6 or 7 with minimal ghosting artifacts and have an image that was noticeably brighter than the default. Measuring through the glasses showed about 3.5 to 4 ft-L of brightness depending on where I set the crosstalk cancellation. If you opt to buy one of these projectors, don't miss this opportunity! Also like last year, the e-shift function does not work with 3D. You can adjust which preset you're using to take advantage of the other image processing going on, but the pixel shift to simulate 4K is not used.
The Best Keeps Getting Better
JVC has made some very worthwhile improvements this year to its already spectacular projector line. The refinements in 3D performance alone would make me want to upgrade from last year's model. While it can't match the flawless 3D performance of some of the DLP projectors I've reviewed, it is a big step in the right direction. Couple that with 2D playback performance that's second to none, and you have one of the most complete packages out there. I'm still skeptical of the real-world benefits of the e-shift technology for all but the most enormous screens, but I'm happy that JVC gives you the ability to tinker with the settings to make the most of it or simply turn it off if you don't want it. The DLA-X55R is truly a reference-level projector in every sense of the word, with very little room for improvement. If you're looking for the pinnacle of image perfection, you'd be hard pressed to find a better projector, especially at its price.
LATEST VIDEO