JVC DLA-X55R 3D D-ILA Projector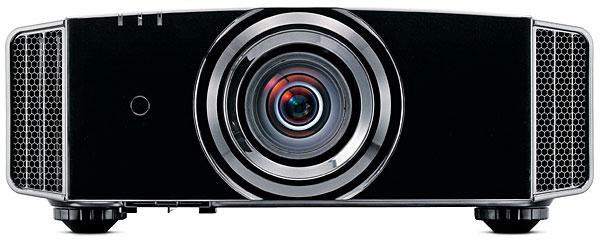 Price
: $5,000
At A Glance
: Improved 3D performance • Quasi-4K performance at a lower price • Industry-leading contrast
JVC has been Home Theater's standard bearer for reference quality, high-value displays these past few years, with one model or another finding its way into the reference systems of several members of our reviewing staff. There are projectors out there that outperform it in one way or another, but you'd be hard pressed to find any full line that performs as consistently well overall as JVC's. This year's lineup doesn't introduce a lot of new features but does offer refinements to last year's already strong line. For this review, I looked at the newest addition, the DLA-X55R. This is the only brand-new model, occupying a middle price point of $5,000 between the $3,500 entrylevel DLA-X35 and the more feature-laden DLA-X75R at $8,000. Notably, it brings JVC's e-shift 4K technology to a new low price point.
Sharpening the Sword
Last year, I reviewed the DLA-X30 (Home Theater, May 2012), the precursor to this year's DLA-X35. The DLA-X55R is very similar in overall build to the DLA-X30 and offers the same contrast specs as the new DLA-X35, although its brightness is spec'd at 100 lumens less. But the DLA-X55R adds JVC's e-shift2, which brings a quasi-4K viewing experience while still only using full-HD resolution 1080p D-ILA imaging panels. If you're unfamiliar, D-ILA, short for Direct Drive Image Light Amplifier, is JVC's proprietary take on LCOS. The "2" at the end of e-shift2 indicates an improved version of that feature after its introduction last year.
JVC has also upgraded its light engine this year. All of the new line features an improved 230-watt SHP lamp rated at 4,000 hours in Normal lamp mode or 3,000 hours in High, and features a one-year/1,000-hour warranty. The biggest complaint I've typically heard from owners of previous JVC projectors has been the lack of consistent light output over the life of the lamp. We've noticed this with some of our projectors over time, along with significant drifts in gamma performance. Unfortunately, due to the time constraints in place to get a review out in a timely fashion, we normally don't get the hours needed on a bulb to really test for long-term performance. For this review, I got to nearly 100 hours of lamp use before the end of the evaluation and didn't see any degradation in performance or light output.
The construction of the DLA-X55R looks identical to last year's DLA-X30 review unit. The chassis has a matte black finish with silver trimming. JVC has eschewed the motorized lens cover on its lower-priced offerings, but I've never had an issue with dust buildup on any of my projector lenses, so I don't see this as a big deal. The back panel includes two HDMI 1.4a inputs, a component video input, and an RS-232 port. You also get some trigger outputs and a 3D sync port for JVC's optional 3D emitter.
JVC has once again updated its 3D playback options. This year the company introduced a new transmitter for the glasses that uses RF transmission rather than IR. I never had much trouble with JVC's IR-based glasses, but RF does not require line-of-sight with an IR emitter, so they should stay more consistently in sync than IR glasses. You also won't have a room being saturated with IR energy that can disrupt or disable IR remotes, a problem I've had with previous models. The new transmitter and glasses can be used with JVC's older 3D projectors; it connects directly to the back-panel plug and looks like a shark fin with no wires or placement constraints. But the older glasses won't work with the new emitter—you must buy both. The new glasses are also slightly larger than last year's and have a small button and LED indicator in place of the on/off toggle switch. They were extremely easy to set up, and the larger lenses didn't feel overly heavy or uncomfortable. I still feel like comfort could be improved, but wearing them through several 3D movies was never a problem.
Projector setup was identical to last year's models. All of the JVC models offer powered zoom, focus, and lens shift, which is always a plus. This gives you very precise control over the lens. I love being able to focus a projector right at the screen so I'm absolutely sure I've achieved the best focus possible. The DLA-X55R had solid pixel focus that matched the handpicked optics of my reference DLA-RS35 D-ILA projector in the center of the screen. Unfortunately, focus uniformity across the screen wasn't quite as good as my DLA-RS35, but it was still better than the majority of the projectors I've reviewed in recent memory. Convergence was also exemplary. I didn't need to take advantage of JVC's color convergence capabilities, which in its Fine setting offers adjustments in fractions of a pixel in 121 separate zones.
Last year, JVC introduced lens memories for those seeking to use different screen sizes or aspects in their room without having to add a costly anamorphic lens. There are now five lens memories that, once programmed, will return you to the same focus, zoom, and lens shift saved in the memory. This is two more than last year's models. Since I use a fixed 16:9 screen, I didn't need the lens memories, but I did make sure they worked and operated as advertised.
JVC's menus are largely the same, with just a few new things here and there to help tweak the image. The DLA-X55R features a full color management system (CMS), which is needed to get the most out of the projector. There's a wide range of Picture Modes, plus separate Color Profiles, each of which offers a different color gamut. Prior to a full calibration, I found that the Standard or Cinema Color Profiles were the best choices for a respectable color gamut, and the 7000K Color Temperature preset was nearest to the proper (D65) white balance.