JVC DLA-X550R 3D D-ILA Projector Page 2
It's not exactly a brightness monster, but the DLA-X550R is capable of substantially higher light output than its predecessor. I measured 56 foot-lamberts in Anime mode with High lamp power selected and the iris fully open in Manual Lens Aperture mode. Along with the manual iris and lamp power adjustments, options for tweaking the JVC's contrast include Clear Black, which I left set to Low. The Auto 1 Lens Aperture setting also helped the projector maintain solid image contrast without adding any unwanted iris pumping effects.
The JVC's Blur Reduction menu lets you switch on its Clear Motion Drive and Motion Enhance features. When I set Clear Motion Drive to High, there was a significant boost in motion resolution on test patterns, but it also gave film-based programs an unnatural video-like look. The Low setting, on the other hand, also helped to boost motion resolution without altering the look of film-based programs.

The MPC (Multiple Pixel Control) menu provides controls to switch the projector's e-shift feature on and off. As I mentioned above, I left e-shift switched on for most of my viewing, mostly because it didn't detract in any way from the projector's performance. The MPC menu also provides Enhance, Dynamic Contrast, Smooth- ing, and Noise Reduction adjustments. When used in moderation, those settings helped quite a bit to optimize picture clarity and crispness on 1080p source material.
2D Performance
It happened that the JVC's arrival at my place was timed perfectly with Criterion's new Mulholland Drive Blu-ray release landing in my mailbox. When I watched a nighttime scene early on where Rita wanders away from the site of a car crash and down into a ravine, blacks had very good depth. In a cutaway shot of the city of Los Angeles, lights of the sprawling cityscape looked punchy and bright, while black levels remained solid.
Color accuracy also turned out to be a highlight of the DLA-X550R's performance. In a later scene where Betty arrives at her aunt's place for an extended visit, the plants and pottery in the apartment were characterized by natural, earthy hues. Brighter colors—such as the red of Betty's sweater and an inexplicable bowl of red peppers sitting on the kitchen table (this is a David Lynch film, after all)—came across as bold without being overly saturated. The JVC's excellent color handling also allowed Betty's slightly pinkish complexion and Rita's paler one to come through with a high level of differentiation. The only complaint I had when watch- ing Blu-rays was minor: a slightly enhanced look that flattened highlight detail to a degree, though it wasn't a serious issue with most discs.
The JVC's MPC adjustments helped significantly to improve the look of streamed content from Amazon Instant Video and Netflix. When I streamed an episode of BBC's Planet Earth showing male emperor penguins huddling together to shield against the punishing wind and –70-degree temperature, the settings in the MPC menu helped to make the picture look much cleaner and more solid on the big screen. I wouldn't say it was Blu-ray quality, but it was definitely Blu-ray-like.
As noted, one of the DLA-X550R's benefits is that, despite being a native 1080p projector, it can accept 4K sources. To test the projector's 4K performance, I picked up a Roku 4 and browsed the selections listed in its Ultra HD showcase. Settling on a Vudu stream of Guy Ritchie's The Man From U.N.C.L.E., I pressed Play and hoped my high-speed Internet connection was high-speed enough to pull off 4K streaming. Turned out I had nothing to fear: The movie streamed to the projector without a hiccup, and picture quality looked even better than Blu-ray on the big screen. The image was crisp and detailed. Contrast was punchy, and there was a solidity to the picture that I'm not used to seeing with streamed video.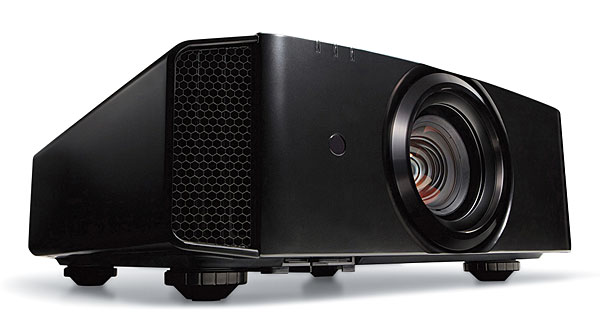 Unfortunately, the only compatible HDR10 content available during my audition was a test clip on a USB drive, but without a USB port on the projector, there was no way to play it. Our HDR auditions of this and other projectors will begin soon with UHD Blu-ray.
3D Performance
The JVC's performance with 3D sources was for the most part enjoyable. Checking out the usual trouble spots in Hugo, I did note a degree of crosstalk, though I can't say it was worse than what I've seen on other projectors I've tested recently. The DLA-X550R's picture also had satisfying brightness and contrast in 3D mode. Watching an old standby test Blu-ray like Imax's Deep Sea 3D (which I hadn't pulled out since the days when 3D on a projector could be an uncomfortably dim experience), I was wowed by how vivid the picture looked. Shots of sea turtles scooting above coral displayed excellent depth, and in a segment where a swarm of jellyfish floats against a black background, the layers extending both backward and forward into 3D space had the effect of dissolving the 2D plane of the projection screen.
Conclusion
It may be the entry-level model in JVC's new projector lineup, but the DLA-X550R is thoroughly impressive. This is a projector I could get used to living with. Among its benefits are sufficient brightness to make pictures look good in both dim and dark rooms, satisfying contrast, accurate out-of-box color, very good 3D per- formance, and a Multi Pixel Control menu that helps to improve image clarity, particularly with streamed content. Also, its ability to accept and display 4K Ultra HD and high dynamic range content is a very cool feature to be included in a projector at this price.