John Wick: Chapter 3 - Parabellum
John Wick: Chapter 3 – Parabellum
. Wick has a $14 million bounty on his head for killing top-ranking members of the High Table, the governing body of this underground legion of assassins. The entire population of super-killers is out to get him, and their bylaws allow no one to provide him sanctuary.
Chapter 3
goes a long way to solidify this franchise as one of the greatest action properties by expanding its world, pumping up the action tenfold, and deepening the characters. We won't even mention the motorcycle chase scene stolen from the South Korean film
The Villainess
...oh, oops.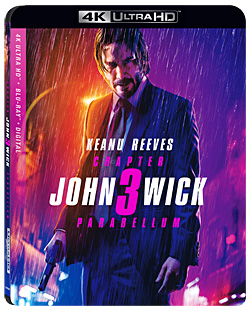 With John Wick: Chapter 3, we have a 3.2K digital production shot on the Arri Alexa SXT Plus and Arri Alexa Mini with Zeiss Master Anamorphic and Master Prime lenses. A 2K digital intermediate was used and the movie was mastered in Dolby Vision HDR for theatrical exhibition. On 4K Ultra HD, it's encoded in HEVC 2160p (4K) with Dolby Vision and framed at its original 2.39:1. This is one of the best-looking 4K discs I have seen, offering crisp details and a stunning palette in the underworld in which John Wick dwells, thanks to the expanded dynamic range and wide color gamut. Blacks are inky and can tip a little bit into crushing, but not enough to take away from the overall detail.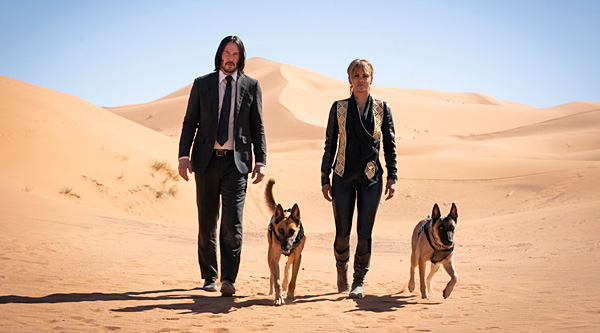 John Wick: Chapter 3, arrives on 4K Ultra HD with a Dolby Atmos mix (compatible with TrueHD 7.1). The height effects here aren't the most active for an immersive mix, but overall sound quality and balance are superb, with lots of solid effects panned across the listener-level channels. Check out the activity during the motorcycle chase or during the shootout with Halle Berry. And the soundtrack's low end will have you looking for the elephants stomping in the basement.
Lionsgate packed this release with too many bonus features to list, but you'll definitely want to check out the featurette "Parabellum: Legacy of the High Table," which offers cast and crew interviews and gives a look at the new, deeply realized world John Wick: Chapter 3. Gamers may be interested in a sneak peek at the John Wick Hex videogame trailer and behind-the- scenes featurette. "Dog Fu" is a look at the training for the movie's two new canine stars. Also included: a digital copy, a Blu-ray with film and bonus features, and a half-price off code for the videogame.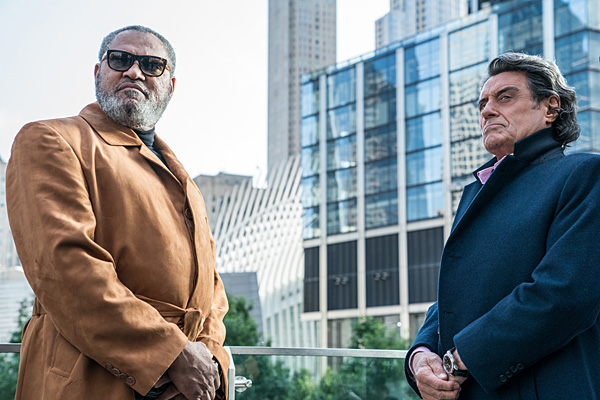 ULTRA HD BLU-RAY
STUDIO: Lionsgate, 2019
ASPECT RATIO: 2.39:1
HDR FORMAT: Dolby Vision/HDR10
AUDIO FORMAT: Dolby Atmos with TrueHD 7.1 core
LENGTH: 130 mins.
DIRECTOR: Chad Stahelski
STARRING: Keanu Reeves, Halle Berry, Ian McShane, Laurence Fishburne, Mark Dacascos, Asia Kate Dillon
Keanu Reeves is back as the super-assassin with his faithful pooch still by his side in