Jigsaw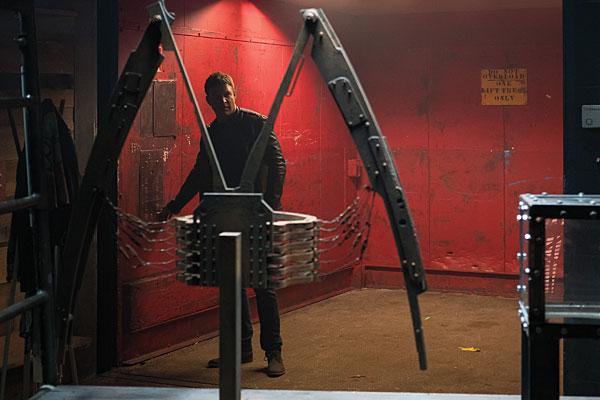 Jigsaw was shot on an Alexa Mini and utilized a 2K digital intermediate in the post-processing stage. The 2.40:1 image arrives on 4K Ultra HD in an HEVC 2160p (4K) encodement with Dolby Vision (compatible with HDR10) high dynamic range. The Dolby Vision is what really makes the difference with this transfer. While the detail looks crisp and filmic, the expanded colors and pop in the highlights are what bring this film to life. The vermillion paint on a wall, the eerie green glow of lamplight, or the shocking electric blue of, ahem, laser cutters: Jigsaw is, arguably, the best-looking film in the franchise on home video.
The overhead channels in the Dolby Atmos (TrueHD 7.1 compatible) mix carry an abundance of atmospherics that really assist in building the tension for this sort of horror. But it's not just the atmosphere: There are ample directional sound effects that move around the room. We get excellent dynamics and clear dialogue with a decent amount of extension in the low end as well.
Jigsaw comes with an anemic selection of special features, included on both the Ultra HD and Blu-ray Discs. There's an audio commentary with producers Mark Burg, Oren Koules, and Peter Block, and two behind-the-scenes programs. There's the excellent seven-part "I Speak for the Dead: The Legacy of Jigsaw" documentary, which explores the entire franchise as well as the new film, and the brief featurette "The Choice Is Yours: Exploring the Props." An UltraViolet and iTunes Digital Copy is also included.
Blu-Ray
Studio: Lionsgate, 2017
Aspect Ratio: 2.40:1
Audio Format: Dolby Atmos / TrueHD 7.1 core
Length: 91 mins.
MPAA Rating: R
Directors: Michael Spierig, Peter Spierig
Starring: Matt Passmore, Tobin Bell, Callum Keith Rennie
2010's Saw 3D was ostensibly the final film in the popular horror saga. And then, lo and behold, a mere seven years later, the franchise was rebooted with Jigsaw. Directed by Michael Spierig and Peter Spierig, the story finds the elaborate, gruesome Jigsaw killings mysteriously starting up all over again. As before, law enforcement is at a loss as to how the legendary serial killer Jigsaw—dead and buried!—could possibly be committing these nasty new murders. Meanwhile, as is the tradition with Jigsaw, a fresh group of victims has been ensnared in his intricate traps and forced to confess their own crimes or risk death. The gore-porn horror franchise's latest installment delivers on all the basics that have defined the series over the years and includes a twist ending viewers will not likely see coming. If you are a fan of the Saw films, then Jigsaw should be wholly satisfying, although it may not count as a genuinely original take on this well-worn concept.