Interest in Hi-Res Audio Continues to Grow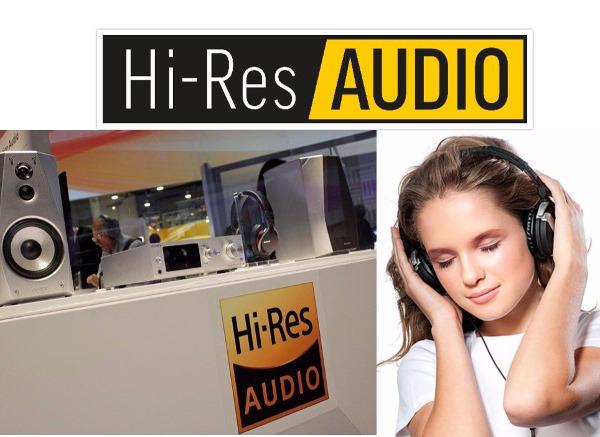 In recent years, the music and consumer electronics industries have collaborated to lead a resurgence of interest in
high-resolution audio
. The movement is a reaction to the perceived loss of appreciation for recording-quality music resulting from the widespread adoption of compressed digital music formats (MP3, AAC, WMA) developed for digital download, players, and sharing services.
As a leading advocate in the Hi-Res Audio (HRA) movement, research from the Consumer Technology Association (CTA) shows that nine out of ten consumers consider sound quality the most important component of a quality audio experience. CTA also reports that 37 percent of consumers are interested in listening to high-resolution audio.
Audio quality is measured in a combination of word length resolution, commonly indicated by 16- or 24-bit, and a sampling rate, which can range from 8 kHz to 196 kHz per second. The standard for CD-quality files is 16-bit/44.1 kHz. Along with the foundational definition, the high-resolution workgroup developed four categories (MQ P, MQ A, MQ C, MQ D) and ratings designed to make file types more easily recognizable to consumers.
Most people can discern the difference in quality between lossy MP3 files and lossless CD quality files, at least in favorable listening environments. However, most may not value the difference enough to overcome deterrents to demand higher resolution files, including:
• Higher priced recordings and services
• The higher memory, download, and Wi-Fi transmission rates required to manage them
• The cost of device upgrades that include high-resolution processing and streaming technologies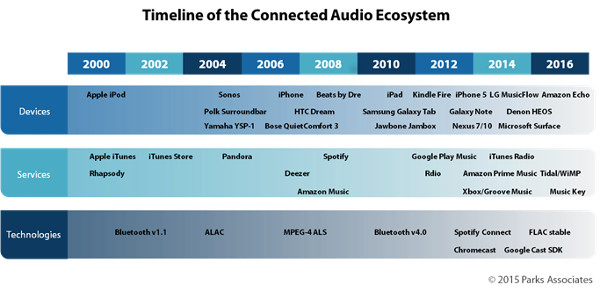 However, several trends suggest that the HRA movement is gaining momentum:
• The growth of the premium headphone category suggests that a significant segment of consumers do want a better audio experience. The category is led by Beats, Bose, Sony, and Sennheiser—brands associated with premium quality sound.
• New wireless streaming technologies, such as DTS Play-Fi, Qualcomm AllPlay, and the WiSA standard developed by the Wireless Speakers and Audio Association, have been specifically designed to deliver high-resolution audio experiences. Each has already signed on an impressive list of major and minor device manufacturers who are developing products compatible with these new technologies.
• While smartphones and mobile digital players have enabled and fueled the adoption of lossy audio, several smartphone makers have introduced Hi-Res Audio support, including LG (G4, G3, G2 and G Flex 2), Samsung (Galaxy S6, S5, Note 3, and Note 3), HTC (One M9), and a few others.
• Third-party apps, such as Onkyo's hi-res player, can be downloaded for iOS devices. New portable hi-res players have also hit the market, including the Sony NW-ZX2 Hi-Res Walkman, the Pono player conceived by Neil Young, and three models from Astell & Kern, including the AK Jr. If increasing models of smartphones support HRA, they may eat into sales of portable HRA players unless the latter can add more value, such as storage capacity or unique sharing functionality.
The audiophile market is understandably enthusiastic about merging the convenience and efficiency of digital media with quality only previously available only through physical media. The HRA movement is gaining momentum among device makers, streaming services, retailers, and the music industry. The next year or two will reveal whether everyday consumers will respond to the value propositions of hi-res products and services.
Retail is also getting on board. Last week Sony ramped up its commitment to provide Hi-Res Listening Stations in Best Buy's Magnolia Design Centers and in-store Magnolia Home Theater locations. Last year Best Buy became the first national retailer to promote HRA audio in-store.
The growth in services for streaming and downloading HRA content indicate an expanding ecosystem. More than a dozen hi-res retailers are now active in North America, including HDTracks, Naim Label, Linn Records, Bowers & Wilkins Society of Sound, PonoMusic, Onkyo Music, Technics Tracks, SuperHiRez by Acoustic Sounds, iTrax, Blue Coast Records, and Quoboz. See Finding Hi-Res Music for more detail on companies selling hi-res music.
LG recently announced a new HRA service for its premium smartphones in over 70 countries. The service will support 24 bit/192 kHz song files downloadable through the LG SmartWorld app. In addition, CD-quality streaming services such as Tidal and DeezerElite offer lossless audio and some demos of HRA audio.
Finally, the three majors music labels involved in the HRA workgroup have announced that they are making their back catalogues available for re-mastering to increase the availability of content and to encourage studios and artists to record new music in HRA.
Consumers have more opportunities than ever before to discover or rediscover a quality audio experience.
For more information on Hi-Res Audio, see our Guide To Hi-Res Audio.
This article was written by Brad Russell, a research analyst at Dallas-based Parks Associates.
Related:
Sony Expands Hi-Res Listening at Magnolia
Hi-FiMan Unveils SuperMini Hi-Res Audio Player
Gaining Momentum, MQA Hires Label Exec as CEO
NAD Firmware Update Adds MQA Support
MQA Inks Deal with Warner Music Group
Audio Statesman: Meridian Founder Bob Stuart (Stuart talks about the Master Quality Authenticated (MQA) format he invented)