Recording Academy Establishes New Guidelines for Hi-Res Music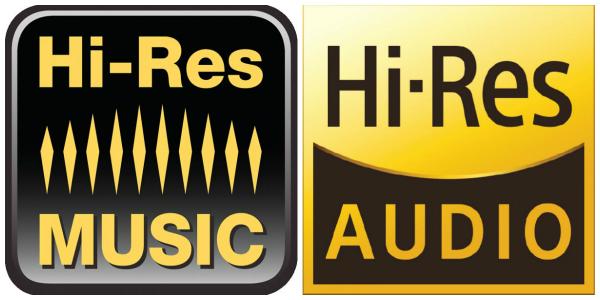 Standards and guidelines are a good thing. Just ask anyone who's ever had an 11-inch long Footlong from Subway. (Subway, interestingly enough, claims that "Footlong" is a descriptive name not intended to be a measurement of length. Seriously?) As audiophiles, we need to make sure that what is called Hi-Res music, is indeed high-resolution, and not just a descriptive name. The Producers & Engineers Wing of The Recording Academy (who presents the Grammy Awards) has come up with a set of production guidelines for high-resolution music. (In full disclosure, I've been a voting member of The Recording Academy for over 30 years.)
This follows the announcement of a new logo for High-Resolution Music, shown above. Personally, I thought the old Hi-Res Audio logo was just fine, and hate to think that instead of clarifying the format, this is just doing to confuse things further. The new logo refers strictly to the music file itself, while the older Hi-Res Audio logo will remain for equipment and hardware.
What follows are some of the topics in the new guidelines from The Recording Academy:
• The importance of providing masters that have either been digitally recorded or re-mastered from analog sources at the highest resolution possible.
• The value of establishing workflow protocols and procedures for recording new projects at 96K/24 bit and higher.
• The need for utilizing best practices when transferring analog masters to hi-res digital formats.
• The importance of packaging Hi-Res files with high quality digital liner notes, credits, and other descriptive metadata that complements these recordings.
• The use of best efforts when documenting the origin format ("provenance") of these recordings, in order to provide as much transparency to consumers as possible.
• A list of recommendations that support the minimum production requirements necessary to enable music labels to deliver hi-res content.
"Hi-Res Music is becoming more popular every day, and demand for these digital files is increasing rapidly," said Maureen Droney, Producers & Engineers Wing Managing Director. "Our members want to ensure that there is enough music product in the pipeline to satisfy this demand. These professionals, who represent some of the best ears in the business, have volunteered their time, energy and expertise in order to demystify and simplify the overall process of creating Hi-Res Music. The guidelines they will create will go a long way towards realizing this."
One year ago, a group that includes the CEA, Sony Music Entertainment, Universal Music Group, Warner Music Group, DEG; The Digital Entertainment Group and The Recording Academy came up with a set of definitions for Hi-Res Music, but it didn't cover the proper procedures for recording, mixing and mastering titles before the final release to the public.
These are different than the standards agreed upon last year, which pertain to the final mastered product, and had little to do with how the recordings were made prior to the master. Here is that list:
MQ-P - From a PCM master source 48 kHz/20 bit or higher; (typically 96/24 or 192/24 content)
MQ-A - From an analog master source
MQ-C - From a CD master source (44.1 kHz/16 bit content)
MQ-D - From a DSD/DSF master source (typically 2.8 or 5.6 MHz content)
If Hi-Res Music stands any chance of going as mainstream as MP3, more guidelines and standards are required. More information about what happens to recordings before they're mastered is important too. I recall an album I was working on for Gregg Allman back in the early days of digital multitracks. Many times, tracks were bounced to an analog tape to do some tricky razor-blade edits. On a project for the Bee Gees, we had to transfer every single track of a song from a digital tape to analog and back due to a SMPTE timecode problem. Even today, some engineers use vintage analogue devices for effects that require leaving the digital domain. These situations have no bearing on what the final mixes were mastered to, but if I bought one of those recordings thinking they had stayed entirely in the digital domain, I would be pissed.
No matter how recordings are created, recorded, mixed, mastered, and delivered, one thing is clear: in every step of the process, the highest standards must be maintained. If a vocal track was "flown in" from an MP3 file or even a lower sample-rate PCM file, no matter what that track is mastered at, that data is lost, for good. Having The Recording Academy, DEG, the CEA and the rest of the music industry all on the same page isn't just good for the music industry, it's good for all of us.