IKEA and Sonos: Perfect Together?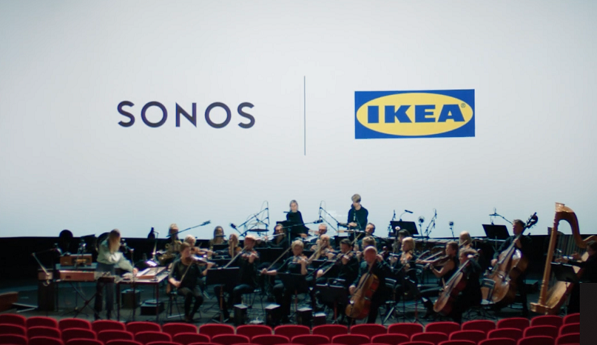 While
teased last summer
, a new video just released is showcasing Symfonisk, the collaboration between smart-speaker manufacturer Sonos and IKEA, maker of meatballs, build-it-yourself furniture, and all things Swedish and practical. The speakers that will come from this new venture promise to deliver the exceptional sound that Sonos is known for with the functionality and budget-friendliness of IKEA.
IKEA has already been in the "Smart Home" space with their Tradfri HomeSmart outlets and lights. They've also already been in the speaker space with Eneby, a line of Bluetooth speakers with a decidedly Scandinavian look. The Symfonisk collaboration was announced last summer, but this new video promises a release of August, 2019. Currently, the lowest cost of entry into the Sonos product line is about $150. Symfonisk should be much lower than that, although no prices have been announced at this time.
It's understandable why Sonos is willing to lower the cost of these products. While one Symfonisk product might be sold at a discounted price, it's quite likely that a customer will want to expand the system, and these products will work in conjunction with the rest of the Sonos product line.
In the video, Sonos product manager Sara Morris says, "We can actually inspire people to think about sound as part of the design of their home." Given the uniquely practical design aesthetic of IKEA, "we can tuck that sound into the furniture in hidden ways; we could really stop people thinking about the speaker and start thinking about the sound."
The collaboration makes sense. IKEA is known for creating beautiful yet functional lighting options for the home. Tad Toulis, VP of design at Sonos says that he's now thinking about music within a home in a similar way to lighting. They both create an atmosphere that is moving and dynamic.
Johanna Nordell, business developer at IKEA HomeSmart, agrees that after working with light, it was a natural progression to move into sound. IKEA reached out to Sonos and both companies realized it was a perfect match. "They bring the sound expertise, we bring the home furnishing knowledge."
The early prototypes shown last summer reveal speakers disguised as shelves, or with brackets to mount under cabinets or bookshelves. While products that come out of the collaboration will offer a more affordable option, they'll still supposed to deliver the sound that Sonos is famous for.
Stjepan Begic, product developer at IKEA HomeSmart stated, "We wanted the speaker to be a full-fledged member of the Sonos family without any compromises on the sound quality or user experiences, but we wanted the price level where we could reach many people."
Tad Toulis summed it up best: "We both believe in the power of design to elevate the quality of everyday life."