PreShow: The Coolest yet Creepiest Free Movie App Launching on Kickstarter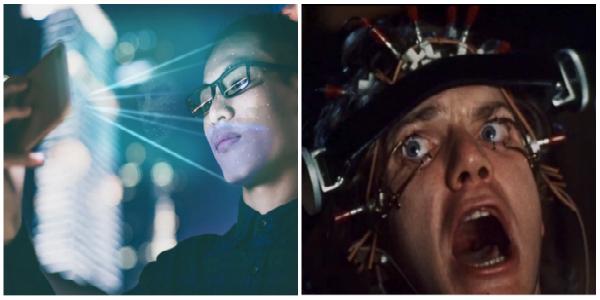 "Attend first-run movies in theaters...FREE!" That's the Kickstarter headline that caught my eye. Who doesn't love free movies? However, what lengths will you go through to get those free movie theater tickets? PreShow is a new app launching on Kickstarter by the founder of MoviePass. If funded and launched, the PreShow app will play 15-20 minutes of advertisements in exchange for one free movie ticket credit. How they ensure that you watch the ads is completely freaking me out.
PreShow has a way to guarantee to their advertisers that you are watching. Using facial recognition technology built into Apple phones and specifically developed technology on Android, the free PreShow app will only unlock with facial recognition. Then it continues to use facial recognition to make sure you've watched the entire 15-20 minute advertisement. That's right. Their technology will be watching you, making sure you're watching the video. Put the phone down, cover your eyes or look away and the playback will pause after five seconds of inattention.
The app is free for users. Companies will pay for the app and the movie tickets in exchange for watching their commercials, or as they like to call it, branded content that is targeted to each viewer's preferences and film choices. Once you've completed the required viewing, a credit is stored within your app. Want another credit? Watch more advertisements, although after two credits, you must purchase a ticket before you accruing more credits. Use the credits for online ticket purchases directly through theaters or companies such as Fandango. Right now, the creator is stating that there are no blackouts or restrictions except that it can only be used for 2D screenings; it can't be used for 3D or IMAX at this time.
The premise of PreShow sounds vaguely familiar. Watch a few ads and get free content. You know, kind of like how broadcast TV works. Soap operas got their name from the exact same premise. Watch the ad for detergent, and we'll give you free content. However, those early advertisers had no way of knowing if you were watching their ads or wandered off to get a snack during the commercial break. With PreShow, your guaranteed viewing is a lot more valuable to advertisers.
PreShow states that they will NEVER record you while it's "watching" you, and they state on Kickstarter that they will "NEVER share personally identifiable information. Any data shared with brand partners will be aggregated and anonymized. If a member chooses to opt into a brand offering, they will be connected directly to the brand."
The actual nitty-gritty of the app is still under development, and the Kickstarter is in pre-launch at the moment. At this time, the creator is planning on allowing users to only stockpile up to 2 credits, so after watching 30-40 minutes of "branded content," you can take a date to the movies. A free movie in exchange for 15 minutes of ads doesn't seem too bad, but my date would really have to be frugal to sit through up to 40 minutes of commercials before date night. At what point is "free" not really free? Don't blink while you think about that.
More information is available kickstarter.com.