SiriusXM Blurs the Line Between Satellite and Streaming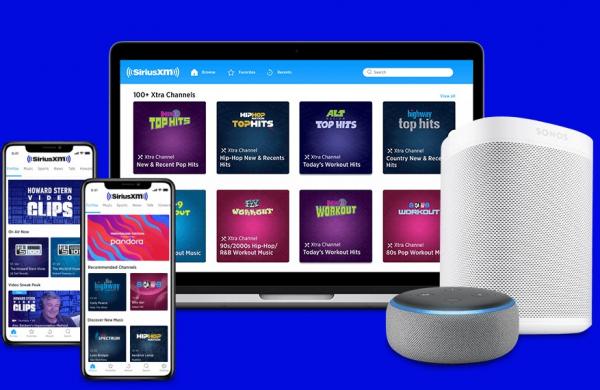 As a long-time subscriber to SiriusXM, I tend to ignore emails and notices from them. I pay and renew every six months and forget about them in between payment dates. So I'm glad I spotted the latest email from them because they've announced a host of new features, stations, and exciting new ways to listen to SiriusXM outside of the car.
Since SiriusXM bought Pandora, I've been waiting for them to come up with some new enhancements incorporating the best of each service. Now you can access your personalized Pandora stations directly from the SiriusXM phone app, so you can switch seamlessly from one to the other.
SiriusXM has also unleashed 105 new "Xtra" ad-free stations that take their on-air stations up a notch. For example, there's always been 80's on 8 and 90's on 9, each featuring music from the 80's and 90's respectively. On the Xtra channel list, now there's an 80's/90's Mashup channel, and a Workout, Pop Top 100, Upbeat Party, and Rock Hits for each era too. Most other popular stations have similar channel options as well. There are also seasonal channels like the "Classic Rock for your BBQ" channel.
I will say that I'm disappointed that there isn't a single new classical music channel on the Xtra lineup. I guess I can make one up on Pandora, or tune in to the Symphony Hall or Met Opera satellite channel but it's just a sad sign of the times. Personally, I would love a "Bartok for your BBQ" channel.
There is also a new 200-item library of videos from the SiriusXM collection of in-studio concerts and interviews, including a huge collection of Howard Stern interviews and guest concerts.
The biggest shift is how SiriusXM is allowing subscribers to access their programming. The phone app, online streaming and home access is now included in the "SiriusXM Select" package (their cheapest option). The app is free and is available for both Android and iOS. Subscribers can listen at home over a variety of connected devices including Amazon Alexa-enabled products, Sonos speakers, Playstation, Roku, Apple TV, and many smart TVs.
With just a little haggling every six months, it's possible to get SiriusXM for less than $6 a month. Now that they've added all these features, I'm a little more willing to make that call to their customer care line to get the "special" promotional rate every six months. I'm not sure which station I'm more excited about: Spectrum Discovery or Classic Hip-Hop BBQ. No matter which I chose, I'm looking forward to listening outside of the car, and binge-watching the Howard Stern library.