Review: Sony WH-1000XM3 Wireless Noise-Cancelling Headphones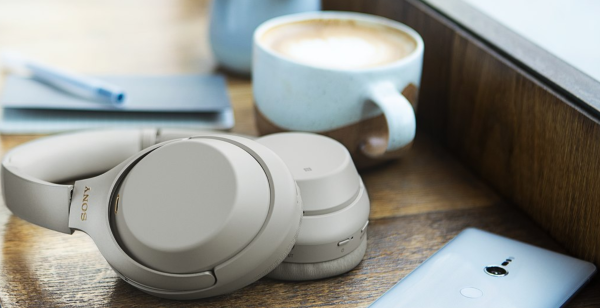 While researching noise-cancelling headphones, I kept reading comparison after comparison with the Sony WH-1000XM3 headphones. Needless to say, I had to try out the Sony headphones on a trip and see for myself. Were they as good as other reviewers made them out to be? Will they become my new favorites? Here's a hint: the hype is real.
The WH-1000XM3 ($350 MSRP) are the latest noise-cancelling headphones from Sony. Even without active noise-cancelling, the comfortably-padded over-ear design blocks out a fair amount of outside ambience. Add in the newly-designed noise-cancelling algorithm and the WH-1000XM3 are among the best I've auditioned.
The WH-1000XM3 are packed with features. Detailed control of the noise cancelling abilities is provided by the headphone app. It has settings to control exactly how much ambient noise is mixed in, along with an option to focus on voices. The "Quick Attention" mode lets you decrease music volume and increase outside sound by simply placing your hand over the right earcup so you can hear an announcement or place your drink order with a flight attendant. I checked out all these functions on a recent flight, and was impressed not just with the noise cancellation, but the ease of switching modes.
Other settings include a sound-position control, surround-sound modes, and equalizer settings. In addition, you can set up the headphones to detect ambient situations and adjust to them accordingly. For example, you can select noise-cancelling algorithms designed for sitting, running, or traveling, allowing you to safely hear traffic signals and voices while running, but block out low-frequency engine noise while on a train or airplane. The Noise Canceling Optimizer goes a step further, detecting atmospheric changes and personalized settings — it even detects if your hair is under the headphone or out of the way.
The WH-1000XM3's controls are quite intuitive, with the ability to play/pause music and take calls by just swiping the earcups. You can also assign voice-control to the noise-cancelling button to summon either Google Assistant or Alexa.
Pairing the headphones is simple, and they features Bluetooth with aptX and DSEE HX for better sound quality. The frequency response is listed as 4 Hz-40 kHz, and 20 Hz-20 kHz for Bluetooth connections.
I turned off all signal processing modes for my audition and listened to Sigrid's acoustic version of "Mine Right Now." Her voice sounded pleasantly open and her subtle vibrato had a pure clean sound. Next up was Maggie Rogers' "Fallingwater." The track's beautifully recorded acoustic piano had a very wide stereo image with a few high notes ringing out from the right side. The bass and kick drum had a tight, impactful tone balanced nicely with the lower tones of the piano. The details of Rogers' voice were accurately and naturally conveyed, even through the later verses when more bass and percussion competed against a doubled lead vocal and chorus.
The battery provides up to 30 hours of music playback with noise cancelling, and the headphones come in a hard-sided carrying case with a 3.5mm audio cable and airplane headphone connector. While I thought the Jabra Elite 85h headphones were destined to join me on an upcoming overseas flight, the Sony headphones have replaced them on my packing list. For sound quality, noise-cancelling options, comfort, and effectiveness, the Sony WH-1000XM3 headphones are my first choice.