Integra DTR-50.2 A/V Receiver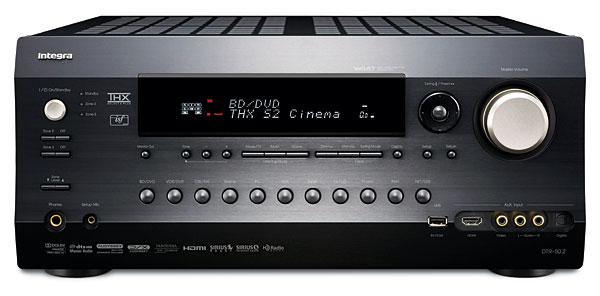 Price
: $1,400
At A Glance
: THX Select2 Plus certified for medium-size rooms • Audyssey MultEQ, DSX, Dynamic EQ, Dynamic Volume • Loaded with networked audio features
Like My Tattoo?
Once, tattoos were restricted to dock workers and people in dubious professions. Now they're mainstream: You practically can't be a musician, actor, or accountant without one. Why? Scientists are baffled. Maybe the bodyart lobby put something in the drinking water. In any case, the Integra DTR-50.2 is as tattooed as any rock star. I counted 11 logos on the front panel, and that's only the tip of the iceberg. Just as many people add more tattoos on, um, intimate parts of the body, this AVR's Webpage boasts a total of 27. True, some of them are small change: Do we really need logos for USB and Zone 3? But this AVR's cornucopia is fairly bursting with meaningful logos from THX, Audyssey, and—my new favorite—Slacker.
THX and Audyssey and More
The DTR-50.2 is THX Select2 Plus certified, so it will play loud and clean in rooms of up to 2,000 cubic feet at viewing distances of 10 to 12 feet when mated with THX Select2–certified speakers. The AVR's rated 135 watts per channel (see HT Labs Measures) muster "certified 4-ohm performance," according to the spec sheet.
Audyssey-licensed features include MultEQ room correction, the version that takes measurements from six positions. In the MultEQ pecking order, this one is third out of four.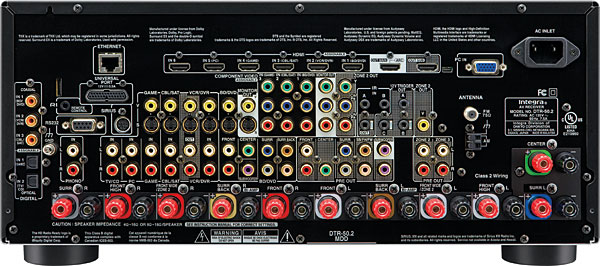 Also on board is Audyssey DSX, which offers both height- and width-enhanced listening modes. In practical terms, with this seven-channel A/V receiver, that means you can augment the basic configuration of 5.1-channel surround with two height speakers placed above the front left and right, or two width speakers placed outside the front left and right, or two backsurround speakers behind the seating area—pick one of those three. If you opt for height speakers, you can run them with either of two height modes, Audyssey's DSX or Dolby's Pro Logic IIz. Because the DTR-50.2 has dual subwoofer outputs, you can easily run an extra sub, which can help even out bass response around the room.
I fervently believe that all AVRs should include at least one low-volume listening mode. This one actually provides a choice. The Plus in THX Select2 Plus indicates the presence of THX Loudness Plus, which adjusts for the way human hearing changes its perception of space and frequency response once the master volume drops below reference level. As an alternative, there are two Audyssey low-volume modes that are designed to work together: Dynamic EQ, which also compensates for changing perceptions at low volumes; and Dynamic Volume, which applies advanced dynamic range compression and maintains even volume levels among sources.
The latter operates in light, medium, or heavy modes to suit your whim. Dynamic EQ and Dynamic Volume together make a great team. Integra deserves applause for providing both THX's and Audyssey's low-volume modes.
On the video side, this model includes Faroudja DCDi video processing, HDMI 1.4a compliance for a full complement of 3DTV formats, and to give your custom installer a full arsenal of video corrective measures, ISFcertified calibration controls.
Once, we lived in a world where listeners were rooted in the sweet spot listening to discs. For those who still do, the Integra comes with a moving-magnet phono input. But these days, some of us wander around the house and expect music to follow us. With this three-zone product, it can.
We also listen to a lot more than discs, and the DTR-50.2 is ready for all contingencies. Your iPod or iPhone can connect either to an optional dock (UP-A1, $109) via rear-panel connector or directly to a front-panel USB jack, thanks to Made for iPod/iPhone certification. With optional accessories, the DTR-50.2 supports both Sirius satellite radio and over-the-air digital HD Radio. Plug an Ethernet cable into the AVR to enjoy subscription music services (Rhapsody, Napster), podcasts (MediaFly), personalized Internet radio (Pandora, Slacker), and more traditional Internet radio (vTuner). You can also access media from a network-connected PC via DLNA 1.5 certification and Windows 7 compatibility.
The DTR-50.2's seven HDMI inputs cater to the videophile who has everything. There are two HDMI outputs as well. One of them supports the Audio Return Channel, which sends signals from a display back to the AVR for surround decoding. This is one of the increasingly few AVRs to offer S-video connectivity for legacy sources in addition to the usual composite video.