Integra DTR-50.2 A/V Receiver Page 3
Joe Beard's For Real is a 1998 release from AudioQuest Music (the label now known as Sledgehammer Blues). Beard's songwriting style sticks close to the blues tradition, leavened with covers from John Lee Hooker, Lightning Hopkins, and Sonny Boy Williamson, and decorated by the tasteful soloing of guitarist Duke Robillard. This SACD hybrid disc had only stereo soundtracks, in both DSD and CD formats. The Dolby Pro Logic II Music mode opened up the soundstage beautifully but went a little too far with the Hammond organ, which degenerated into all-channel diffusion, divorcing it from the rest of the band. So once again, I fell back on the non-direct Stereo mode. The warm, slightly rolled-off mix suited Beard's lowkey vocal charisma well and seemed to consciously refrain from sharpening up his relaxed sibilants. To its credit, the Integra didn't brighten up the vocal or lose track of its tinier nuances. Somehow I'm certain that what I heard was what the artist and producer wanted me to hear.
Shiny Round Things Forgotten
I started my disc-unbound listening with a little music from my second-generation iPod touch plugged into the Integra's frontpanel USB port. It defaulted to Standard mode, which enables operation from the device itself. The front panel's and remote's Display buttons toggle to Expanded mode, which lets you operate the device using the AVR's GUI and remote. One nice touch is that when you disconnect and later reconnect your iPod or iPhone, the Integra defaults to the last mode you chose. The manual notes that fifth-generation iPods and first-generation iPod nanos only work in Standard mode, but if you're not happy with the way your iPod works with the AVR, you can always add the accessory dock.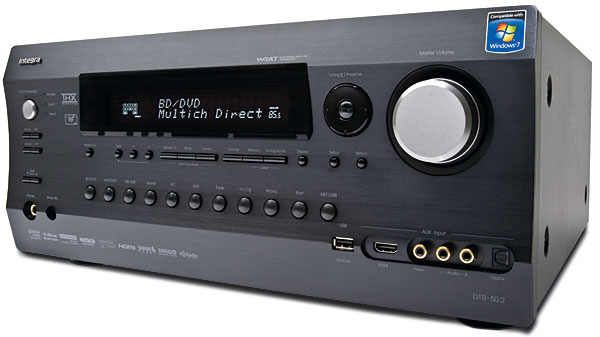 The front panel's and remote's NET/USB buttons cycle through other network-enabled audio options. Nearly everything in my PC hard drive's Music folder appeared in the Integra's GUI, and I was pleased that it didn't limit itself to the Windowsdefault My Music folder. The only omission was an album encoded in AAC that I'd purchased from iTunes (cut to Steve Jobs scowling).
Integra offers a bunch of Internet audio options. vTuner proved to be a conventional Internet radio interface with all the sorting options you'd expect. I chose Stations by Genre, Ambient, High Quality (because who doesn't love high quality?), and in no time, I was unwinding to the Ambient Psychedelic Chillout channel.
As I'd used Pandora once before, I logged in with my e-mail and password, slowly picking out each character with the remote's nav keys, shifting to access the @ sign and the period. Pandora recalled that I had previously set up a Richard Thompson radio station and started playing songs by that artist and others it deemed similar. I knew that Pandora would limit my choices if I skipped too many songs, so I skipped just one or two occasionally, rebutting those who claim, "You never learn." Hah.
Subscription music services included Rhapsody and Napster. Note that Rhapsody's 30-day free trial was visible in the Integra GUI. Napster offers a sevenday free trial, accessible from its Website.
And Then There Was Slacker
Slacker was a new experience for me. Like Pandora, it requires a login, so I sat down at my PC to set up an account. The choices were Free Basic and Slacker Plus. My pick? You guessed it. Back on the sofa, I keyed in my login and password and was greeted by Slacker's opening screen: Search, News, Favorites, Recently Played, Custom Stations, Slacker Spotlight, Top Stations, and various musical genres.
Custom Stations were my choice. Back at the PC, I created one for the Orb. Slacker suggested a variety of Orb-like artists, including my chosen one, which I reiterated. Then, to my delight, Slacker presented me with a list of songs by the Orb plus a list of Related Artists whom I could opt into or ignore. I could have just stuck with my original pick, but I added Death in Vegas because I liked the name (I associate Las Vegas with the slow-motion death of the human spirit). When I tried to save my Custom Station as the Orb, it didn't work, but saving it as TheOrb did. In no time, it was up and running on the Integra.
Once I was back on the sofa, the Integra displayed song, artist, and album names alongside cute icons as well as album art. The artist field added this verbiage: "Up Next: Upgrade to view artist." Harrumph. I was invited to Rate Song as Favorite or Ban Song. I chose neither. Slacker seemed OK with that.
As a few songs played, Slacker informed me that I had five skips left (as opposed to Pandora, which just sucker-punches you when you hit your limit). My first skip brought on an ad that could not be skipped. Of course I had to forge ahead to see what happened when my skips ran out. No surprise: Slacker again invited me to upgrade.
Please don't get the impression that I didn't enjoy Slacker—I'm just recording my first experience in detail. Hugs to the Slacker people for a fun and well-designed service and to Integra for including it. Free is always a great price.
If I were to personally design an A/V receiver to suit my needs, it wouldn't be far removed from the Integra DTR-50.2. Its licensed and other features, adjustments, interface, remote, and (oh yes) performance are pretty much what I want out of an AVR. I had to work my butt off to find anything to quibble about. Every user of an A/V receiver should be so lucky.