Integra DHC-80.1 Surround Processor Page 3
The DHC-80.1 includes Audyssey's MultEQ XT room-correction system. I've been really impressed by Audyssey's ability to smooth out bass response across multiple seating positions and open up the soundfield. This new surround processor features independent calibration for multiple subwoofers. When I run four separate subs in my room, Audyssey now groups them, which essentially makes them two pairs. You can independently calibrate each pair, which yields real gains in the bass department. It provided a bit more control on the very bottom end and an apparent boost in output. I was a big fan of Dynamic EQ in the previous Integra models, and it almost became a bit much with the new processing. The low end seemed to have a bit more punch than before, and it tended to distract a bit. I used the subs' level controls to temper this.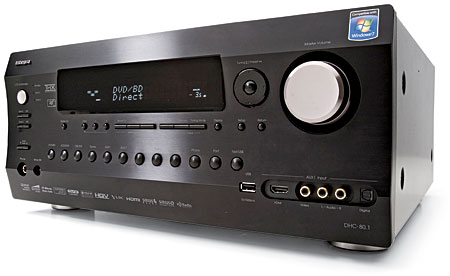 As with previous Integra surround processors, I took full advantage of Audyssey MultEQ Pro. In order to do this, you'll need an Audyssey MultEQ Pro–certified installer with a Pro calibration kit. Audyssey MultEQ Pro lets a professional installer take measurements from more seating positions and choose different EQ curves depending on your room's size. After I used the standard calibration for about a week, I performed the Audyssey MultEQ Pro calibration. The results were what I expected, and the Audyssey MultEQ Pro calibration continues to add more depth to music and more apparent resolution to the lower end of movie soundtracks. You can save your results externally and reload them if you lose your settings. You can also do this if you want to try out some new gear, but you still want to return to the original calibrated settings. An Audyssey MultEQ Pro–certified installer typically charges around $300 for a MultEQ Pro calibration. Whether this extra increment of improvement is worth it is between you and your wallet. If you have a room that has lots of seating positions and potential acoustic issues, I would make the investment.
In Use
While the DHC-80.1 has some feature and aesthetic changes, the overall user experience is similar to the DHC-9.9's. Setup is intuitive, and Integra provides a simple-to-use onscreen graphic user interface (GUI) that lets you assign inputs, customize them, and create your own labels. You can assign each input source to different video and audio inputs. I would like it if my universal player could share the same HDMI input across different input source selections. Then I could set up one source input for highresolution audio playback and another for the player's video playback. According to Integra, the DHC-80.1 doesn't allow this due to CEC compliance. This is a disappointment, but it's not a deal breaker.
For each source, you can select a default playback mode for various input audio signals, including stereo, PCM, and all the Dolby and DTS flavors. It includes post-processing modes like THX Cinema, game modes, Dolby Pro Logic IIx, DTS Neo:6, and more. I like that you can do this on a per-input basis. I typically don't apply post-processing enhancements to high-resolution sources like Blu-ray, but I find them compelling with lower-resolution sources like TV and DVD.
The DHC-80.1 features a completely new remote control that's a little less intimidating than the previous one. If you've owned an Integra surround processor, you know the remotes have an overwhelming number of buttons. The new one is far more streamlined, and it doesn't give up much functionality. It's a universal design that you can code for the rest of your gear. It still lacks some direct access keys that I'd like (Audyssey modes), but it easily does the bulk of what a remote should do. The new design is fully backlit, and the less cluttered layout is easier to operate in the dark.
How's It Sound?
With digital sources, Integra's previous surround processors have given up little to the more expensive surround processors I've had in my room in terms of sound quality. The DHC-80.1 boasts new Burr-Brown DACs with 192-kHz sampling and 32-bit depth. Although the overall sound quality was excellent, I didn't notice a big improvement in stereo playback when I paired the Integra with my OPPO BDP-83 Blu-ray player. However, the new surround processing modes such as DSX offered some substantial improvements compared with previous designs.
A few months ago, I visited Audyssey's headquarters in Southern California to get a taste of the full DSX processing suite, and I walked away impressed. The width feature adds a nice transition from the mains to the surrounds, and it offers an obvious improvement in stage width on most material. That being the case, I added width channels to my system to test the DHC-80.1. I've found that some titles have mixed results with DSX width, mainly during voiceover narrations. Overall, I've grown accustomed to the noticeable gains in soundstage width. I also love the seamless pans along the sidewall that the width channels offer. My system now has width channels permanently. I feel that the width channels add more to the surround sound experience than what I got with a 7.1-channel system with back surrounds.
I tried height enhancements with both Dolby Pro Logic IIz and Audyssey DSX. The height channels offered some subtle cues, but it wasn't enough to sell me. I already get pretty solid vertical imaging in my system. If the material has the character (see Master and Commander: The Far Side of the World), my system can reproduce it. While I found the process a bit more convincing than previous iterations (Yamaha has incorporated front effects channels in some of its models for years), I didn't feel it added enough to the experience. Still, it's fun to try out new ways to expand the soundstage.
Wrapping It Up
Integra once again serves up a winner. The DHC-80.1 improves on Integra's surround processor lineage. It offers real gains in the soundfield via Audyssey DSX, and it includes great new features like Internet connectivity and home media streaming. It's great to see a company that isn't afraid to stay at the bleeding edge of features in the separate surround processor market. Integra once again earns an enthusiastic Top Pick.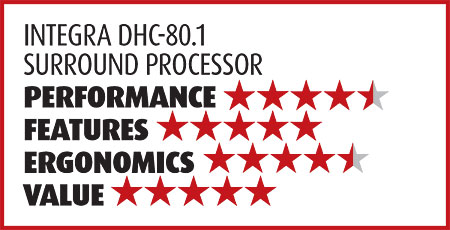 LATEST VIDEO