Inside the Ultimate Download Experience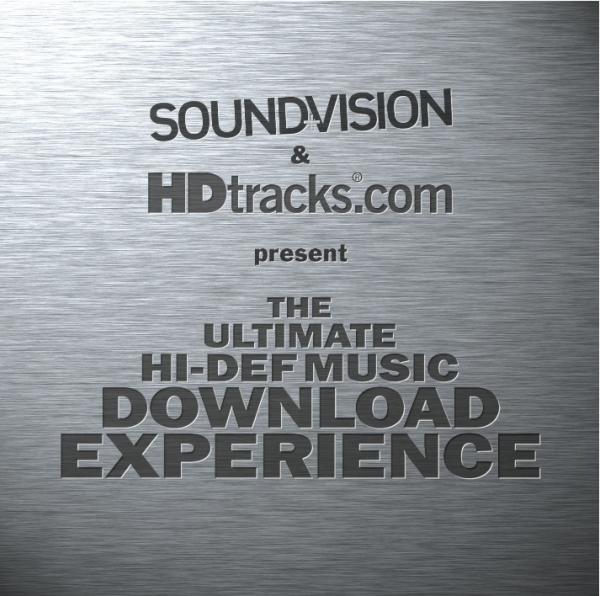 What do you want to hear when you listen to music? Do you want a lower-fidelity version of what the artists, engineers, and producers heard in the studio? Or would you prefer to hear exactly what they heard in the studio?
Of course, you'd prefer the latter. But you're probably getting the former - unless, that is, you're listening to high-resolution downloads from HDtracks. If you're listening to CDs, MP3s, or even vinyl records, what you're hearing is not a precise copy of the original digital recording or analog tape. It's downconverted. If it's on CD, the digital resolution has been reduced. If it's on vinyl, the audio has been remastered and the record you're listening to is actually a third-generation mechanical copy.
Sure, it might sound ok. But it's not the best fidelity you can get. HDtracks is. And HDtracks and Sound+Vision have put together an introductory sampler to show you just how good high-resolution listening can be.
What is High-Resolution Audio?
Basically, high-resolution audio has more information and thus better fidelity. It's like comparing a 1-megapixel image from a digital camera with an 8-megapixel image. Just as you see more detail in a high-resolution image, you hear more detail in high-resolution audio.
That's why professionals use high-resolution digital audio in the studio. Unfortunately, they then have to reduce the resolution to get it onto CDs.
On a CD, each audio sample is stored using 16 digital bits, which means a CD can produce 65,536 different volume gradations. That may seem like a lot, until you calculate that the 24-bit high-resolution downloads on HDtracks can produce 16,777,216 volume gradations! That's more detail, more depth, and more subtlety. It's also less noise: With CDs, the noise is 96 dB below the highest sound level. With HDtracks high-resolution downloads, it's 144 dB below.
Digital audio on CDs is sampled at 44.1 kHz, or 44,100 times per second. This gives CD a frequency response of about 20 kHz. HDtracks high-resolution downloads are sampled at 96 or 192 kHz, yielding frequency responses of slightly less than 48 kHz and 96 kHz, respectively. Some audiophiles feel that even though you can't hear sounds at those high frequencies, you can in some way sense them. Some audiophiles think that higher sampling rates sound better because the filters used to pre-condition the audio signal for digital recording are at much higher frequencies so their negative effects can't be heard. Indeed, both contentions have their merits.
How Do You Get High-Resolution Audio?
It's simple. Just go to HDtracks.com and sign up. You'll need to install the site's Download Manager, a simple piece of software that runs downloads in the background while you're doing other stuff.
How do You Play High-Resolution Audio?
The first thing you need to play high-resolution audio is software that can handle it. HDtracks recommends Media Monkey, a free music playback app you can download at www.mediamonkey.com.
Next, you'll need a 24/96 (or, even better, 24/192) digital-to-analog converter (or DAC). Your computer might have one of these built into its sound card, but computer sound cards aren't known for high fidelity. Your best bet is to use an external USB DAC. These are made by countless companies and sold by numerous online audio merchants and any brick-and-mortar high-end audio or professional audio dealer. You can spend from less than $100 to more than $10,000. Just make sure the DAC is at least 24/96. You can also get USB DACs with headphone amps built in (and we'll be looking at a few here at S+V soon).
You can connect the USB DAC to your audio system just the way you'd connect a CD player. The better your system, the more improvement you'll hear with high-resolution audio.
Get Ready for Great Music: The UDE Sampler, Track by Track
Everything on the Sound+Vision HDtracks Ultimate Download Experience Sampler is encoded in professional-quality 24/96 audio. The newer recordings are taken straight from original high-resolution digital recordings. The older recordings are transferred to high-resolution digital audio from original master tapes. Both will give you much better sound than you've ever heard before from these recordings and artists.
1. Madeleine Peyroux, "The Kind You Can't Afford" (from Standing on the Rooftop) Courtesy of EmArcy/Decca/Universal Music Group: You can hear the advantages of high-resolution audio in just the first few seconds of this track. The dual guitars sound so real, so embodied that it seems like you can almost feel the heat from the tubes in the amps. Then Peyroux's voice appears, hovering between your speakers as if she's right in the room. The tonal balance of the recording doesn't change from the CD; it just sounds more real.
2. Sonny Rollins, "St. Thomas" (from Saxophone Colossus) Courtesy of Concord Jazz/Concord Music Group: There may not be many jazz fans who don't already own the CD of Saxophone Colossus, but there won't be many who want to play it anymore once they hear what the high-resolution download sounds like. Rollins' legendary horn sound comes through with more body and resonance than it does on the CD or even the original vinyl, and you can actually hear a sense of depth with the drum kit, the cymbals and toms coming out front and center, the snare and high-hat just a couple of feet behind them.
3. Esperanza Spaulding, "Short and Sweet" (from Chamber Music Society) Courtesy of Heads Up International/Concord Music Group: Spaulding's unusual combination of jazz and chamber music makes an ideal high-resolution audio demo. Hear how each of the many instruments - drums, bass, piano, and strings, with Spaulding's wordless vocal floating above - is perfectly and precisely placed in the stereo soundstage, and how every little detail of the brushed cymbals comes across clearly, even through the lush arrangement.
4. Marvin Gaye, "Let's Get It On" (from Let's Get It On) Courtesy of MOTOWN/Universal Music Group: It's been almost 4 decades since anyone heard this classic tune with such clarity - and back then, the only ones who got to hear "Let's Get It On" at this level of fidelity were the handful of people lucky enough to be in the studio when Gaye recorded it. You'll immediately hear that there's more sonic depth in this recording than you ever realized. The wah-wah guitar seems to come from 30 feet away, the background vocals wrap around you, and, best of all, Marvin sounds smoother than ever.
5. The Allman Brothers Band, "Statesboro Blues" (from Live at Fillmore East) Courtesy of Mercury Records/Universal Music Group: The fat, satisfying sounds of early-1970s rock really come through in this classic live recording that captures brothers Duane and Gregg at their peak. And high-resolution audio conveys as never before the pulse of Berry Oakley's bass, the groove of Gregg's Hammond B3 organ, and the full, round, singing sound of Duane's Gibson Les Paul guitar through a Marshall amplifier.
6. The Kinks, "20th Century Man" (from Muswell Hillbillies) Courtesy of eOne Music: The added detail of high-resolution audio jumps out at you right away when you hear the acoustic guitar that opens this tune. The same incredible sense of treble detail is there in the cymbals, too. But it's when the electric guitars come in during the bridge, sounding out from way past the far edges of your speakers, that you really appreciate the extra depth that high-resolution audio can lend to classic rock recordings.
7. Ottmar Liebert, "This Spring Release 10,000 Butterflies" (from One Guitar) Courtesy of Spiral Subwave Records International/Holland Group: Liebert's classical guitar provides a quiet counterpoint to this sampler's rock, jazz, and classical recordings - and proof that solo instruments benefit just as much from the high-resolution treatment as large ensembles do. The guitar sounds so direct, so clean, it seems as though Liebert is right in front of you - yet it also seems as if he's playing in a cavernous cathedral, thoroughly enjoying the echo he's getting off the stone walls and the distant ceiling.
8. Eiji Oue and the Minnesota Orchestra, "The Snow Maiden - Dance of the Tumblers," composed by Nikolai Rimsky-Korsakov (from Exotic Dances from the Opera) Courtesy of Reference Recordings: This high-resolution recording plucks you from your listening chair and places you about eight rows back from the stage, where you can pick out the sonic image of every instrument in the orchestra. Listen for the tambourine far to the rear of the stage; the completely natural, rich sound of the string sections; and the feel of the felt mallet striking the bass drum.
9. Glenn Gould, "Bach: Goldberg Variations, BWV 988: Aria" (from Bach: The Goldberg Variations, 1955 Performance) © Courtesy of Zenph/Sony Masterworks: The intimacy of this recording is like nothing you've ever heard before. Thanks to the high resolution of the 96kHz/24bit download, you feel as if you're in a small salon with Gould sitting at the grand piano about 12 feet away. Listen not just to the warm, rich tone of the piano, but to the way the felt hammers strike the strings. Yes, you can actually hear all these minute details, in a way only Gould himself previously could.