This Home Theater Puts Acoustics Front and Center Page 2
The Final Stretch
With an environment custom built for immersive movie sound, Mehta selected gear he knew would deliver a thrilling experience.
A fully-calibrated Sony VPL-VW260ES projector is mated with a 150-inch acoustically transparent 4K screen from Milan. The screen hides the sonic star of the show — three top-of-the-line DALI Phantom S 280 in-wall speakers, aided and abetted by a pair of 20-Hz-capable MartinLogan Dynamo 1600X subwoofers.
To achieve enveloping Dolby Atmos surround sound, Mehta deployed eight DALI Phantom H80 in-wall speakers: two in the rear side walls, two in the back wall, and four in the ceiling for height effects — each mounted with a custom back box.
The entire system, except for the front LCR speakers, is powered by an Anthem MRX 1120 Dolby Atmos-equipped 11.2-channel AV receiver, and the system was calibrated using Anthem's proprietary ARC Genesis room correction software, which Mehta says takes sound to "another level." To ensure quality signal transmission, AudioQuest cabling was used throughout.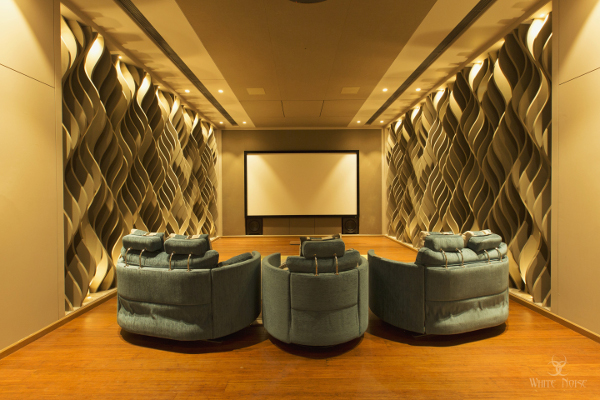 Three plush loungers from Italy's Fama are the icing on this home theater extravaganza, adding a splash of color in a room otherwise dominated by neutral tones and providing motorized remote-controllable seating for up to five people.
Clean lines, concealed lighting, and a unique set of custom acoustic panels that some might say are out of this world conspire to form a space that exudes understated luxury. Or as Mehta suggests, a calm space that brings cinematic excitement into sharp focus.
System Details
Room size before acoustical treatment: 18' 9" W x 31' 6" D x 13' 6" H
Room size after acoustical treatment: 17' W x 29' 7" D x 11' 3" H
Video Projection
Sony VPL-VW260ES 4K/HDR projector
Milan 150-inch (diagonal) fixed-frame, acoustically transparent 16:9 screen
Speakers
Front LCR: Dali Phantom S280 in-wall speakers (3)
Surround: Dali Phantom H80 in-wall/ceiling speakers (8)
Subwoofer: MartinLogan Dynamo 1600X (2)
Amplification and Surround Processing
Anthem MRX 1120 11.2-channel AV receiver
Anthem MCA 325 three-channel power amplifier (for front LCR speakers)
Wiring
AudioQuest
Seating
Fama motorized recliners