A Home Theater Dream Come True Page 2
But that vision needed to be focused and refined, so they brainstormed, kicking around ideas of what a Raiders-themed space might look like. Meeker shared his concern about creating an "overly kitschy" space right up front. "A common mistake fans make is over- whelming a space with memorabilia—banners, signs, pillows, even bobbleheads. It's just too much. I wanted to make sure we didn't make that mistake. I told Nate I wanted a room that Darth Vader would want, if he were a Raiders fan—spacey, cinema-esque, and true to my inner Raiders soul."
Goldstein then took the ball and he ran with it—all the way into the end zone.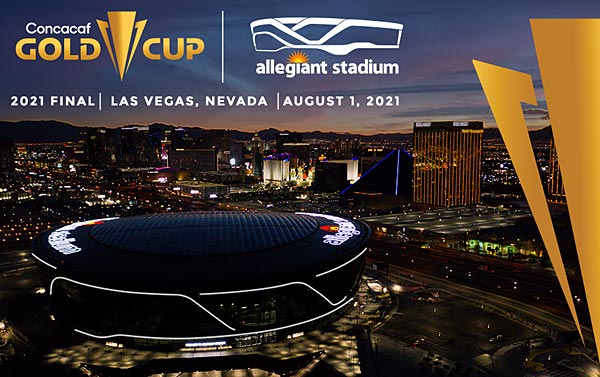 In a stroke of genius, the master installer proposed a motif that would take its cues from Allegiant Stadium, the metro Las Vegas venue the then-Oakland Raiders moved to last year. There was no question: Anakin Skywalker would be right at home in this environment. "I wish I could take credit for the Allegiant Stadium design theme but that rests solely with Nate," Meeker acknowledges.
"I knew I didn't want to create a space that felt gimmicky but I wasn't sure what I was going to do or where the design process would lead me until I started rendering designs," Goldstein explains. "I was googling Raiders images when I stumbled across an image of the new stadium, and that's when it hit me: Why not design the room to look like the stadium so it feels like you're at a Raiders game every time you walk into the room?"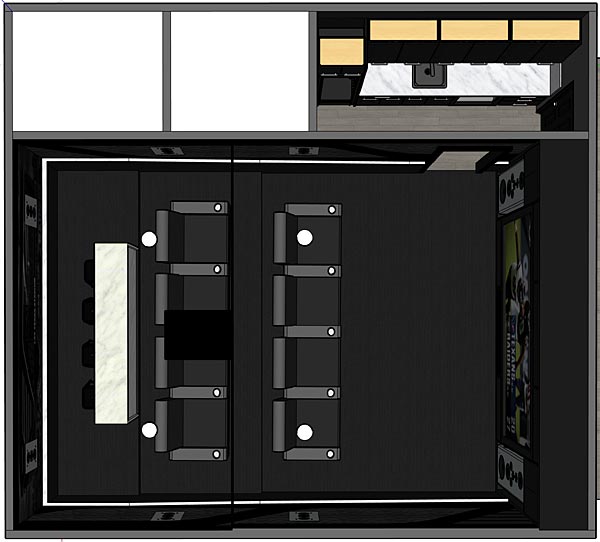 As the photos show, the final design exudes clean, bold lines that mimic the stadium's swooping "black wave" design with its signature white outline. The design is appropriately ominous yet classy, while honoring Meeker's desire for an understated décor, with memorabilia limited to two jerseys and a backlit Raiders sign. And, as well see in a moment, the design is also functional.
Building A Dream
Once Meeker signed off on the Raiders-inspired design, Goldstein mapped out a room layout and put together an equipment list with the goal of delivering a first-class video and audio experience. "I wanted to fill the room with quality sound and make sure every listening position brought the best sound possible," he recalls.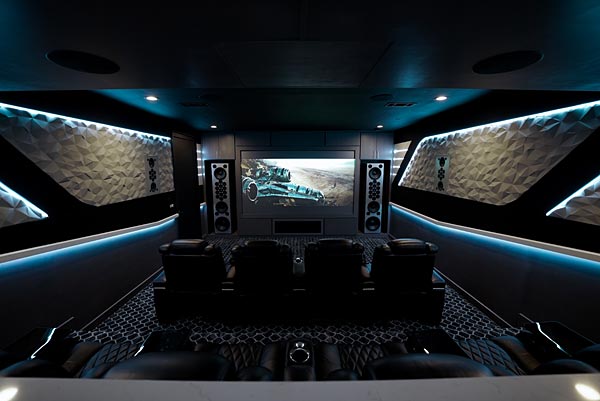 The first step on the road to creating theater bliss was to carve out a suitable space. Unlike the typical basement home theater, this movie palace would be built upstairs, which meant interior walls would have to be removed to convert what had been a bedroom, bathroom, and small theater space into a spacious room 16 feet wide and almost 24 feet deep with a separate concession area and dedicated bathroom. "The exterior walls were already heavily insulated, so we were good there, but we had to add a layer of sound dampening cork to the sub floor to keep the bass from bleeding into the downstairs," Goldstein explains. "That coupled with extra heavy carpet pad really did the trick."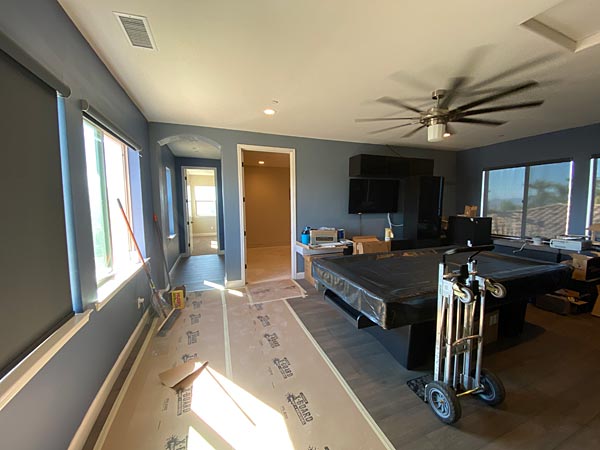 Next, the pros at Theater Monster had to fabricate those Death Star panels that would not only define the space but improve acoustics by deadening the sound. The panels were built on-site out of quarter-inch medium-density fiberboard (MDF), covered with dense 3/4-inch-thick foam, and wrapped in black fabric. In a clever twist, they were attached to the walls using 1-inch rare-earth magnets—eight per panel.
"The magnets gave us the flexibility to easily install and remove the panels but they also made it easy to adjust the panels in any direction and formed a quarter-inch gap between the boards and the wall," Goldstein says. Allowing the panels to "float" off the wall further enhanced their sound deadening properties.
Below the walls' white lines—which were fashioned out of LED rope lighting—the Theater Monster crew installed 2 x 2-foot Gypsum3D tiles to complete the room's distinctive look. "We used Liquid Nails and wood screws to affix the tiles to the walls," Goldstein advises. As a finishing touch, the seams were spackled, sanded, and painted.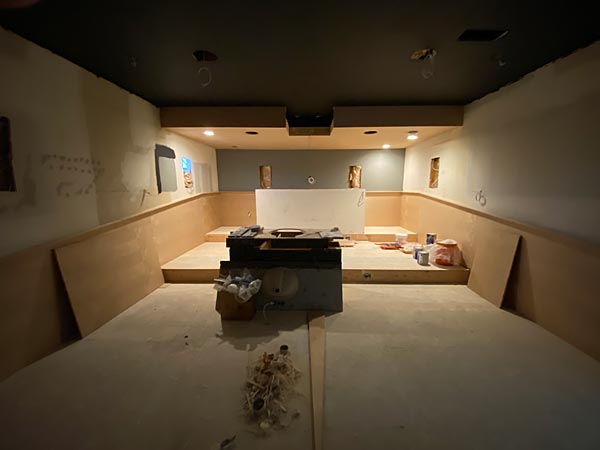 Meeker likens the wall's geometric insets to something you'd expect to find in a lunar space station. "From an acoustic standpoint, the design is brilliant," he observes. "The 3D tiles act as diffusers while the black panels aid in sound absorption."
Exceptional Gear for an Exceptional Space
To fully realize Meeker's goal of crafting a topnotch theater space," the pros at Theater Monster needed audio and video equipment that would complement the unique space he designed and deliver an immersive, "you-are-there" experience on family movie night. That meant vivid images projected onto a huge screen backed by a killer audio setup.
For video, Goldstein selected Sony's VPL-VW715ES native 4K projector and paired it with a custom Zero Edge screen just over 10 feet wide and 4.5 feet tall (133 inches, measured diagonally) from Austin-based Screen Innovations. The screen is fitted with SI's Slate ambient-light-rejecting (ALR) material so the Meeker's have the option of leaving the LED mood lighting on while watching a movie.
The projector has a rated brightness of 1,800 lumens and features Sony's Dynamic HDR Enhancer, which processes high dynamic range content frame by frame. "Sony makes some of the best home theater projectors and screens on the market, and they fit the space and throw distance allotted by my design."
When it came time to work up an audio plan, it was obvious that a theater of this caliber demanded Dolby Atmos sound, so Goldstein designed a 9.2.4 speaker layout that would envelop two rows of theater seats plus four barstools in back—12 viewers in all—with lush 3D sound. For the system's speakers, he turned to TektonDesign out of Orem, Utah for the main speakers and surrounds and Italy's B&C Speakers for the subwoofers.
The TektonDesign lineup starts with a pair of custom-built 6-foot-tall speakers that flank the screen. Borrowing elements from Tekton's Moab and Lore models and incorporating a 15-inch B&C driver, these one-of-a-kind towers boast an array of 13 tweeters—including a super- refined Beryllium tweeter in the middle—sandwiched between two 12-inch woofers with the muscular B&C subwoofer at the bottom.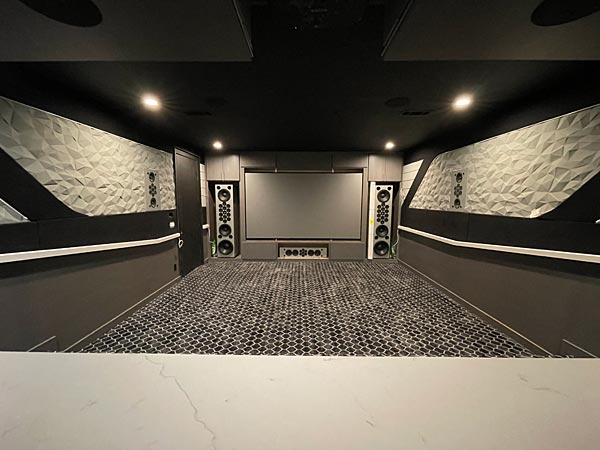 Why TektonDesign and not a more well-known speaker brand? "You get a very high-end product at a relatively affordable price point," Goldstein explains, adding that it's become one of Theater Monster's go-to speaker brands in recent years. "Utilizing the B&C subwoofer was Tekton's decision, and it sounds incredible."
A 4-foot-wide Double Impact Wide Center speaker and six 2-foot-tall Double Impact Surround speakers, two in each side wall and two in the back wall, round out the Tekton lineup. Both feature a proprietary "triple-ring-radiator" array of seven tweeters plus two (surround) or four (center) midbass drivers. Tekton says its proprietary design mimics the "acoustical power pattern" of a horn or waveguide "without the audible ringing influence of flared horns."