Hisense Announces Availability of 2021 TV Lineup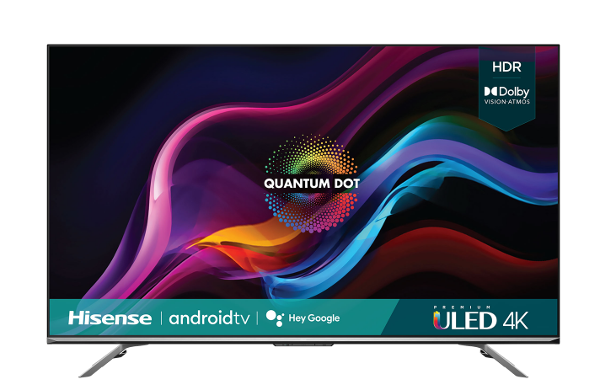 Hisense, one of several Chinese brands vying to gain a foothold in the U.S. market, has announced a release schedule for its 2021 TV lineup.
In making the wide-ranging announcement spanning two dozen models ranging in price from $300 to $3,500, Hisense USA president David Gold said the brand achieved its largest increase in LCD TV market share in North America in 2020, making it the "the fastest growing among the top five TV brands in North America" as measured by unit sales.
The 75-inch 4K model in the new U9DG Series is slated to deliver this summer with a retail price of $3,500. Based on quantum dot technology, the TV boasts more than 2 million dimming zones and features the company's Dual-Cell technology, which places a "luminance control panel behind the 4K panel to manage grayscale and color more precisely" and significantly improve contrast, according to Hisense. The TV also supports IMAX enhanced playback and has a Filmmaker Mode in addition to featuring Dolby Vision IQ, which aims to optimize high-dynamic range (HDR) performance based changing ambient light conditions, and Dolby Atmos sound from its built-in speakers.
Also kicking off with a 75-inch screen size, the new U800GR Series of 8K TVs is also scheduled to ship this summer at a retail price of $3,200. Based on the brand's ULED technology, the TV features 180 local dimming zones with a rated peak brightness of up to 1,000 nits and offers 8K upscaling for 4K and standard HD content, built-in Roku functionality, and Dolby Atmos sound.
The U8G Series, featuring 65-inch ($1,300) and 55-inch ($950) 4K models, is due out this month (May). A follow-up to last year's Top Pick-rated HG8, Hisense is aiming for "best in class" status with these TVs, which feature quantum dot technology, Dolby Vision IQ, ultra-high speed HDMI, up to 360 full-array local dimming zones, and a rated peak brightness of 1,500 nits. The sets are also equipped with a new anti-glare/anti-reflection screen and boast a "floating glass display" design.
Hisense is targeting gamers with the new U7G Series, featuring 55-, 65-, and 75-inch 4K models slated to ship this summer at respective prices of $750, $950, and $1,400. Based on the Android TV platform, the TVs support ultra-high speed HDMI and higher refresh rates compared with their 2020 counterparts in addition to featuring Game Mode Pro, which automatically optimizes display settings for gaming, automatic low-latency mode (ALLM), and FreeSync Premium and variable refresh rate (VRR) to minimize input lag, screen jitter, and frame tearing. Other features include up to 120 full-array local dimming zones, a rated peak brightness of 1,000 nits, IMAX enhanced, Filmmaker Mode, Dolby Vision IQ, and Dolby Atmos sound.
R6 and R7 series 4K TVs are schedule for delivery in the fall with R6 prices ranging from $400 for a 43-inch model to $1,100 for a 75-inch set. R7 prices start at $430 for a 43-inch TV and top out at $830 for a 65-inch model.
Currently available 2021 4K models are limited to the $5,000 L5 Laser Cinema projection TV and models in the U6G and A6 series. U6G includes 50-, 55, 65-, and 75-inch models at respective prices of $500, $550, $750, and $1,100. The A6 series includes 43-, 50, 55-, 65-, and 75-inch models at respective prices of $300, $380, $430, $600, and $850.
The company also announced that three new soundbars are slated to ship in the coming weeks: the $200 HS212F, $280 HS219, and $400 HS312, featuring Dolby Atmos sound. All models support Bluetooth streaming and are equipped with a wireless subwoofer and sound modes optimized for different content. Visit hisense-usa.com for more information.